Published May 25, 2021
MalloMe Sleeping Bag Review
If you're looking to purchase a new sleeping bag, you may have noticed that there are a ton of them on Amazon, all advertising to be the best. So in order to help you, we're looking at one of the sleeping bags that Amazon themselves recommends for you: the MalloMe Camping Sleeping Bag.
MalloMe is a highly rated sleeping bag and is great for anyone looking to do casual camping in a variety of conditions. It maintains comfort between 35 and 85 degrees and features a waterproof shell. It's too bulky for backpacking or backcountry camping, but if you're looking to do that the ECOOPRO Warm Weather Sleeping Bag is an excellent alternative. However, if you're camping near your car, the MalloMe is your best option, and we'll show you why.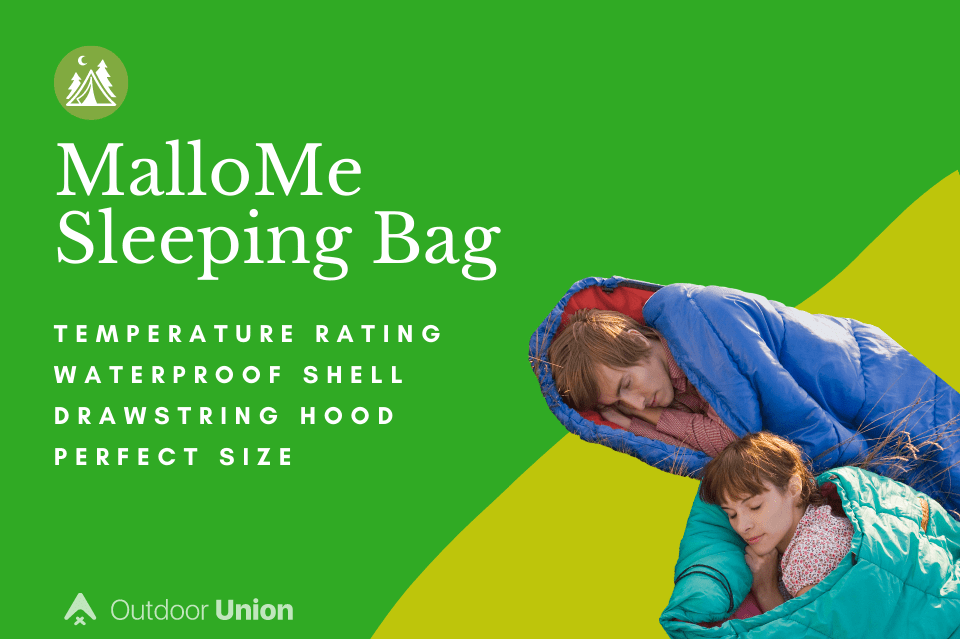 The Basics
The MalloMe Camping Sleeping Bag is one of the best-selling sleeping bags on Amazon, and one of the first that pops up when you search for them. The sleeping bag is very reasonably priced and has a single or double option for purchase.
The sleeping bags are made out of 100% polyester and come in a variety of colors including blue, red, green, and orange.
The MalloMe Sleeping Bag is one of the highest and most frequently rated sleeping bags. But is it really that good? In short, yes it is. For an everyday camping sleeping bag, this gets the job done.

Pros of MalloMe
Temperature Rating
By far, MalloMe's most appealing feature is its wide temperature rating. While there are plenty of three-season sleeping bags, this is one of the few that could be considered a four-season. If you do take it out in the winter you would want to pair with a four-season tent and consider adding a warm sleeping bag liner. It's warm enough to keep you cozy in near-freezing temperatures, with multiple customers boasting about its comfort in mid-30s temperatures.
However, this sleeping bag also works on those summer camping trips when you want to wrap up but still stay cool. The double-sided zipper makes it easy to open it up when you get too warm at night, and it features a separate opening at the bottom so you can stick your feet out at night and cool off.
Waterproof Shell
There's nothing worse than waking up wet, and MalloMe has you covered there. Whether you're hammock camping, or you like to take off the rain, fly on your tent and stare at the stars, you won't have to worry about a light rain or morning dew ruining your night's sleep.
Drawstring Hood
One unique feature of this sleeping bag is the drawstring hood. This allows you to tighten up and cocoon yourself on cold nights. It's also useful for keeping your pillow from sliding away from you, or for stashing essentials such as flashlights near your head for easy retrieval.
Size
This could be a con if you're looking to pack small (more on that below) but for most people, the size of this sleeping bag is a huge pro. The double sleeping bag can function as one giant sleeping bag nearly the size of a queen bed. However, it can also split off into two individual sleeping bags if you don't like cuddling with your camping partner.
Cons of MalloMe
Weight
With great comfort and warmth comes great size, and this sleeping bag is a big one. With a weight of 4.5 pounds, this sleeping bag barely weighs less than my REI Co-op Passage 2 Tent.
If you're doing drive-in camping, this shouldn't really matter to you. You won't be hauling it anywhere and the pros definitely outweigh the bulkiness.
However, if you're an avid backpacker and enjoy backcountry camping, you might want to look elsewhere. We have a couple of options for you in that department.
If you're looking for an inexpensive lightweight sleeping bag for summer trips, look no further than the ECOOPRO Warm Weather Sleeping Bag. This bag is extremely affordable and only weighs 1.7 lbs. However, it's only rated for 55-degree weather, so if you're camping in the cold you're going to need something better.
If you're okay with breaking the bank a little for a high-quality lightweight sleeping bag you absolutely need the REI Co-op Magma 15 Sleeping Bag. This amazing sleeping bag weighs in at 1 lb 12 oz (almost 25% the weight of the MalloMe sleeping bag) and is good for sub-zero temperatures with a rating of 16 degrees and a comfort level of 28 degrees. This bag might be pricey but it has the stamp of approval from tons of avid backpackers including many PCT through-hikers
The Verdict
The MalloMe Camping Sleeping Bag is a great option for those who want a quality sleeping bag at a reasonable price.
This sleeping bag is best for people who camp in a variety of conditions but don't usually stray too far from their vehicle to find a campsite. While it's a warm, comfy bag, it's also bulky and on the heavier side.
Whether you're camping on a chilly night, setting up your hammock in the woods on a warm summer evening, or you simply find yourself at a sleepover without a blanket, this sleeping bag will keep you cozy no matter the conditions.