Published February 7, 2021
Wrap Up Tight with the Best Sleeping Bag (in 2021)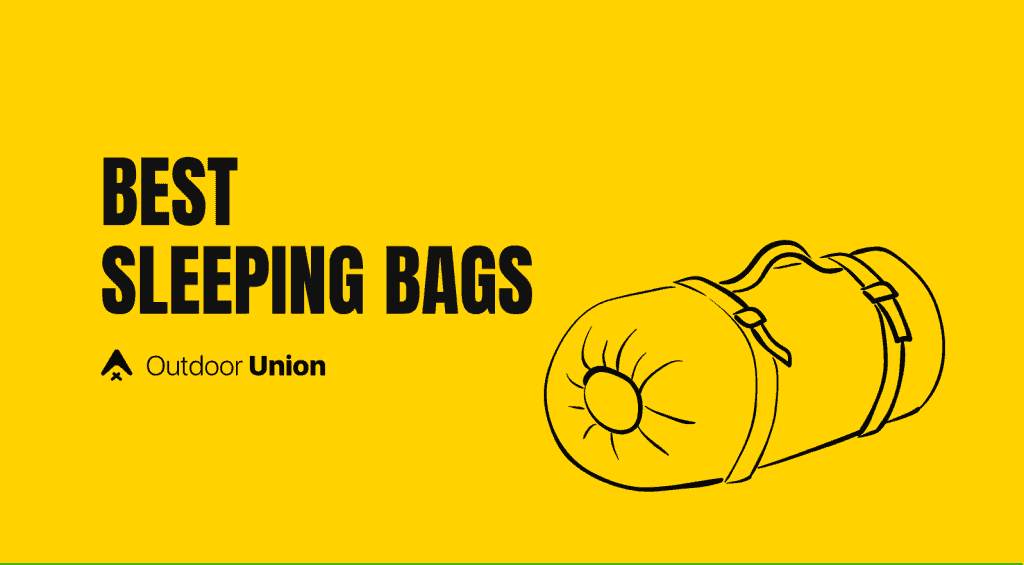 Are you looking to go camping but can't figure out which sleeping bag will work best for you? Perhaps you're taking the children on a camping trip and need to find sleeping bags for the whole family?
It seems like it shouldn't be too hard to find a good sleeping bag. But there are so many variables to consider. You have to pick the right type, think about the weather conditions, and find something that's actually comfortable. After all, making the wrong choice could leave you feeling uncomfortable when you're out in the wild.
You need help, which is where we come in.
Here are our reviews of some of the best sleeping bags around. We've even added a buyer's guide for those who want to do their own research.
Our Top Pick: Western Mountaineering MegaLite Sleeping Bag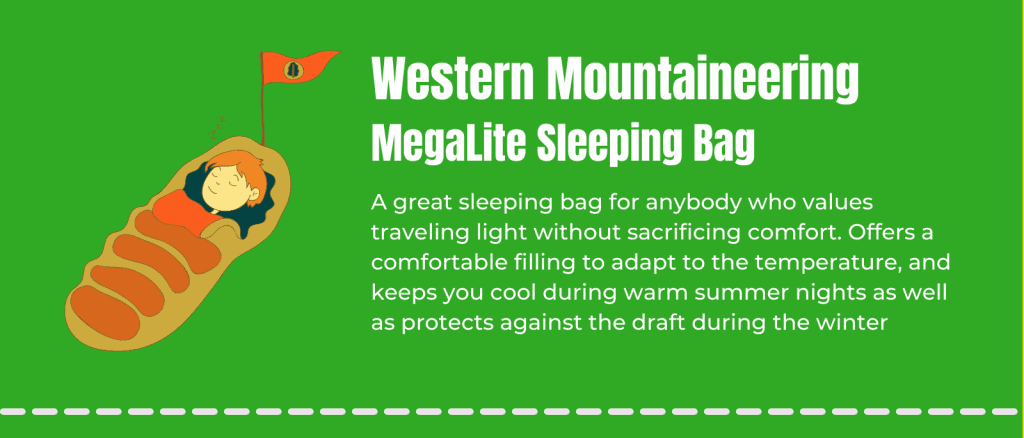 Review
Offering a great combination of roominess and lightness, Western Mountaineering's MegaLite may be a great sleeping bag for anybody who values traveling light without sacrificing comfort. The bag offers a comfortable filling, which you can sweep up and down the bag to adapt to the temperature. It's as good at keeping you cool during warm summer nights as it as at protecting against the draft during the winter.
Pros
The bag's 850-fill goose down offers supreme comfort, which makes it much easier to get to sleep on rough surfaces. But it's the way that you can shift the filling up and down the bag that impressed us most. A little jostling lets you move the fill around so you can make adjustments based on the temperature.
One of the problems many people have with ultralight sleeping bags is that they often leave you feeling squeezed into place. Western Mountaineering overcomes this problem thanks to how they handle the bags circumference. Instead of having the same circumference throughout the length of the bag, you get a wider diameter at the shoulders and waist.
Western Mountaineering uses the ExtremeLite shell coating, which comes with two benefits. Firstly, it's a great insulator, so you don't have to worry about losing body heat. Secondly, it's as light as a feather and barely adds any weight to the overall package.
Frost and Water Protection
That coating also comes with a special coating that offers great water resistance. You won't have to worry about frost or condensation affecting your sleep during the night. It's now powerful enough to hold off rain, but it more than does the job on frosty nights when you're in your tent.
You can buy the sleeping bag in small, regular, and large sizes. The best thing is that there's barely a weight difference between the three. The smallest weighs in at 1lb and 7oz, while the largest only adds 2oz to the package. As for height suitability, the small bag is fine for people with a standing height of 5' 6", the regular bag is for 6-footers, and the large back works up to 6' 6".
Cons
Offering as much roominess as this bag does comes with a small sacrifice. Those at the more petite end of the scale may find that the bag isn't efficient at colder temperatures. Though it offers plenty of insulation and a draft tube, the extra room may still allow cold air to seep in.
This isn't the most cost-effective sleeping bag around. You certainly get what you pay for when it comes to quality, but this may not be the best choice for shoppers looking for a budget option. Read below for less expensive options.
Who's it best for?
For the most part, this is a top-quality all-weather sleeping bag. It's comfortable, offers great insulation and protection, and it's available in a range of sizes. The only people who may want to avoid it are those standing below 5' 6", as even a small gap can let a cold draft in if you're sleeping in cold temperatures.
Find out more about this sleeping bag here.
Our Lightweight Pick: Kelty Cosmic Degree Sleeping Bag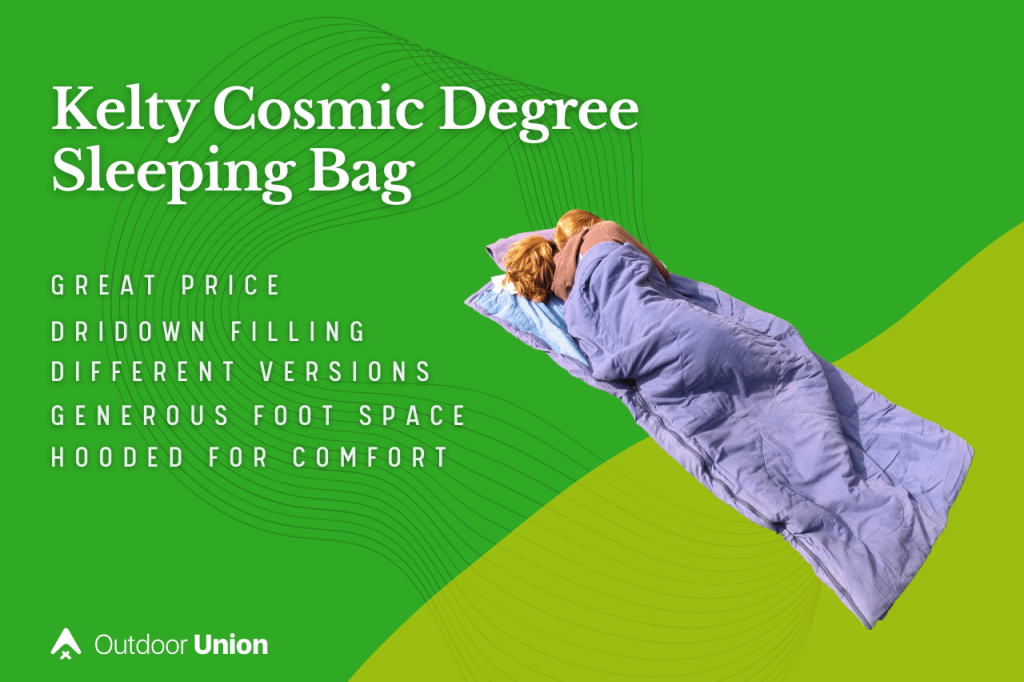 Review
Weighing in at 2lbs and 13oz, this sleeping bag is a touch heavier than the ultralight options. But it still won't weigh you down too much when you're hiking. It's also a great option for those shopping on a budget.
Pros
Not everybody wants to shell out the big bucks on a sleeping bag, especially if they're not going to use it very often. This bag offers a nice balance between price and quality, which makes it a great choice for those who are on a budget.
While you can't expect a goose down filling, or something similar, at this price point, the Kelty bag still has a great filling. The manufacturers use 600-filling DriDown, which protects you against the elements while also feeling nice and fluffy. It's a big step up from the polyester filling of other beginner sleeping bags.
The bag comes in 0-degree, 20-degree, 30-degree, and 40-degree versions. Each of these has a regular and large size, with the 20-degree also coming in a small. You'll pay more for some versions than others, but these options mean you can pick the bag that suits your camping climate.
Though the bags circumference gets smaller the further you go down the bag, you still get plenty of room for your feet. Side sleepers will appreciate this. Also, you can stuff the foot space for those extra cold nights where your feet need a little extra protection.
Your head releases a lot of heat when it's left exposed, so it's always good when a sleeping bag has a hood. This one wraps around your head and offers a little cushioning if you haven't brought head protection out on your trip.
Cons
While the 600-fill DriDown offers good coverage, it's not absolutely perfect. Even with plenty of fluffing, you may find that that bag has a few cold spots. Unfortunately, this slightly uneven coverage can come back to haunt you in very cold temperatures.
Not Great for Active Sleepers
While the foot space provides enough room for side sleepers, those who toss and turn a lot at night may find that this doesn't offer the room that they need. It can feel constricting at times, which makes it difficult to switch positions.
While the zipper generally works, that's about all of the good things that we can say about it. You'll deal with a fair amount of snagging and it doesn't feel as sturdy as we would have liked.
Who's it best for?
Anybody looking for a good budget option will gravitate towards this sleeping bag. It offers a low enough weight to make it portable, while still offering comfort in cold weather conditions. However, there are better options out there if you're willing to spend more money, plus it's not quite roomy enough for active sleepers.
To find out more about this sleeping bag, click here.
Best Children's Sleeping Bag: Kelty Big Dipper Kid's Sleeping Bag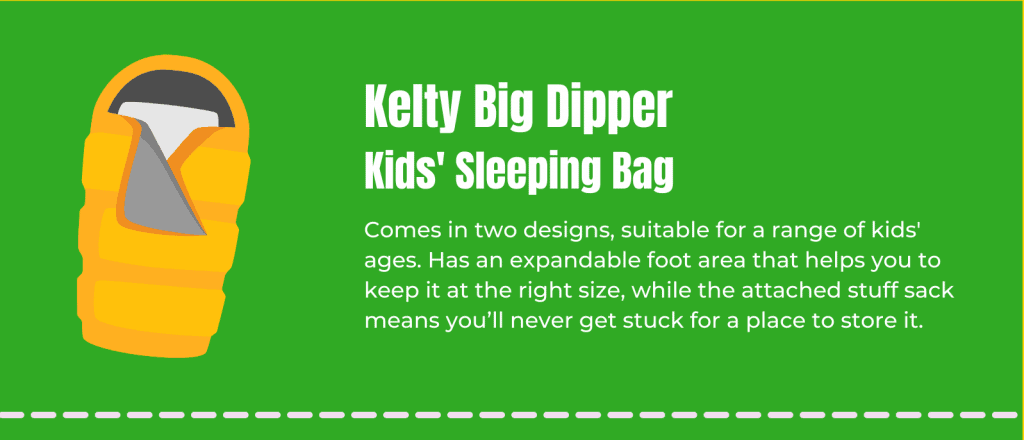 Review
If you are smaller than average size you may find that an adult-sized sleeping bag has too much room and becomes drafty in cold temperatures. This kid's sleeping bag provides a great solution, plus it comes in two designs. You also won't end up breaking the bank when you want to take the kids out camping.
Pros
Suitable for a Range of Ages
The bag has a maximum height of 5', which may make you think that it's not suitable for smaller kids. However, it actually does the job for any child between the ages of 4 and 12. The reason for this is the clever foot section. It expands up to a maximum length of 12", but it also retracts for smaller kids who need to get rid of some room to keep them warm.
Sticking with the warmness theme, the bag has a mummy design instead of the rectangular design that's common in kid's sleeping bags. This means it's more form-fitting, which helps your little one stay comfortable when the temperatures drop.
The bag offers two fun and attractive designs. The first features a simple tree-based pattern on a blue background, with the second offering a blossom pattern on a purple background. These design choices make the bags more appealing to kids, plus they give your little one a bit of a say in terms of the design that they prefer.
Special mention goes to Kelty's CloudLoft insulation, which goes a step beyond what standard untreated fills offer. The key here is that the fill still insulates the bag, even if it gets a little damp. This protects against frost and condensation while the 66D polyester taffeta keeps the sleeper warm.
Kelty has also thought about the extra requirements that kids may have when they're camping. You receive a stuff sack with the bag, so it's easy to just pack up and go when you're hiking. The bag also has security loops, which keep it connected to sleeping pads and mattresses. Those come in handy for restless kids who have a habit of rolling off the mat.
Cons
While the bag offers snugness around the body, it doesn't do such a great job for the head. The elasticized hood doesn't allow you to really cinch in when the temperature drops. Unfortunately, there's no tightening mechanism either, so a little heat will escape from the top of the bag unless your child's head fits the hood perfectly.
You'll notice that the bag looks huge when it's in its carrying sack. That's because the fill doesn't compress as well as you might expect for such a small bag. While weight isn't a problem, this poor compression can cause problems if you have limited storage space. It's also not great for backpacking for the same reason.
Who's it best for?
This is a great choice for parents who want a sleeping bag that grows with their child. The expandable foot area helps you to keep it at the right size, while the attached stuff sack means you'll never get stuck for a place to store it. You may struggle with the bag when hiking though, plus it's not suitable for very cold temperatures due to the inability to tighten the hood. If you're camping in very cold weather it's a good idea to wear a hat to bed.
To learn more about this bag, visit this page.
Top Winter Pick: Mountain Hardwear Phantom Torch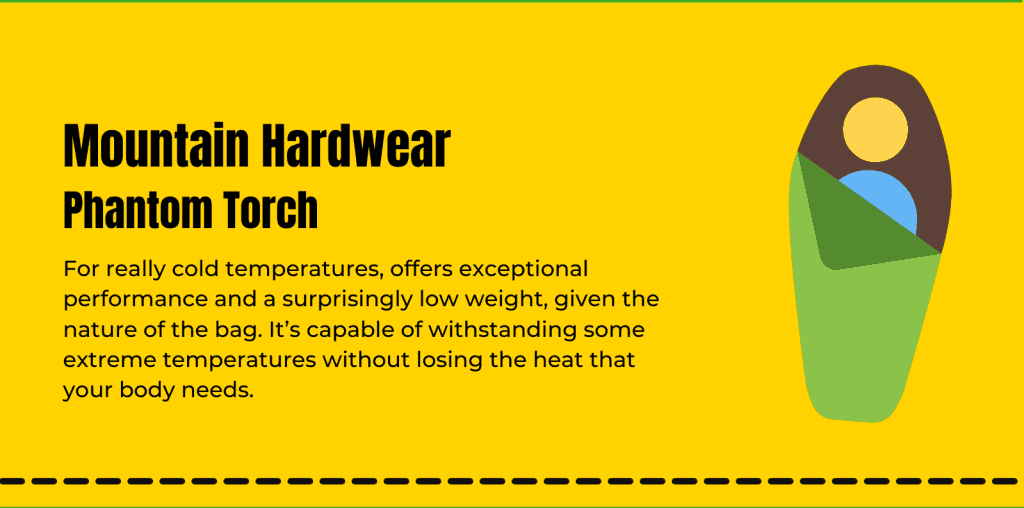 Review
A winter bag isn't the best choice for all-weather camping, but you need one when you're braving really cold temperatures. The Phantom Torch offers exceptional performance and a surprisingly low weight, given the nature of the bag. It's capable of withstanding some extreme temperatures without losing the heat that your body needs.
Pros
A Low-Temperature Solution
The bag can handle some pretty extreme weather conditions and is one of the warmest sleeping bags around. It provides warmth down to a minimum temperature of 3 degrees Fahrenheit, which makes it a great choice for mountaineering or deep winter camping. The Q.Shield hydrophobic fill helps with this, as it provides insulation and wards off any water that could seep into the bag.
Any area that heat can escape from creates a problem in extremely cold temperatures. Mountain Hardware solves this issue with a face gasket that cinches in tightly and is completely stuffed with filling. This leaves just the tiniest of gaps while keeping your head comfortable on difficult terrain.
Most sleeping bags come with a stuff sack, but not all of them take true portability into account. The sack that comes with this bag allows you to compress it down so that it's tiny enough to carry easily during tough treks. It's durable too, so you don't have to worry about any tears while hiking or mountaineering.
As you'd expect, the bag comes with a draft collar. But it's the double drawcord design that really stands out here. This allows you to cinch the collar in as tightly as you need it, which means even less of your body heat escapes from the bag.
We've mentioned the bag's durability already and it's something that the manufacturers are willing to stake their reputation on. The bag comes with a lifetime warranty, so you can get it replaced if you do happen to run into any issues.
Cons
This is a pretty obvious con, but it's still worth mentioning. The focus on cold weather protection means that this is one of the warmer bags on the market. If you're looking for a bag for more casual or warm-weather camping, this may not be the best option. It'll leave you hot and sweaty in warmer temperatures.
The bag comes with a draft tube that runs alongside the zipper, which works well for eliminating cold spots. But it also means that you have to take more care when zipping the bag. Be too hasty and that tube's going to get caught, as might a bit of the nylon shell. You'll need two hands to get in and out of the bag.
Who's it best for?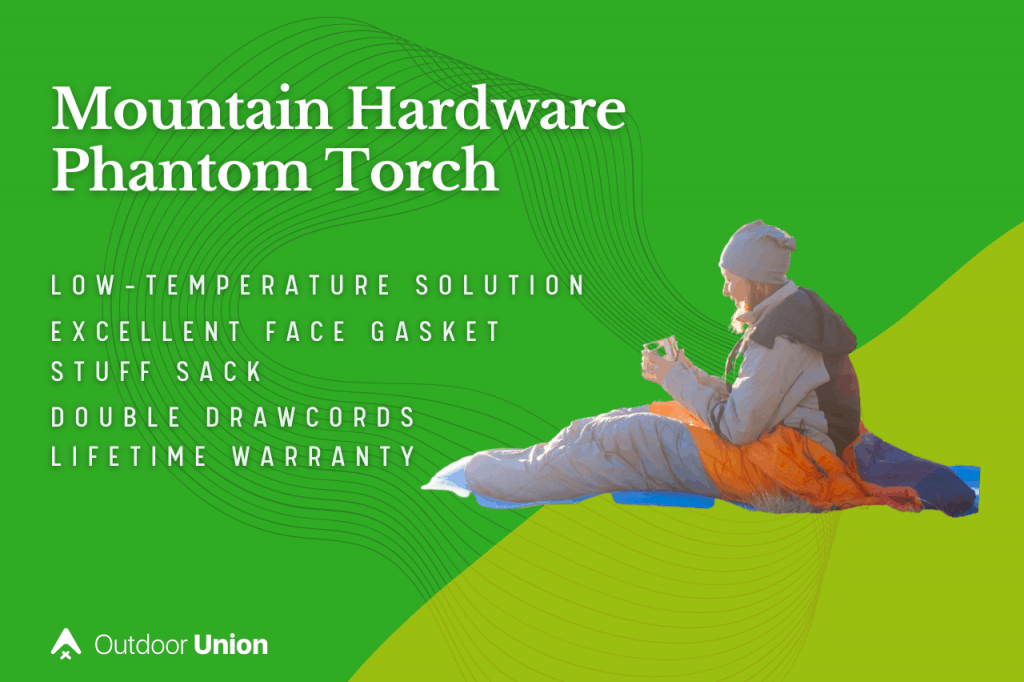 This is a great choice for mountaineers, backpackers, and campers who have to brave the elements on a regular basis. The low weight also means it's much easier to carry around than many other cold-weather bags. Obviously, it's not a good choice for summertime camping, plus the minor zipper issues may annoy some users.
If you want to take a closer look at this sleeping bag, head here.
Top Summer Pick: Marmot NanoWave 50
Review
If you're looking for a compact sleeping bag that won't leave you sweating in the heat, the Marmot NanoWave 50 should do the trick. It's compressible and has a low weight, which means it's not much of a burden when you're hiking in the heat. Plus, you won't have to spend a lot of money to get your hands on it.
Pros
Being able to tightly pack a sleeping bag is always a good thing, especially if you're going to spend a few hours lugging it around. Thankfully, the NanoWave compresses down into a tiny little package, which makes it easy to attach to your backpack. The fairly low weight also means that you won't have to worry about it pulling you down when you're on the move.
The semi-rectangular design offers a nice compromise between mummy bags and rectangular bags. It fits your form to an extent, which helps it to retain warmth. But it also offers a fair amount of wiggle room for restless sleepers. This extra room also means that it's possible to get a little air flowing through the bag on really hot nights.
Despite working best as a warm weather bag, the NanoWave doesn't completely fall apart in colder climates. It contains Marmot's proprietary Spirafil insulation, which helps to keep you warm if the temperature happens to dip. It also offers some water resistance, so you can use the bag in humid and wet conditions.
The full-length zipper also gives you some options in terms of how you use the bag. When it's too warm to stay tucked inside, you can unzip it completely to use it as a blanket. This allows for greater airflow and is also ideal for restless sleepers who value space over warmth.
Cold spots can affect the overall warmth of a sleeping bag, but that's not something you have to worry about with the NanoWave. It's undergone EN Testing, which ensures the accuracy of all temperature statistics that Marmot publish about it. This means that you are guaranteed to get the 50 degrees Fahrenheit bag temperature that the company advertises.
Cons
While certainly not a heavy bag, it's a touch heavier than you might expect from a summertime sleeping bag. The regular version weighs in at 1lb and 14oz, while the large version is 2lbs and 4oz. It's not a huge weight, by any means, but it's heavy enough to make some reconsider if they're looking for a bag that they can carry really easily.
The bag's semi-rectangular construction doesn't always lend itself well to the compression sack that comes with it. You'll get the bag to fit, but you'll probably spend a couple of minutes struggling with it before it all goes into the sack. This may not be a problem for adults, but some children may find this a frustrating experience.
While it's a fairly comfortable sleeping bag, you will likely want to use a mattress or sleeping mat along with it. The bag's fill doesn't offer great cushioning, which means you'll really feel it if you're sleeping on rougher terrain.
Who's it best for?
This sleeping bag offers an excellent choice for novice campers who spend more time in warm climates than they do in cold ones. It's roomy and can also be fully unzipped and used as a blanket. This is great for multiple people, or when you just need some cold air. The trade-off comes in the fairly poor cushioning that it offers and the fact that you'll have to struggle a little to fit it into the compression sack.
To learn more about this sleeping bag, click here.
Our Budget Pick: Slumberjack Boundary 20
Review
A few of the bags on this list work for people on a tight budget, but the Slumberjack Boundary 20 may be the best for those who are looking to save. It offers decent quality in all areas, without really excelling. The bag is pretty durable though, so it can handle a little rough and tumble.
Pros
If you're looking for a bag for under $100, this may be the best choice for you. It offers decent quality for that price, though you will feel the difference if you're used to more luxurious sleeping bags. Still, you can't argue with the price difference when you're only looking for a bag to use for the basics.
The use of synthetic materials throughout creates an enormous amount of durability. It can stand up to rough terrain without any problems and it's great for use during music festivals. While you won't want to go rubbing it up against rocks, it doesn't require the same level of care as comparable sleeping bags.
You'd expect a budget bag to cut corners with the hood, but that's not the case here. It cinches up tightly, which ensures as little heat as possible escapes the bag when the temperature drops.
Sometimes you need to let a little air in during warmer nights, which is where a double-zip design can really help. The Boundary 20 offers just that. Better yet, this design also means you can give your toes a little more wiggle room if needed.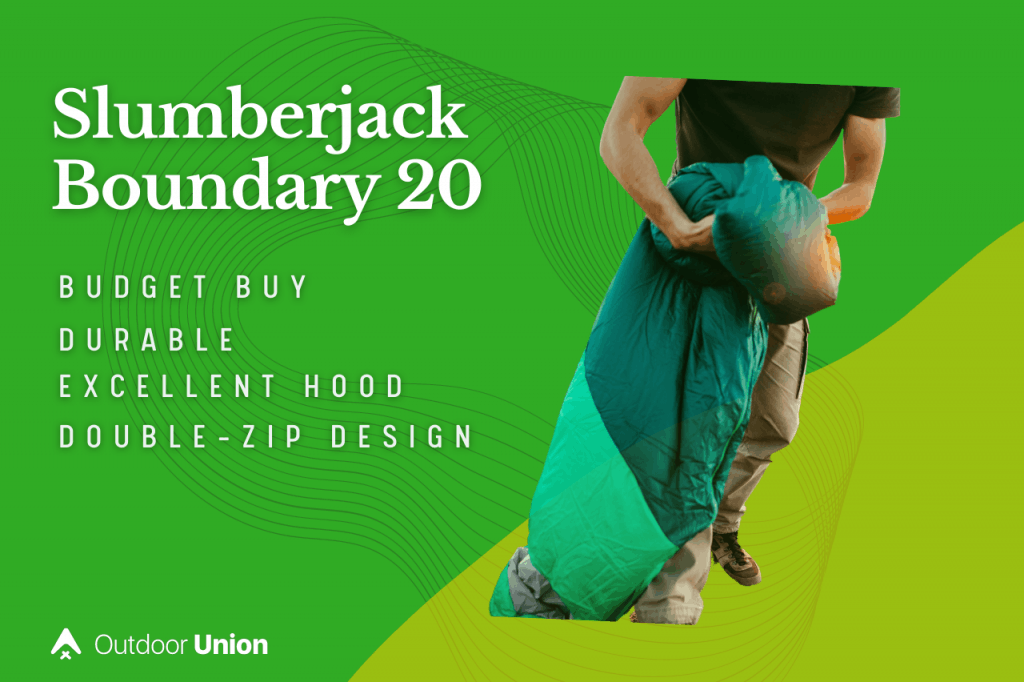 Cons
Slumberjack may claim that this bag works down to a temperature of 20 degrees Fahrenheit, but that's really not the case. Due to the synthetic materials not providing high-quality insulation. As a result, this isn't a bag that does the job during the winter or cooler periods of the fall.
The sleeping bag comes with a storage sack, though it's not of the compression variety. This means it may take up a little more space than you want it too. On top of that, the sack doesn't match the build quality of the rest of the bag as even the slightest tug on the top can lead to it opening up.
Sacrifices have to get made somewhere for a sleeping bag to cost so little. The biggest one for the Boundary is the cushioning. While the bag offers durability, it doesn't do a great job of protecting your body when sleeping on rough terrain. You'll probably want to use a sleeping mat to ensure comfort in such conditions.
Unlike the other sleeping bags on our list, the Boundary doesn't offer much protection against water. The outer shell allows some water to seep through to the bag and the synthetic filling doesn't do much to prevent it from reaching you. It's still good enough to protect against light water, but you may run into problems if you're sleeping in a downpour.
Who's it best for?
Anybody who needs a quick and easy sleeping bag will love the Boundary. It's cost-effective and provides a decent sleeping experience. The bag also makes for an excellent backup in case something happens to your main bag. The low cost does come with some sacrifices though, so it may not be the best bag for those who value comfort, warmth, or moisture resistance. We would only recommend this bag for casual campers in mild climates. It's better for the backyard than remote mountains.
To learn more about what this sleeping bag has to offer, click here.
Our Double-Bag Pick: Teton Sports Mammoth
Review
It's always nice to cozy up to a loved one when you're out and about, but most sleeping bags don't offer that option. The Teton Sports Mammoth provides the solution as it offers the same amount of space as a queen-sized bed. If you're looking for double sleeping comfort in the great outdoors, there may be no better choice.
Pros
The mammoth name isn't a misnomer because this is one of the largest sleeping bags around. At 94×62 inches, it actually provides more room than a queen-sized mattress. Better yet, you don't have to unzip it to access that room, which means you can stay warm in a bag that offers plenty of space.
The synthetic taffeta shell offers insulation without making the bag so warm that it becomes difficult to sleep in. It also offers a decent level of moisture resistance. This offers you some protection against frost and condensation on chillier nights. Couple this with the flannel lining and SuperLoft Elite fiber and you have a bag that keeps both occupants nice and toasty.
Limited Lifetime Warranty
As long as you don't mistreat the bag, you'll have access to Teton Sport's limited lifetime warranty. If you have any issues, such as faults upon arrival or tears that occur when you're using the bag properly, you should be able to lean on the warranty to get a new sleeping bag.
There's a handy little storage pouch on one side of the bag. Secured using Velcro, it's ideal for keeping valuables safe when you're camping with strangers. It's also large enough to fit wallets, keys, and smartphones.
Cons
The bag comes with three zippers, which actually allow you to remove the top layer from the bottom. Unfortunately, this doesn't mean that you can create two smaller sleeping bags out of this double bag. To add to your woes, the zips don't do a good job of locking in place, which means that may unzip over the course of the night.
The size of the sleeping bag makes it very difficult to fit inside a washing machine. But if you manage it, you'll also end up voiding the warranty. You're stuck with handwashing and air drying with this sleeping bag.
Even among double-bags, this is a very heavy sleeping bag. It weighs over 16lbs, which means you aren't going to want to take it on hikes. That weight allows for greater comfort, but it also means it's difficult to stuff back into its sack after use. If you're looking for portability, you may need to use two single bags.
Who's it best for?
This is a luxury sleeping bag in every sense of the word. It's great for couples who want to enjoy a little bit of comfort in the great outdoors. It's also large enough to fit parents and children, at a push. However, we'd avoid this sleeping bag if portability is a major concern.
To find out more about this sleeping bag, check it out here.
The Sleeping Bags That Didn't Make the Cut
We come across all kinds of sleeping bags while carrying out our testing. Some of them fall into the "so close yet so far category". Usually, this means that they have one major design flaw that prevents us from recommending it over the bags that we choose for our list.
This doesn't mean that their bad sleeping bags. In fact, some of you may find that they fit your needs perfectly.
Here are three sleeping bags that didn't quite make it.
Mountain Hardwear Lamina Z Torch
The price of the Lamina Z Torch drew us to it immediately, as it's rare to find a decent sleeping bag for mountaineering at such a low price.
Our first impressions with the bag seemed to make it a certainty for this list. It's exceptionally durable, which is a key quality for a sleeping bag that's used in rough terrain. The mummy design also means that it can retain warmth, with the synthetic insulation adding to that quality.
But it was in the use of synthetic materials that the bag fell down a little bit. Compactness is of the essence when you're climbing in the mountains. This sleeping bag just didn't do the job as well as we'd hoped. The 3lb and 15 oz weight for the regular bag means that it's difficult to carry with the rest of your kit, plus it doesn't compress well.
While that means it's out of the running for mountaineers, it's still a very good sleeping bag that should suit people who won't have to spend ages lugging it around from place to place.
To find out more about it, head to this site.
Outdoor Vitals Explorer Down Bag
A sleeping bag that uses natural down as insulation without the price tag that you'd expect?
That's what this bag claimed to offer, which piqued our interest immediately. When we found out that you can connect two of the bags together to make a double bag, we were almost sold.
But we made sure to check the bag out on its actual merits, rather than its advertised qualities. It's a comfortable bag, though perhaps not quite as comfortable as expected. It also works pretty well as a double bag, though it can only hold its lighter weight over our eventual choice of the Teton Sports Mammoth.
The biggest problems come with the zips. They're simply not sturdy enough when compared to the other sleeping bags on this list. It seems like one errant pull could cause problems, which isn't ideal when you're sleeping in the great outdoors.
There's also a small wrinkle when it comes to using it as a double bag. Unfortunately, the bag doesn't come with the connecting zip that you need to make this work. You'll have to buy it separately, which adds a little extra cost and inconvenience.
Still, it's a decent bag that provides another option for doubling up. If the weight of the Mammoth causes problems, this may work as an alternative choice.
Find out more about this sleeping bag here.
Coleman Brazos Cool Weather
There's a lot to like about the Brazos, which meant it almost found a place on our list this year.
It has a quality zipper, which means that snags are not much of a problem. It's also cost-effective and machine washable. The bag may be a great choice for people who don't want to spend a lot and only need the basics from their sleeping bag.
The Fiberlock construction also does a good job of keeping the bag's insulation in place, though it's still not among the warmest bags on our list. Plus, you can combine two of them to make a double bag without any problems.
So far, so good.
However, its bulkiness ended up letting it down. It's not the easiest bag to roll up and store, so you're not going to get good compression here. At 4lbs, it's also one of the heavier single sleeping bags around. Finally, the rectangular shape works well for summertime camping, but it does let a bit of a draft in when the temperature drops.
It's still a very good sleeping bag, plus you benefit from a five-year manufacturer's warranty with the purchase. It just doesn't quite offer enough to beat the other bags on our list and it's not cost-effective enough to make it the best budget option.
If you want to find out more about this sleeping bag, check it out here.
Your Sleeping Bag Buyer's Guide
With so many different types of sleeping bags available, it's often difficult to narrow your choices down. You have to know what you're looking for before you can find the right sleeping bag for you. To help you along, we've created a buying guide that will help you determine what you should look for in a sleeping bag before starting your search.
Insulation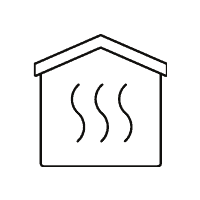 The type of insulation offered can have a drastic effect on a sleeping bag's temperature rating. Generally speaking, you'll have a choice of down or synthetic insulation.
Synthetic insulation tends to sacrifice a small amount of comfort to offer increased protection against the elements. It's usually moisture-resistant, which prevents frost and condensation from creeping through the bag and onto your skin. But it's also difficult to pack tightly, which can make it a poor choice for those who have limited space.
You'll usually find that synthetic insulation leads to a lower cost, which makes it best for those shopping on a budget. However, you're getting a heavier and less comfortable sleeping bag for that money.
Dow insulation is the more natural type, which usually means much greater comfort. Moreover, it has a better warmth-to-weight ratio than synthetic insulation. This means you can create the same level of warmth with less down insulation than you could with synthetic.
Unfortunately, this ratio drops drastically if a down filling gets wet because it's generally more absorbent than its synthetic equivalents. To counter this, many manufacturers apply a water-resistant coating to help it keep its heat when things get a little wet. But if you buy at the lower end of the price scale, you may miss out on this coating.
On the plus side, bags that use this type of insulation also compress well. You can pack them tightly and you'll usually benefit from a lower weight. This makes them a better choice for mountaineers and serious hikers because it reduces the load they have to carry.
Type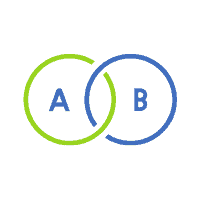 There are a few different types of sleeping bag, which also affects your choice. These are as follows:
Rectangular
Semi-Rectangular
Mummy
Double
Let's look at each individually.
These are generally the most basic type of sleeping bags, but that also makes them one of the most adaptable types. You'll usually sacrifice a little warmth with these bags, but you get increases maneuverability in return. This makes them ideal for warmer weather or for restless sleepers who need some space for tossing and turning.
Many of these bags also unzip fully, which means you can use them as a blanket. Moreover, some manufacturers make double-sized versions for when you want to put your head down with that special someone.
These offer a middle ground between rectangular and mummy bags. They'll match the general shape of a rectangular bag, though they'll also have some of the form-fitting elements that come from mummy bags.
Generally speaking, this means some narrowing at the feet of the bag and a potentially tighter fit around the shoulders. While this lowers mobility, it also helps to bag to retain warmth better than purely rectangular types.
If you're looking for maximum insulation, the mummy bag type is the one for you. These bags fit snugly to the body of the user, which means they minimize the amount of heat that escapes from the bag while it's in use.
The trade-off is the lower mobility and flexibility that they offer. As a result, you'll often find that they're unsuitable for warmer conditions. However, some mummy bags come with features that allow them to loosen up and circulate cool air when the temperature goes up.
Generally speaking, these are the best choice for cold-weather sleeping.
As the name implies, double sleeping bags fit two people. They either come as standalone bags or as a pair of sleeping bags that you can connect to create a double bag when needed.
They obviously offer more room than regular sleeping bags, plus a little extra to allow for movement inside the bag. You can often fully unzip them too, which allows you to use the bag as a blanket.
Insulation tends to drop with these bags because of their roomy nature. They also tend to weight a lot, which can make them difficult to carry around on long treks.
Temperature Rating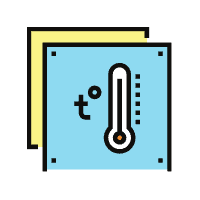 Most sleeping bags come with a temperature rating. This usually tells you the lowest temperature that the bag can perform in. However, some sleeping bags also provide a rating for the temperature inside the bag when it's in use.
Look for an EN rating when checking the temperature rating. If the sleeping bag carries that EN certification, you'll know that it's undergone strict testing to ensure the validity of its temperature claims. If it doesn't, it's possible that the bag won't perform as well as expected in the cold.
Luckily, you can get around this if you layer up while sleeping. Still, the rating becomes exceptionally important when sleeping in the sorts of extreme temperatures that you may experience while mountaineering or camping during deep winter. A bag with a high temperature rating won't provide enough protection against the elements in these situations.
Size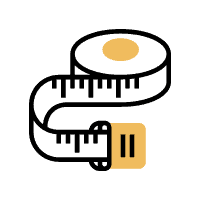 In most cases, you'll have a choice between regular and large when buying a sleeping bag.
As a general rule of thumb, opt for the large bag if you're over 6' tall. Regular works best for average sized people. Some manufacturers also offer small versions of their bags, which work well for the more petite amongst you.
Thankfully, most manufacturers provide a more detailed size guide to go along with the more general size rating.
Also, take note that buying a large sleeping bag can cause problems if you have a smaller frame. The larger the bag, the less insulation that it provides if you don't fill the space. Cool air may be able to circulate, which can cause problems in winter conditions.
Compression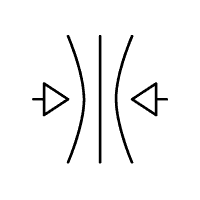 Most sleeping bags come with storage sacks. However, some come with compression sacks. These allow you to stuff the sleeping bag into a tighter storage space.
There are good and bad points to this storage method. The good is that a compression sack makes the bag smaller, which makes it easier to carry on a backpack.
The problem with compression is that it can damage the bag's insulation. As a result, you'll want to avoid long periods of compression. When storing a bag that's not in active use, choose a regular storage sack over a compression one. Only take the latter out if you're going to use the bag over the course of several days and you need to carry it during that time.
The Final Word
Buying any old sleeping bag won't always do the job. You have to think about your specific needs before making your choice.
If you're going to sleep out in the cold, it's best to choose a bag that offers lots of insulation and can handle lower temperatures. Summertime sleepers may want something a little airier to prevent them from sweating through the night.
It all depends on your priorities.
For your money, the best sleeping bag is the Western Mountaineering MegaLite. It combines comfort and quality insulation with a lightness that makes it ideal for taking out on treks. If you're not dealing with extreme temperatures, it's very hard to find a better and more versatile sleeping bag.
If you're interested in finding out more about this wonderful sleeping bag, visit this page.
Of course, there are plenty of other great sleeping bags on this list. If you're happy to use a bag that has a little extra weight, you might consider our runner-up. The Kelty Cosmic Degree Sleeping Bag comes in a wide array of sizes and temperature ratings. Plus, it offers a comfortable hood and great foot space.
Find out more about it here.