Published April 23, 2021
The Kelty Redwing 44 Review
Before my first backpacking trip through Asia, I spent a lot of time researching the best backpacks. I decided on the Kelty Redwing 44 Backpack, and it was an amazing decision.
Since then, I've taken this backpack on multiple month-long backpacking trips, multiple-day backcountry camping trips, and used it as an easy suitcase alternative for quick vacations.
Read on to see just why this backpack is one of the best in the market, as well as the few things that could be improved.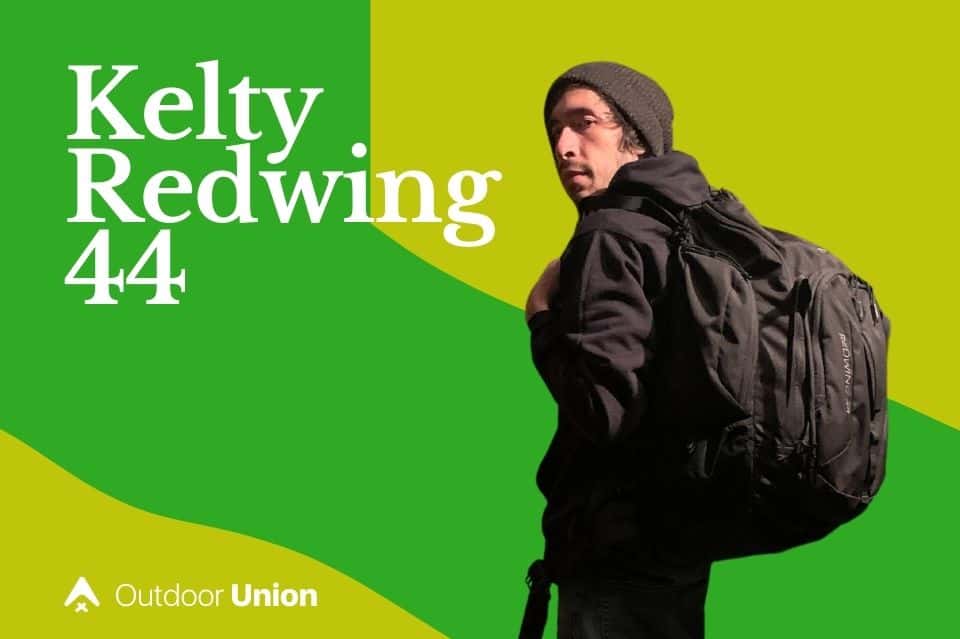 The Basics
The Kelty Redwing 44 Backpack is a popular, reasonably priced backpack geared towards the outdoor traveler. The 44 represents the volume of the backpack in liters. This backpack is one of the more popular models of a large line of Kelty backpacks that range from a small 30L tactical model all the way up to a larger 50L Redwing model.
The dimensions of the backpack are 25 inches long, 15 inches wide, and 12 inches deep. It weighs 2 lbs 10 oz and is made for a torso size of 14.5 – 18.5 inches. The backpack is highly rated on Amazon and is very reasonably priced compared to similar backpacks.
What's Great about the Kelty Redwing 44
I'm writing this review after over two years of using this backpack for a ton of different types of adventures. Clearly, there are a lot of things I love about this backpack, otherwise, I would have replaced it by now.
Organization
The Kelty Redwing truly stands out in its organization. It has enough pockets to separate your stuff, but not so many that it gets confusing.
We'll start with the main compartment. The star of the show is extremely roomy with nothing to take up extra space, leaving plenty of room for your clothes. If you're an organization freak I recommend getting packing cubes like the YAMIU Packing Cubes 7-pcs Travel Organizer. The main compartment also features one large pouch that can be used for a water bladder on backcountry camping trips or for a laptop for traveling digital nomads.
The backpack also features a medium size pocket on the front that serves as an organizational section. There are multiple pouches of varying sizes to stash notebooks, pens, important documents, and your wallet.
The backpack also features two zippered side pockets, a roomy zippered top pocket, and two mesh pockets at the bottom of the sides of the backpack. The zippered side pockets are great for toiletries and small electronics. The top zippered pocket is very versatile and is great for dirty laundry if you don't have packing cubes to separate your clothes. The mesh pockets are perfect for water bottles, or a speaker to bump tunes while you're hiking.
There are a few straps and handles on the outside so you can clip a few camping essentials such as a hammock to the outside. There is also a handle on the back so you can carry it like a duffel bag, and it also makes it easier to swing the backpack into a carry-on bin or the top of a van. However, there aren't too many external straps, making it safer as a checked bag than many adventure backpacks.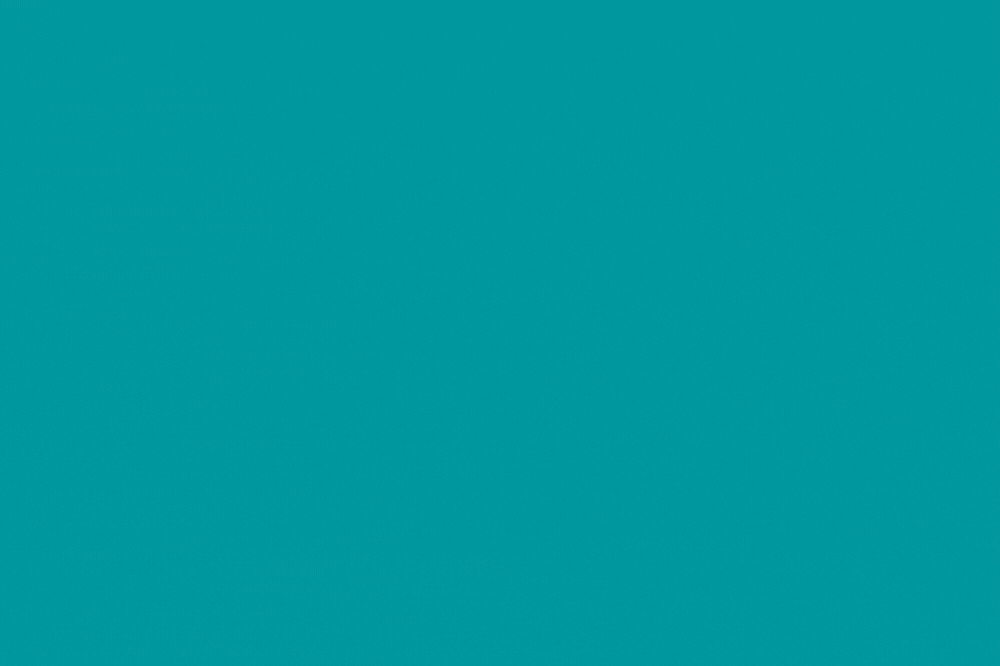 Versatility
The Kelty Redwing 44 is an extremely versatile backpack. I've lived out of this backpack for four months in Southeast Asia and taken it on an airplane for a 3-day trip to San Diego.
One of the features that make this backpack so versatile is its multiple loading system. You can load it from the top like a camping backpack or unzip it all the way down and load it up like a suitcase.
The dimensions of the backpack are just small enough to qualify as a carry-on bag for American domestic and international flights. I've had to check the backpack on smaller domestic flights in Asia and South America, but have been able to bring it as a carry-on the majority of the time.
Comfort
Part of my research process in choosing a backpack was going to REI and trying on a bunch of backpacks with sandbags in them to simulate the weight of backpacking. The Kelty Redwing 44 was by far one of the most comfortable backpacks I tried on.
The shoulder straps, back panel, and waist strap are all adjustable to comfortably fit most people. I'm 5 foot 10 inches and it fits me like a dream, and I've loaned it to a friend who's barely above 5 feet and had no complaints from her.
The shoulder straps are comfortable and easy to wear for short periods, while the waist strap adds just the right amount of support for heavier loads and longer journeys.
Durability
I can personally attest to the durability of the Kelty Redwing. After two and a half years of using this backpack and putting it through hell, it's still in great condition.
This backpack has survived flights across the world in a cargo hold and nearly 100 baggage claim belts. It has been thrown in the belly of more buses than I can count and has been strapped to the top of vans traveling through the jungle. It's been left in the dirt on Colorado camping trips and covered in sand on Mexico vacations.
I have knocked it off the top bunk in hostels, dropped it on the ground in fits of rage or exhaustion, and taken it on 20-mile backcountry camping hikes. Despite all of the abuse, the Kelty is still in great condition. Aside from one broken buckle that was shut in a car door, everything is still in working condition.
The Kelty Redwing is the perfect combination of stylish without looking too stylish. You don't want the flashiest backpack on the baggage belt or the bus cargo hold. While I've never had any issues with backpack theft, I know people who have, and it's usually the people lugging around the flashy brand-new backpacks.
This backpack comes in three colors: Ponderosa Pine, Twilight Blue, and black. While the first two colors definitely appeal to those using the backpack primarily for outdoor activities and backpacking, the black is unassuming and slick, and can easily be used as luggage without drawing attention.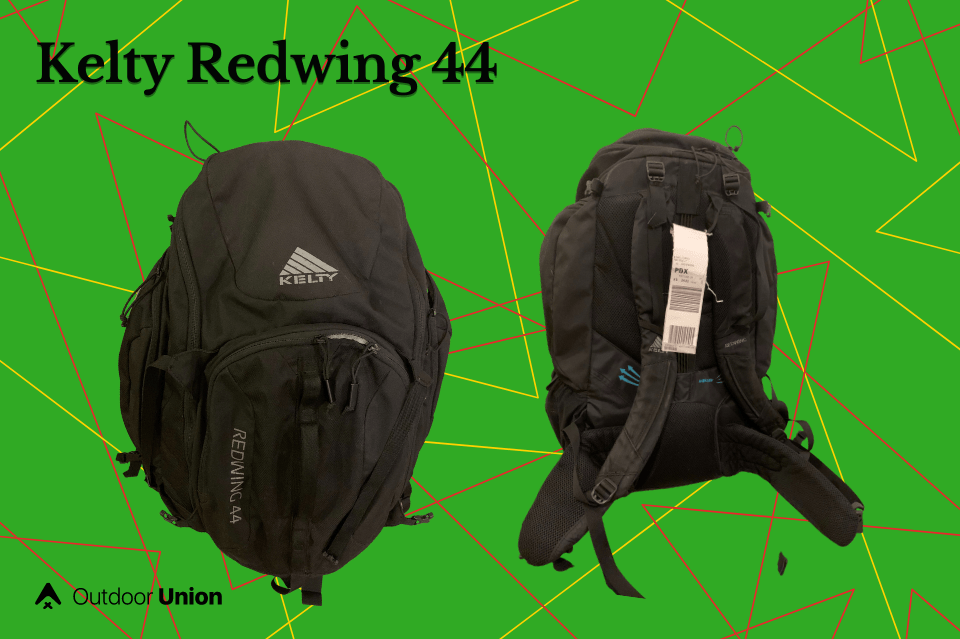 The Style
What Could Be Improved
Nothing is perfect, and while the Kelty Redwing is certainly one of the best backpacks on the market, things could always be tweaked a little bit. Here's what we don't love as much, just in case any of these things are a deal-breaker for you.
It's Not Waterproof
The Kelty Redwing is made of water-resistant material, but that's not the same as waterproof. While a little light rain is no problem, you don't want to get caught in a downpour or hike through steady rain.
The Redwing doesn't come with a rain cover like many outdoor backpacks. However, if you want to rainproof your backpack, you can purchase a Kelty Rain Cover separately. We recommend the large size if you're planning on fully packing your 44L backpack.
It Could Use a Few Extra Pockets
As I mentioned, the backpack is very well organized and has pockets for nearly everything. However, this backpack doesn't have waist belt pockets, and would greatly benefit from one or two. There are no quick grab pockets on the pack, and waist belt pockets are great for stashing things like keys, cell phone, or boarding passes for easy access.
Security
This shouldn't be an issue for people who are just using this backpack for camping and hiking, but if you're traveling with this backpack, it's not the most secure. It's great for stashing all of your stuff, but whenever I was traveling internationally I kept my valuables in a small backpack or fanny pack.
The zippers on the Kelty are pull rope, so they can't be securely locked, and with a lack of waist belt pockets, you won't want to keep any valuables in this backpack unless it's on you.
Final Verdict
The Kelty Redwing 44 is a fantastic, versatile backpack, and by far one of the top options at its price point.
This backpack is best for those who want to use it for a little bit of everything. It's amazing for international travelers, especially backpackers, and is great for outdoor adventures and backcountry camping.
If you're traveling for business, it's not the most secure or professional-looking, but for the casual vacation, it's a great, carry-on friendly suitcase alternative.
If you're an avid backcountry camper or doing something like the PCT or Appalachian trail, there are backpacks especially geared towards this such as the Osprey EXOS 58. However, for most outdoor situations, the Kelty Redwing is going to treat you just fine.
My Kelty Redwing 44 has seen four continents, the tops of mountains, cross-country work flights, and plenty of vacations. I've had it for nearly three years, and while I've been upgrading a lot of my outdoor equipment this year, my Redwing is here to stay for quite a while.