Published January 8, 2020
Best Camping in Colorado (Ultimate Guide for 2020)
With millions of acres of national parks and forests, Colorado has everything you might need for an unforgettable outdoor experience. You'll find lakes both big and small, impressive sand dunes, and fascinating wildlife reserves.
There are thousands of campsites in the Centennial State, both public and privately-owned. The camping season reaches a peak from early May to late September, but many campgrounds are open throughout the year.
So, for your next camping trip, why not set off on an adventure in the American West? This guide has all the information you need to plan the best camping in Colorado.
Free Tent Camping
Sand Dunes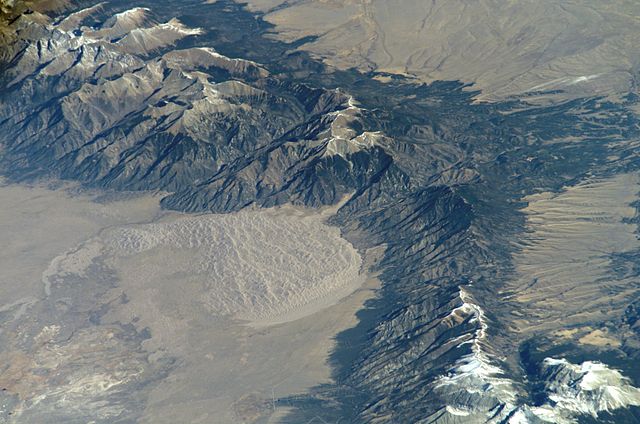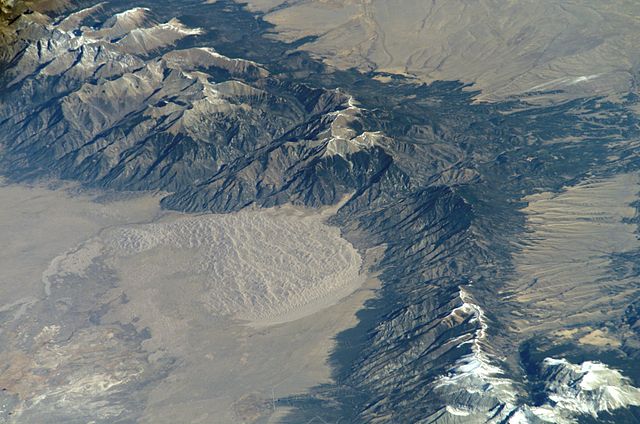 The Great Sand Dunes National Park is home to the tallest dunes in North America. They reach up to 750 feet above the ground and extend over an area of 300 square miles. Here you can go hiking, sandboarding, or swimming in Medano Creek during the season.
As in most other states, there are many places in Colorado where you can set up a tent and camp for free. These lands are usually regulated by either the Bureau of Land Management (BLM) or the National Forest Foundation. So when you see a sign that informs you you're entering a national forest, chances are you'll find free campsites a few miles down the road.
If you're looking for a free campsite at the Great Sand Dunes, the Sacred White Shell Mountain is a great choice. It's on BLM land, about six miles south of the entrance to the park. The road to the site is bumpy and dirty, but the location is very quiet and spacious. It provides a 360-degree view of the dunes, the creek, and the San Luis Valley.
You can stay here for up to two weeks. There are few amenities available, as well. They include free access to toilets and fresh water, but you must have the National Park pass to use them. Although there's no Wi-Fi here, you can expect very good mobile connectivity. And if you want to buy groceries, the city of Alamosa is about 20 miles away. Also, since this is public land, you should follow the first rule of outdoor etiquette and leave no trace.
State Parks
Park Fees and Reservations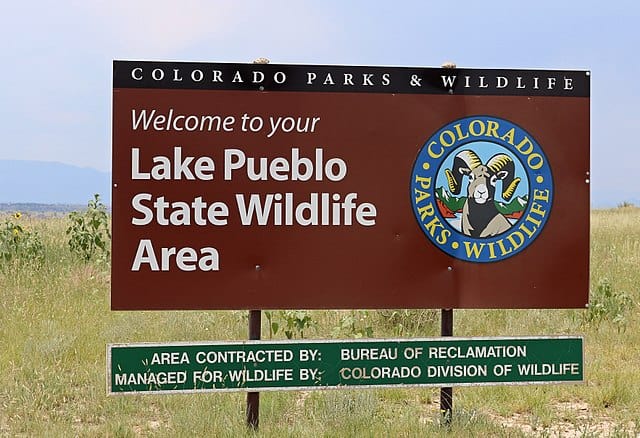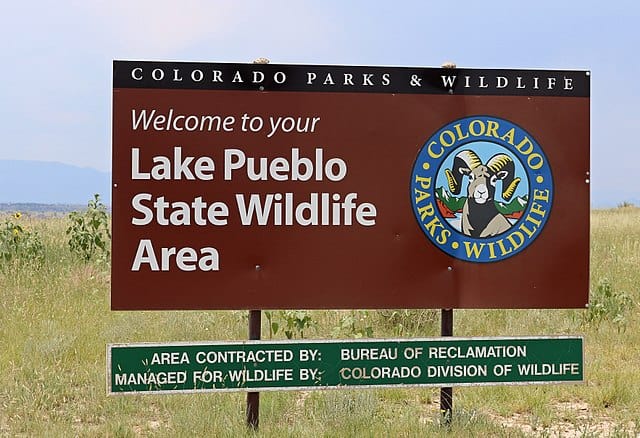 The Colorado Parks and Wildlife is in charge of 42 parks and thousands of campsites across the state. All sites offer basic amenities like access to restrooms, showers, and electricity. Many also have playgrounds for kids, as well as laundry rooms. If you're looking for a more comfortable accommodation, you can also rent a yurt or a cabin.
Most state parks charge entrance fees for vehicles, while some also charge a small walk-in fee.
You can reserve your camping spot throughout the year, both by phone and online. The reservation will cost you $10, as well as an extra $6 for any changes you make afterward. This doesn't include the camping fees, which are calculated on a per-night basis.
As such, you will pay $10 for a night at a primitive campground, or $18 to stay on a basic site. If you want a campsite with access to electricity, it will cost you $24 per night. And if you want a full hookup, you will have to pay $28 for one night. Also, during the May-September season, some camps may charge you an extra $2 per night.
If for any reason you have to cancel your reservation, the camp will retain your $10 reservation fee. On top of that, you'll pay $6 if you cancel more than two weeks in advance, or a one-night fee if you cancel up to 13 days in advance.
National Monument
High on the Colorado Plateau, the Colorado National Monument Park strives to preserve the wildlife of the American West. Here you'll find coyotes and bighorn sheep, as well as a number of bird species like golden eagles, jays, ravens, and red-tailed hawks. The park stretches over an area of about 32 square miles.
The National Monument Park charges an entrance fee to all its visitors. It costs $5 to enter on foot, $10 for motorcycles, and $15 for vehicles. The pass you obtain will be valid for a week. If you want to stick around a bit longer, you can also buy an annual pass for $40.
The 80-site Saddlehorn Campground offers accessible restrooms and picnic areas, as well as a bookstore. You can also go on organized field trips and attend ranger talks.
Arkansas River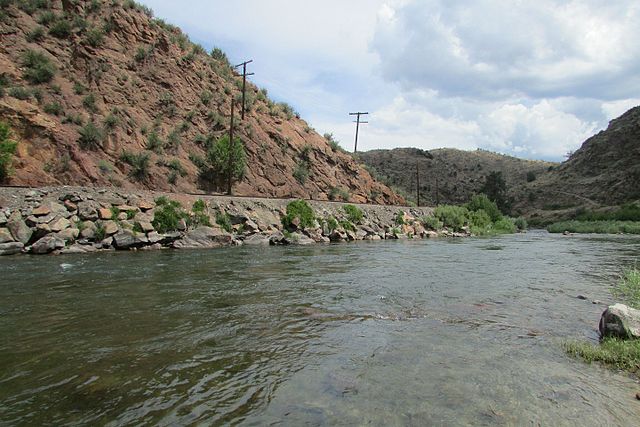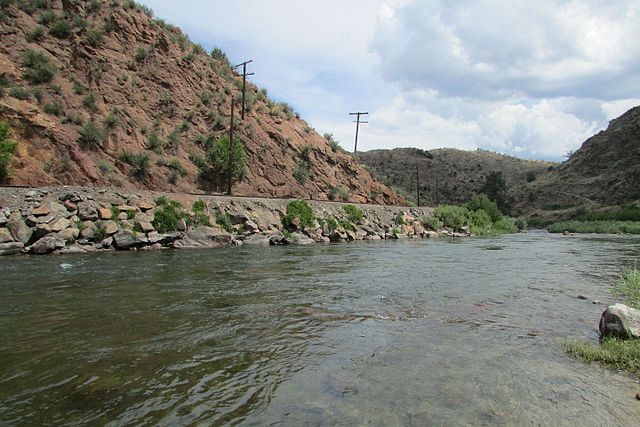 The Arkansas River begins in the Rocky Mountains above Leadville and continues throughout the southeast part of the state, all the way to the Colorado-Kansas state border. The Arkansas Headwaters Recreation Area is one of the most popular tourist destinations in the country. It is primarily known for kayaking and whitewater rafting, as well as angler fishing for rainbow and brown trout.
Because the location is so popular, there are many public campgrounds where you can stay. They include the Hecla Junction Campground and the Ruby Mountain Campground with 22 campsites each, as well as the Five Points Campground with 20 campsites. All sites come with tent pads, camping tables, and fire grills. They also have access to toilets and running water, while some also have changing areas and boat ramps.
Colorado Springs Camping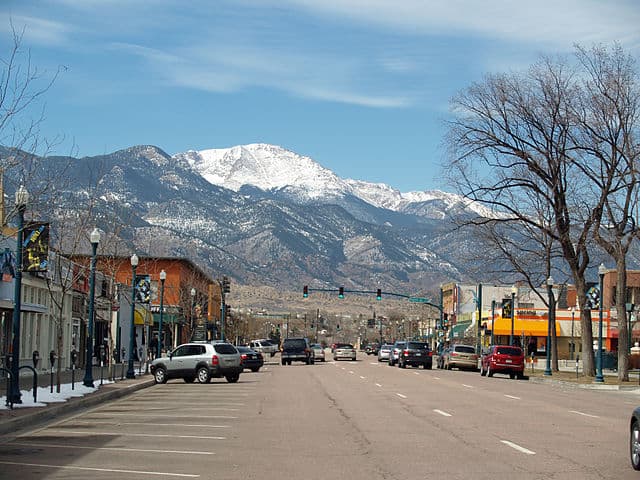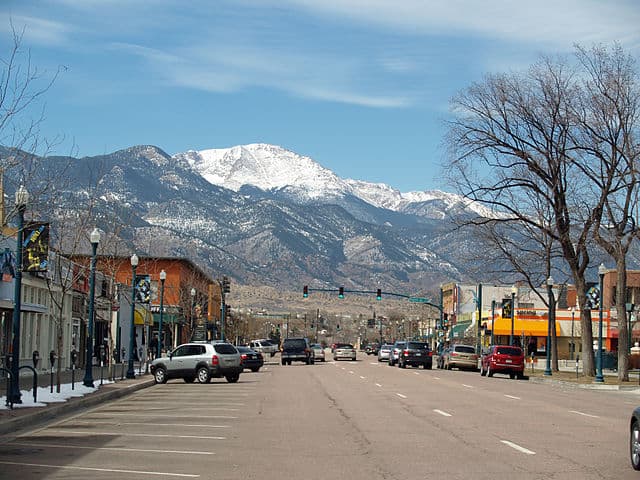 About 60 miles south of Denver, Colorado Springs is the largest city in the state. It rises above Fountain Creek and stands near the base of Pikes Peak, on the edge of the Rocky Mountains.
There are about a dozen campgrounds in the area. Apart from the Cheyenne Mountain State Park, most of them are privately owned. All campgrounds have designated RV sites. But because their number is limited, it is best to reserve your place well in advance.
Dispersed Camping
Dispersed Camping Map
With millions of acres of public land and 13 national forests, there are many great places for dispersed camping across Colorado. Also known as boondocking, this type of free camping is becoming increasingly popular. And although some may frown upon it, dispersed camping is perfectly legal.
This map shows you the exact locations where you can set up your tent or park your RV. Just click on the area you want to visit and you'll see a full listing of campgrounds that allow boondocking.
Before you opt for dispersed camping, there are a few things to keep in mind. If you choose to camp on a BLM-managed land, you can stay there for no more than two weeks. After that, you need to move to another campsite that's at least 30 miles away. But if you want to camp in a national forest, your campsite has to be 100 miles away from the nearest road, trail, and water source. Moreover, you should avoid areas with fragile trees, as they may fall down and hit your RV or your tent.
Colorado Springs Area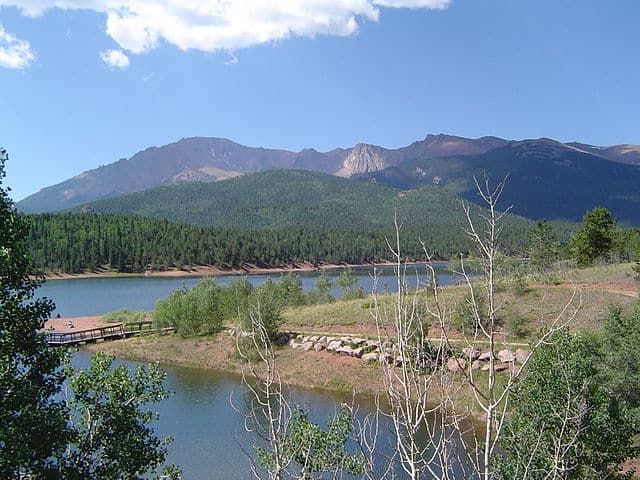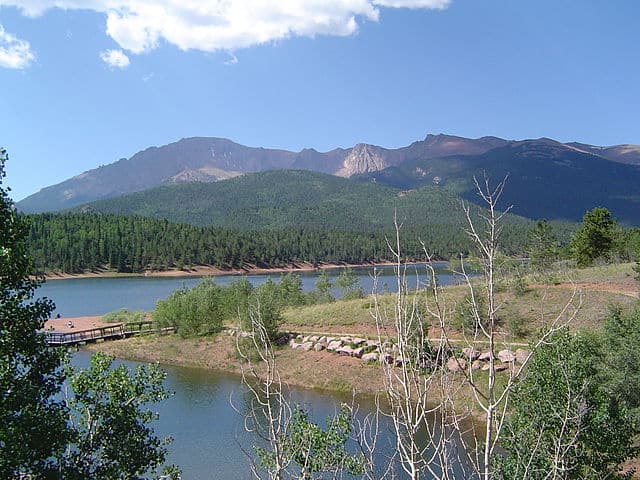 The Pike National Forest is the prime boondocking location in the Colorado Springs area. It stretches over more than a million acres of land and is surrounded by the wilderness of Mount Evans.
Here you'll find dozens of areas that are suitable for dispersed camping. There are five in the Cimarron National Grassland and the Comanche National Grassland. The Pikes Peak Ranger District and the Salida Ranger District have 11 dispersed campgrounds each. On top of that, there are another nine locations in the South Park Ranger District, as well as further six in the South Platte Ranger District.
So there's plenty of room here for anyone interested in boondocking. As long as you follow the rules and regulations, you can set up a tent pretty much anywhere in the forest. And even if there are no free sites at one campground, you'll likely find another place to camp a little further down the road.
Some of the campsites offer basic amenities like access to running water, while some others don't. It is thus best to bring your own supplies of drinking water if you plan on spending a few nights here.
Lake Camping
Twin Lakes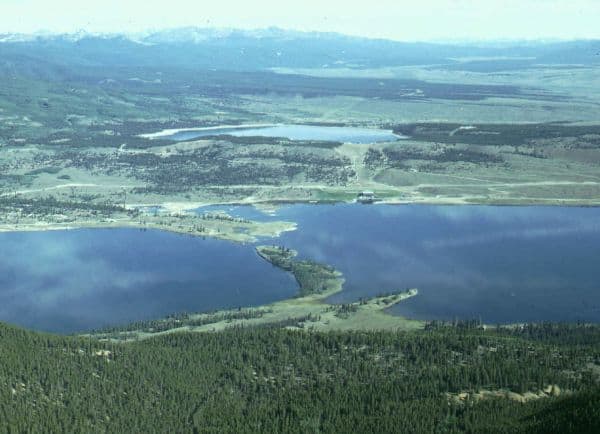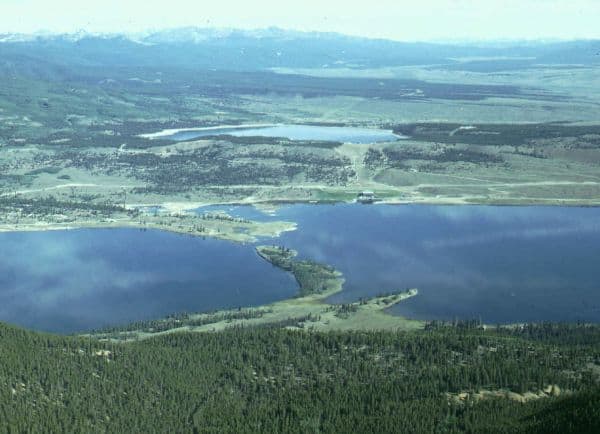 Twin Lakes is a very small place at the base of Mount Elbert in Colorado's Lake County. You can choose to stay at one of almost a hundred state parks and privately owned RV camps.
One of the most popular choices is the White Star Campground. Managed by the US Forest Service, its visitors have access to the famous Continental Divide Trail. The amenities are fairly basic and include drinking water, as well as restrooms. If you want to fish in the lake, there is also a designated angler fishing area on the campground.
Grand Lake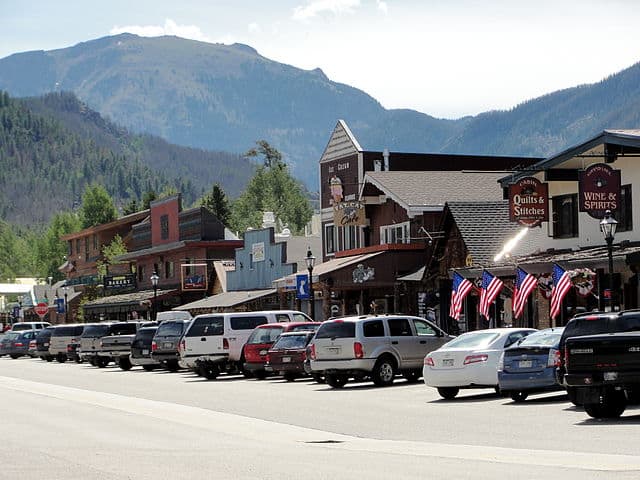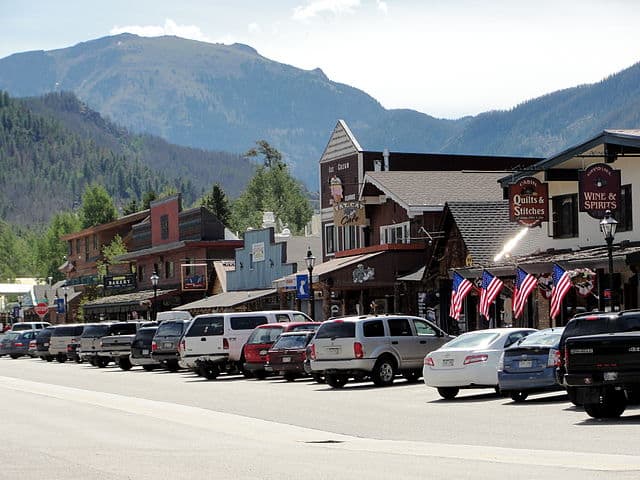 The Town of Grand Lake got its name from the eponymous lake, the largest body of water in all of Colorado. There are about 70 campgrounds in the whole area, both state-operated and privately owned.
During the May-September season, most visitors opt for the state-operated Green Ridge Campground. It offers all the basic amenities, as well as campsites for families. There are plenty of recreational opportunities here. They include hiking, wildlife viewing, fishing, and horseback riding.
The campground doesn't work outside of the season. Luckily, there are several other campgrounds to choose from. Popular options include the privately owned Elk Creek Camp with 50 sites and the Winding River Resort with almost 150 campsites.
Lake George
Lake George lies at the very heart of Colorado, almost 8,000 feet above the ground. A dam built in 1890 separates it from the South Platte River. The main attractions here include trout fishing and scenic tours of the nearby area. Visitors can also learn about the history of Colorado at the Florissant Fossil Beds National Monument, one of the largest fossil deposits in the world.
Popular campgrounds in the area include the Goosecreek Trailhead Road, the Mueller State Park, and the Badger Flats dispersed camping area.
Turquoise Lake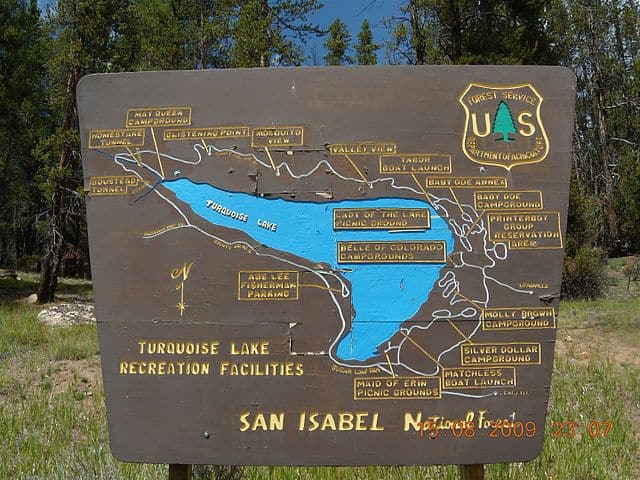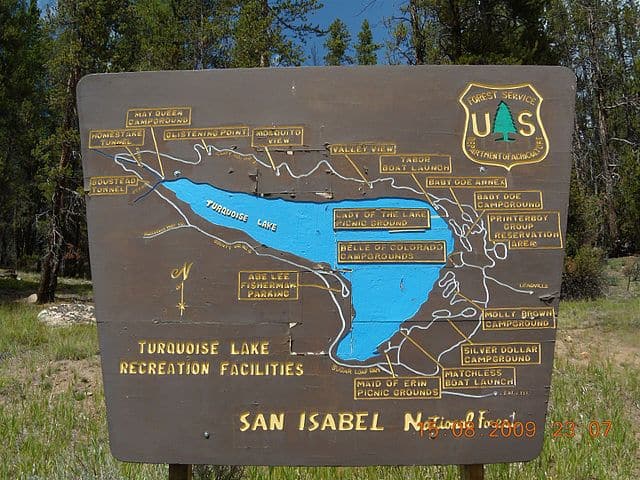 Turquoise Lake is a large reservoir on the Arkansas River near the city of Leadville. Known for trout fishing, as well as gold and silver mining, the city is also the home of the historic Tabor Grand Opera House. And if you're looking for something out of the ordinary, locals believe that some infamous ghosts haunt the Delaware Hotel.
There are eight campgrounds at the Turquoise Lake, with about 270 campsites. Popular choices include the Baby Doe Campground and the Molly Brown Campground. Both have vault toilets, drinking water, as well as camping tables on each site. They only work during the season, but some private campgrounds like the Leadville RV Corral are open all year round.
Bear Lake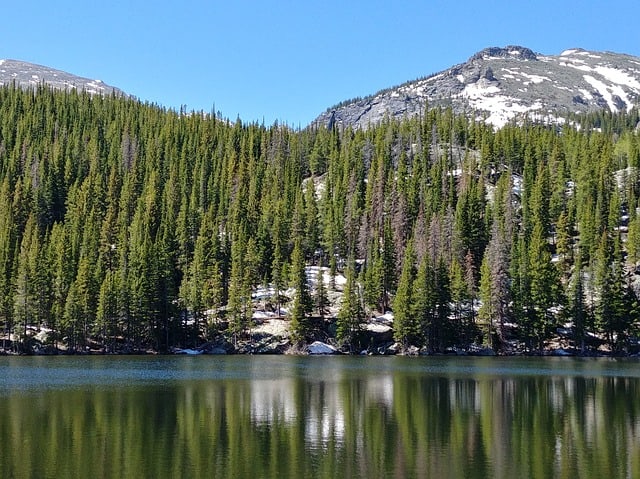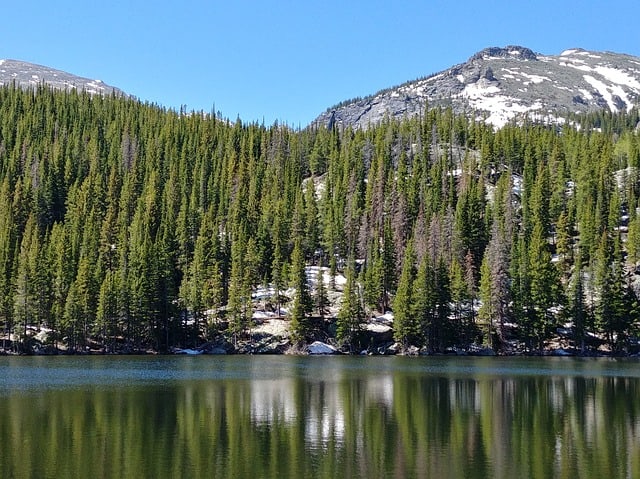 Bear Lake is one of the more popular destinations in northern Colorado. It is part of the Rocky Mountain National Park and sits about 9,500 feet above the ground. The view of the Rocky Mountains and hikes through Colorado meadows are the main attractions here. Visitors can also fish in the lake and experience the local wildlife at the Spanish Peak Wilderness.
The Bear Lake Campground is the go-to choice for campers that visit the area. It has about 45 campsites, each with its own camping table and marked rings where you can light a campfire. Visitors also have access to toilets and drinking water. The campground is only open from May 1 to September 30.
Lake Dillon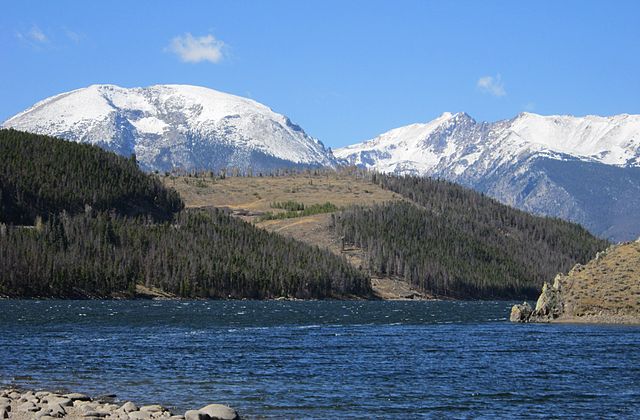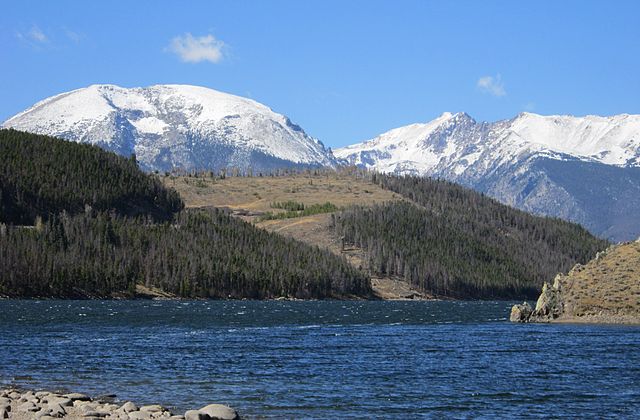 Lake Dillon, or the Dillon Reservoir, is one of the largest freshwater reservoirs in the state. It lies between the towns of Dillon, Silverthorne, and Frisco, and serves as the main water supply for the city of Denver. One of the main tourist attractions is the Frisco Adventure Park, where you can go hiking or biking in the summer and skiing and tubing in the winter.
There are five campgrounds in the local area. They are Lowry, Prospector, Heaton Bay, Peak One, and White River. Like most public campgrounds, they all open on Memorial Day weekend and close in late September. They are 15 more sites for dispersed camping. If you want to come here in the winter, you can opt for privately owned RV camps in one of the three neighboring towns.
Crater Lake
Crater Lake is something of an undiscovered gem. When visiting the area, most people opt to go north and see the Indian Peak Wilderness, but few of them visit the lake. There are, in fact, two lakes here: the Upper and Lower Crater Lake. In the summer, this location is perfect for hiking enthusiasts, as well as those just looking for peace and quiet in nature.
There are many campsites on the Crater Lake Trail where you can set up a tent. Keep in mind that there are no amenities available, so make sure to pack anything you might need during your stay here.
RV and Car Camping
Colorado Springs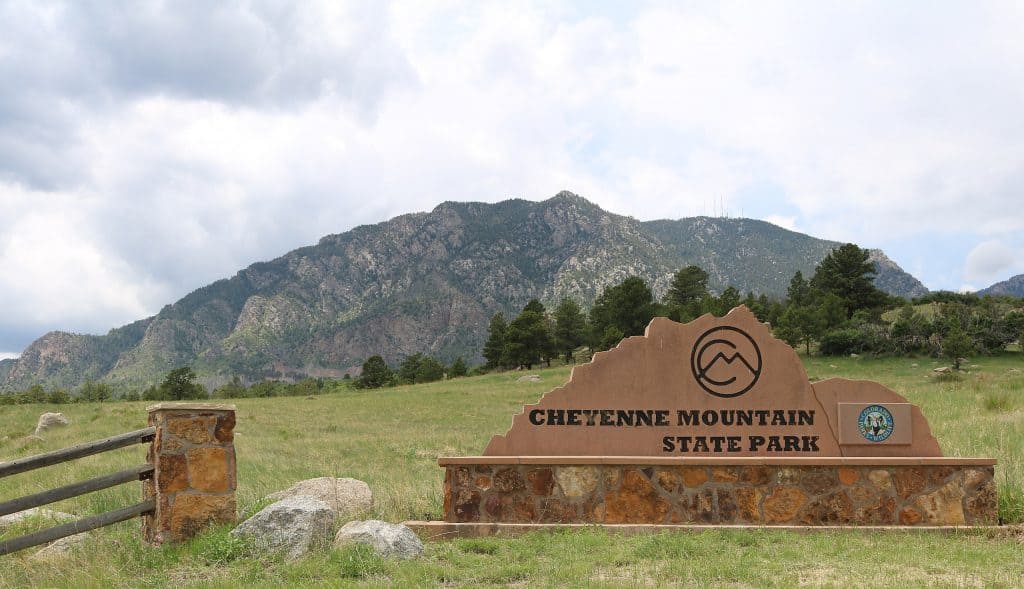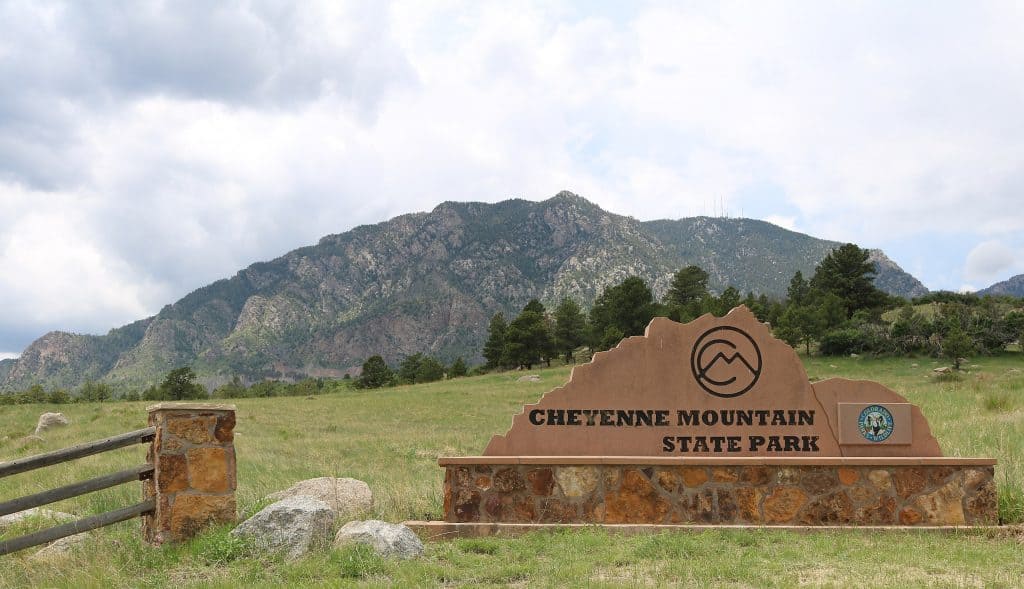 All campgrounds in the Colorado Springs area have separate RV campsites. The Cheyenne Mountain National Park can accommodate up to 51 RVs at a time and provides full electrical hookup for each of them. What's more, the park is open throughout the year, which means that you can come here even during the winter.
There are several privately owned RV camps in the area, too. Some of them also have cabins that you can rent and offer all the amenities you may need while staying there, including Wi-Fi internet access and TV rooms. Popular campgrounds include the Garden of the Gods, Lone Duck, Fountain Creek, Goldfield, Falcon Meadow, and the Golden Eagle. Their rates and fees are comparable and range from $35 to $40 per night for a full hookup site.
State Parks
Most state parks have camping spots for RVs and other large vehicles. Their number is usually limited to about 20 or 30 per campsite. To secure your spot on time, it is best to reserve a spot at least a few weeks ahead of your arrival.
To enter a state park with a vehicle, you will need to have a park pass. You can either buy it at the park or purchase it online. The standard annual pass for a single vehicle currently costs $70 and can get you into any state park in Colorado. If you're 64 or older, you can get it for $60, but you must provide your driver's license or ID. But if you have two or more vehicles, you will need a pass for each of them. This will cost you $35 per RV, or $30 if you meet the requirements for a senior pass.
Daily passes are also available and cost between $7 and $9 per vehicle.
Breckenridge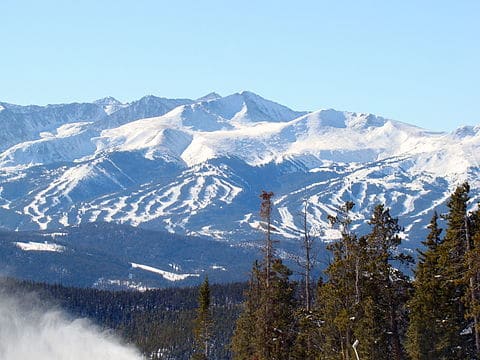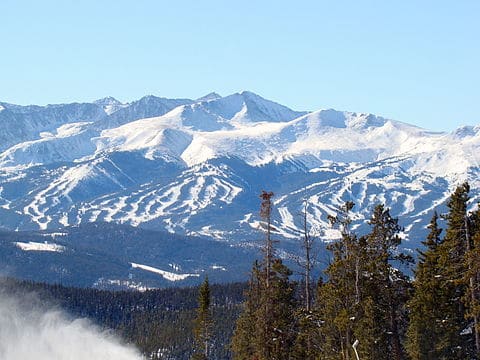 Breckenridge is a small town in southern Colorado with a very illustrious history. In mid-19th century people discovered gold in the Breckenridge area on Pikes Peak, which attracted many miners to the town. This sparked a three-year Colorado Gold Rush, which ended in 1861 with the foundation of the Colorado Territory.
A full century later, in 1961, locals built the first ski trails in the town. Today, the Breckenridge Ski Resort is among the most visited ski resorts in this part of the world. It spreads across five mountain peaks and has a total of 31 ski lifts.
But the area is also very active in the summer. With numerous mountain trails, it is great for hiking and mountain biking. In fact, the town hosts many running and biking races in the summer months. The nearby lakes are also a prime destination for fly fishing enthusiasts.
Since this is a very popular location, it's no surprise that there are almost 200 campgrounds in the town and the neighboring areas. The White River National Forest is home to many spacious campgrounds. They include Peak One, Pine Cove, and Lowry. Like many other public campgrounds, they only work during the season and stay closed in the winter.
If you're coming to Breckenridge to ski, you can lodge at the Ski Resort. Alternatively, you can opt for dozens of RV camps in the wider neighboring area. The cozy Middlefork RV Resort has 26 campsites, each with a full electrical hookup. If you don't mind the crowds, you can also stay at the family-owned Sugar Loafin Campground that has about 100 sites. There is also the popular Tiger Run, a luxury RV resort that can accommodate up to 200 RVs at any given time.
Free
You can park your RV and camp for free on any location in Colorado that allows dispersed camping. Most of these campsites have running water and clearly marked campfire sites. Some also offer toilets. But because none of them charge a camping fee, you can't expect access to any premium amenities. As such, you will have to pack garbage bags to collect your trash and find stores in nearby towns to buy groceries.
If you're staying in Leadville, there are dozens of free RV campsites throughout the White River National Forest. You can choose between the Aspen-Sopris, Blanco, Dillon, and the Eagle-Holy Cross Ranger District. The Rifle Ranger District only allows free tent camping, but there are free parking spaces to park your RV safely outside of the campground.
Free RV camping is also available in dozens of locations near the town of Jefferson. All the dispersed RV campsites are at the Pike National Forest.
Fort Morgan is one of the prime camping locations in northeast Colorado. There are also plenty of options for free RV camping available. The city's Riverside RV Park has up to 12 campsites available at all times, each with free electricity. But there are no sewer dumps at the park and you have to pay $2 or $3 to use showers at nearby facilities. You can park your RV here for no more than five days, unless local authorities grant you permission for a longer stay.
You can also opt to camp at the Pawnee National Grassland, where you can stay for 14 days.
Other popular free RV camping grounds in Colorado include the Arapaho National Forest, the Comanche National Grassland, and the Hermosa Creek area at the San Juan National Forest.
Winter Camping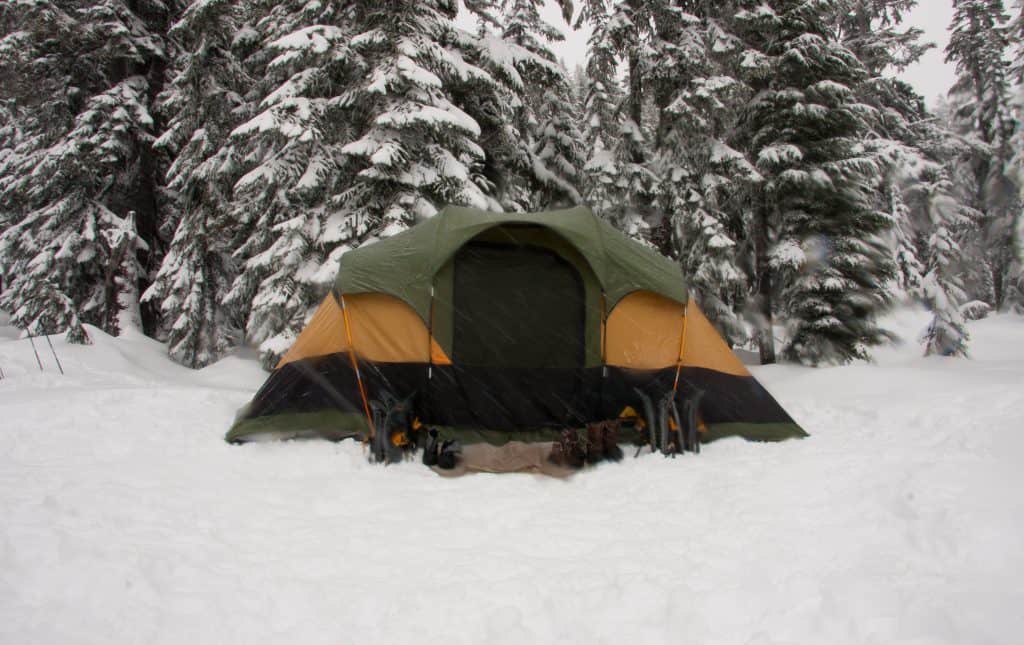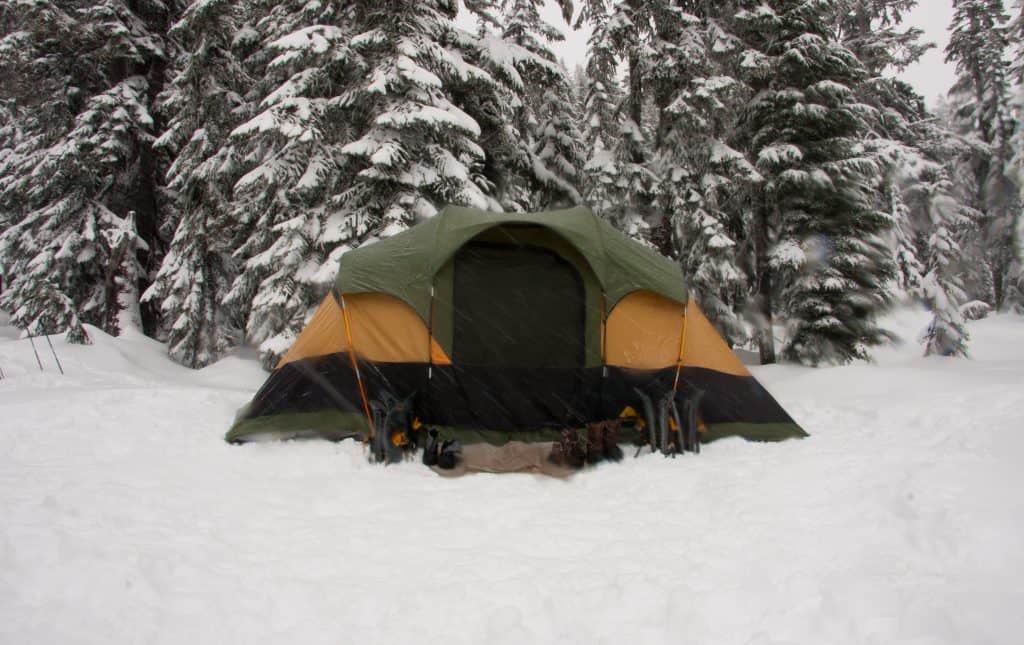 Although Colorado attracts most tourists in the summer months, it has plenty attractions to offer in the winter, too. January and February are usually the peak months of the winter season. There's just enough snow to cover the mountaintops and create breathtaking vistas. What's more, with fewer visitors and almost empty campgrounds, you won't have to suffer the crowds and will have all the privacy you need.
It goes without saying that the Breckenridge Ski Resort is the most popular location in the winter. But if you don't want to go skiing, you can see the winter wildlife of the area at the Rocky Mountain National Park. While at it, you should also visit the Gem Lake. There you can see the Continental Divide, as well as granite walls that are almost two billion years old.
There are more fascinating things to see in Colorado during the winter. Located at the Great Sand Dunes National Park, Zapata Falls is only a minor attraction in the summer compared to the dunes. But when snow covers the area, it easily steals the spotlight. Zapata Falls then tends to freeze over, creating a mindboggling, 25-foot-tall ice sculpture of sorts.
The Sylvan Lake National Park offers numerous winter activities, too. For one, you can take part in a backcountry skiing adventure, but you may need to obtain a permit first. You can also go snowshoeing and ride motor sleds across the white trails. Ice fishing is also a popular winter activity in this part of Colorado. Finally, you can also watch the local wildlife or visit the nearby White River National Forest for even more beautiful sights.
Most privately owned campgrounds in the state remain open during the winter. Unlike them, the public campgrounds at national parks and forests usually close in early October and don't reopen until the Memorial Day weekend in May.
One of the exceptions is the Swift Puma Campground at the Cheyenne Mountain State Park. This campground is only open during the winter months, from October to mid-April. It has a total of 16 campsites, all with sewerage, running water, and electricity. The Mueller State Park is open all year round and has 134 campsites, 112 of them with full hookups for RVs and cars.
Here's a comprehensive read with more of what Colorado offers.
Final Word
As you can see, Colorado has plenty to offer to outdoor enthusiasts all year round. From hiking and biking to wildlife watching, fishing, and skiing – the Centennial State has it all.
If you decide to camp for free, there are numerous locations throughout the state where you can do it. But because there's no electricity to power up the air-conditioning in your RV, free camping might not be the best option in the winter.
Luckily, there are many campgrounds that stay open in the winter. You can choose between the state-operated and privately owned parks. To secure your place, it is best to plan your trip at least a few weeks in advance and make your reservation as early as possible.
We hope that you have found all the information you were looking for to have the best camping in Colorado. Now it's time to enjoy all the wonderful attractions that make Colorado such a popular tourist destination.
Have a safe trip!