Published February 1, 2021
How to Break in Hiking Boots
Whether you've bought a new pair of hiking boots for your favorite day hike or you're preparing for a stint along the Appalachian trail, there's one vital step you don't want to skip: breaking in your new boots.
There are a variety of tips, tricks, and suggestions to do this properly, but one thing you'll want to avoid is wearing your boots right out of the box. To prevent blisters or any other discomfort while on the trail, read up on this simple guideline to ensure you get the most out of your new boots.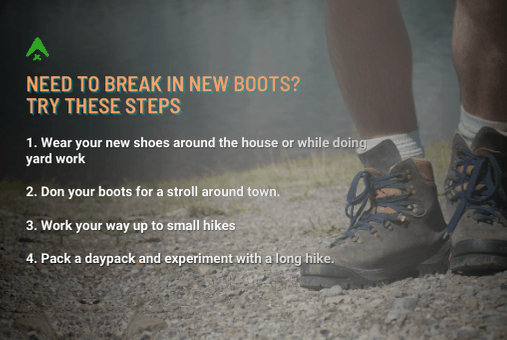 Put in the time
There are no quick fixes for breaking in hiking boots. Wearing your new shoes for one long go, soaking them, or any other magical solution is not going to do the job.
First things first: realize that breaking in your new shoes will take time. Often it takes more time to break in hiking boots than it would break in hiking shoes. Addressing this from the beginning will save your feet and provide you with overall better experience with your boots in the end.
Know your shoes and, most importantly, know your feet
The amount of time it takes to break in your new hiking boots will be dependent on the materials they're made out of. Some hiking shoes are made of breathable and malleable mesh fabric, making them quite flexible and easy to break-in. Others, however, are made out of more durable and stiff fabrics, like leather for example. These will take more time to soften up and get used to.
More importantly, though, know your feet! Take into consideration the characteristics of your feet. Things like high arches, wide or narrow soles, and any other dispositions will affect how your shoes fit and how they conform to your feet. Realize, as well, not only are your shoes conforming to your feet but your feet to them.
Most hiking boots will take some time and energy to break in. However, there is a chance that the shoe itself doesn't fit properly. Unfortunately, if you're feeling discomfort from an improper fit, then no amount of breaking in will fix this problem. Make sure you choose a pair of hiking shoes that fit well.
Steps to breaking in your new boots
One thing to keep in mind when breaking in your new hiking boots is to start small. The best way to avoid blisters or any other problems along the way is to work your way up to those long hikes you're expecting your shoes to take you on.
Below are the steps to breaking in your new boots:
Start by wearing your new shoes around the house or while doing yard work. This will allow you to determine whether or not they fit as well as you thought they did in the store and to identify any hot spots that may create discomfort later on.

Next, don your boots for a stroll around town. Take a long walk around the block, run errands, or do any other sort of short activity in your daily life while sporting your new hiking boots.

Work your way up to small hikes. Go on a two- or three-hour hike along your favorite trail nearby to test the waters.

Pack a daypack and experiment with a long, eight- to ten-hour hike. Put your shoes to the real test and see how they hold up on a long day hike or even a weekend trip.
Other Considerations
Different conditions — Elements like temperature, moisture, and debris will all affect your experience while you're on the trail. Depending on the conditions you're hiking in, your shoes and feet are going to react differently. Take this into consideration when you're breaking in your new hiking boots.
Added weight — If you're planning an extensive hiking trip, remember that your pack will add weight to your body and your feet, which may create new points of friction, hotspots, or distribute your weight differently. It may be beneficial to go on shorter hikes with your expected weight-bearing load to avoid any surprises along the way.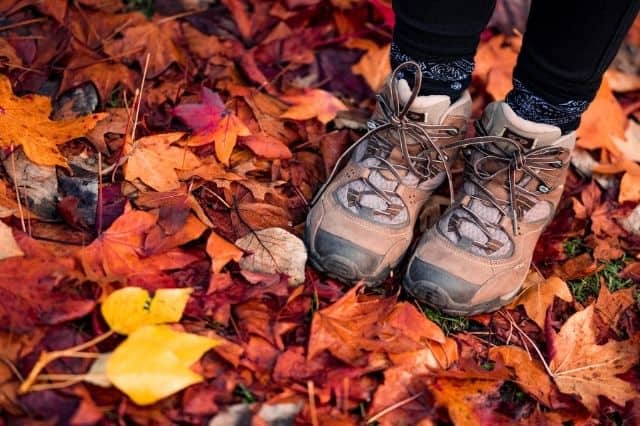 Claims and Expectations — Hiking boots have a wide range of specs and features and each pair is different. Are they truly as breathable as they claim? Waterproof? What is the traction like on different surfaces? All of these will affect comfortability in the long run.
Proper socks — Wearing the right socks is crucial for breaking in and maintaining healthy, happy feet while you're hiking. When breaking in your shoes, wear the socks you expect to wear on the trail. Choose breathable socks and socks that give you enough cushion and stay dry.
Lacing techniques — When breaking in your new hiking boots, it's important to consider how the shoe lays on the top of your foot. As your shoe mold to your feet, the tongue of your shoes will also settle into place. You may find discomfort from either too much pressure or not enough, or your heel might slip. Depending on the issue, there are many different ways to lace your boots to help to alleviate any problems that arise.
What if I don't have enough time?
While all of these methods will help to break in your new hiking boots with as little hassle as possible, there's the chance that maybe you've procrastinated too long, or your spontaneous nature has placed you in a position where you don't have ample time to break in your new shoes. In that case, there are measures you can take to limit your discomfort on the trail.
Pay attention to spots that may prove uncomfortable down the road and prepare yourself with the tools to treat them. Moleskin, Goldbond, and different kinds of socks to choose from can help to prevent and treat any irritation while on the trail if you don't have the time to break in your hiking boots properly.