Published January 5, 2021
Take on the Trails with the Best Hiking Boots (in 2021)
Is there any part or stretch of the trail that you can't handle? Are you sure it's you and not the boots that can't handle it?
The wrong choice of hiking boots costs you money and can even cause injury. We're here to ensure that doesn't happen to you.
These are our reviews of the best hiking boots currently available. We've also added a small buyer's guide for anybody who wants to do a little more research before buying.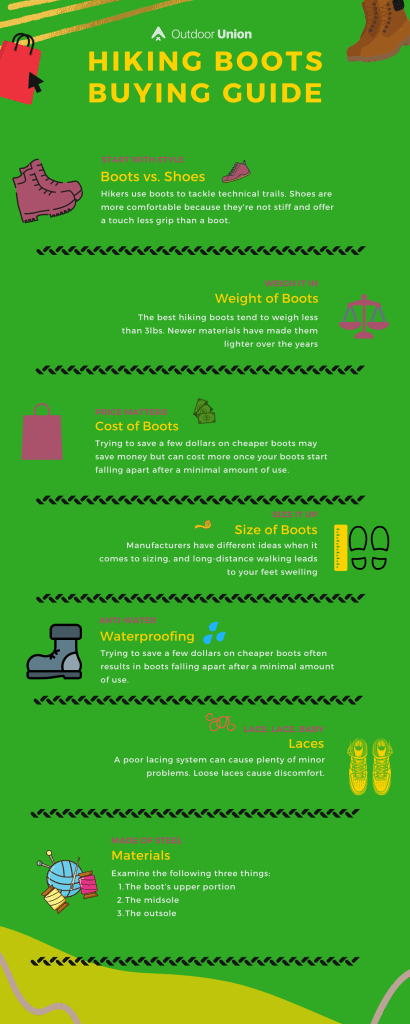 Our Top Pick: Salomon Quest 4D 3 GTX Hiking Boots
Review
Some of the sturdiest and most comfortable hiking boots around, the Salomon Quest series has gained a stellar reputation over the years. Shock absorbing, odor repellence, and exceptional grip all comes as part of the package. They're an all-weather boot too, so you can take on any conditions or terrain while wearing them.
Pros
Water is a major problem for any hiker, as even a little bit of water seepage can cause serious problems for your feet over time. If you're tackling snow or ice, that water could even send you to the hospital. These boots solve that problem through the use of Gore-Tex to ensure that water doesn't find its way to your feet.
Salomon Quest has listened to its customers and completely redesigned the platform of the latest of their GTX boots. In addition to offering superior grip, this redesign also improves user comfort. It adds a touch of flexibility to a previously stiff boot as well.
Capable of taking on the tougher trails out there, you shouldn't find that the boot gets damaged when you step on sharp rocks or other rugged terrain. The leather upper helps, as it provides extra protection against some of the things you'll come across on your hikes. You also shouldn't experience any problems with that upper cracking during your walks.
The Ortholite footbeds are a nice choice and they certainly help with shock absorption on rough terrain. But you also have the option to remove them if you feel like they're a bit too much for hiking on smoother, more maintained trails.
Sweaty feet lead to smelly boots, which is a problem that many long-distance hikers have to deal with. The 4D 3 GTX boots tackle this with in-built anti-odor properties. Apart from the breathable upper, this is accomplished via the antimicrobial Ortholite insole, which is removable and retains its antimicrobial properties even after repeated washings. This keeps the boots feeling fresh on later adventures, even when they're well worn.
Cons
While certainly not a heavyweight boot, we also wouldn't class these as lightweight boots either. Weighing in at just under 3lbs for the pair, you'll certainly start to feel them on longer walks. This also means that they're not a great choice for people who want to travel over smooth terrain at speed, as they will slow you down.
Despite the efforts made to improve flexibility, this is still a hiking boot that's best suited to technical trails that require added protection. There's a touch of stiffness to the boot that may make it feel like more of a burden than it should on smoother trails. You may want something a little more flexible when dealing with easy terrain.
Materials Analysis
The boots use a combination of leather and mesh textiles for the upper portion, which lends them durability with a touch of flexibility. The Gore-Tex lining prevents too much water from seeping into the boot. The midsole uses ethylene-vinyl acetate (EVA), while the sole uses Contragrip rubber that offers superb traction.
Who's it Best for?
Anybody looking for a sturdy boot with great traction will love these boots. They can stand up to tough terrain, feature a redesigned platform that offers exceptional grip, and offer a fair amount of water resistance. However, they may be a little too much for people who just want to take simple and short hikes.
To find out more about this boot, head to https://www.backcountry.com/salomon-quest-4d-2-gtx-backpacking-boot-mens.
Our Runner-Up: Lowa Renegade GTX Mid
Review
Available in both women's and men's variants, this hiking boot nearly reaches the heights of the Salomon Quest offering. It uses Gore-Tex and has a lower weight, as well as offering great support.
Pros
Lowa uses a special polyurethane injection technique to reinforce the boot's sides. This offers two benefits in that it keeps the weight down while also offering a frame that provides plenty of support. This is a comfortable boot, and a lot of that comes down to the quality of the frame.
The boot comes in both men's and women's varieties. It predominantly offers the same features across both types, though the outsole differs. You get a Vibram Evo outsole with the men's boot, while the women's uses Vibram Vialta. Happily, both offer enough traction to take on tough terrain without too many issues.
The boots use Gore-Tex, like many of the other boots on this list. This offers some water resistance, particularly for the frame, but they're not perfectly waterproof. Still, you should find that your feet stay nice and dry as long as you don't go trekking through deep puddles and mud on a regular basis.
Anybody who's had to spend a while wearing in some new boots will know how much of a hassle it can be. But that's not a problem that you'll experience here. The Renegades offer comfort almost from the moment that you take them out of the box.
Lowa uses a special Climate Control footbed to allow air to circulate through the boot when needed. This may not seem like a big deal until you're hiking in warm weather. That extra breathability can prevent heavy sweating, which is a good thing seeing as the boots have very little built-in odor resistance.
Cons
The insole that comes with the boot isn't the best in the world. It has a habit of climbing up your heel, which reduces comfort for your toes on longer walks. You can always shift it back, but most people won't want to halt their hikes just to mess around with their insoles.
While the boot offers adequate ankle support, it doesn't extend much further than that. You may find that they're unsuitable for technical treks or dealing with rocky paths. This may vary depending on your foot shape.
The benefits of the Vibram soles are very easy to see in terms of the comfort that the boot offers. But their slight softness, in comparison to other boots, means that they're more likely to wear out over time. This is especially the case if you're hiking on tough trails. Unfortunately, the soles don't match the sturdiness of the rest of the boot.
Materials Analysis
Like the Salomon boots, these combine leather and textiles to good effect in the upper body. However, they offer a sturdier dual-density EVA for the midsole in addition to the Vibram rubber soles. A Gore-Tex lining helps with waterproofing, but the smaller lugs mean they don't offer quite as much traction as our top pick.
Who's it Best for?
This is an excellent boot for anybody who values comfort a little more than protection during their hikes. The soft soles and overall construction make this a boot that fits well and feels great as soon as you take it out of the box. Of course, that doesn't mean that the boot offers no protection. But you may want to look elsewhere if you know you're going to hike on technical terrain and rocky trails a lot.
To find out more about the men's version of this boot, visit https://www.backcountry.com/lowa-renegade-gtx-mid-hiking-boot-mens.
As for the women's version, head to https://www.backcountry.com/lowa-renegade-gtx-mid-hiking-boot-womens.
Our Waterproof Pick: Salewa Mountain Trainer Mid GTX Backpacking Boot
Review
One of the best alpine hiking boots on the market, the Mountain Trainers make a couple of small sacrifices in comfort to offer exceptional protection. This makes them well-suited to technical alpine trails, but it's the waterproof qualities that impress us the most. The lacing system also makes this a versatile boot that fits most foot types.
Pros
Exceptional Waterproofing
Much like the Salomon Quest boots that we examined above, the Mountain Trainers use Gore-Tex to make the boot waterproof. But it goes a step further than that. The protective rubber rand extends around the entire lower portion of the boot. This keeps any stray water out, as well as protecting your feet from little bits of debris from the trail.
Excellent for Rough Trails
This is no lightweight hiking boot, as it weighs in at over 2lbs and 15oz. But that extra weight comes from the various protective features that the boot has to offer. The Alpine Approach soles, coupled with the sturdy suede upper, ensure this boot can take on practically anything that a trail could offer without showing serious signs of wear.
Salewa comes from a climbing background and you can see the influence of this on the lacing design. The laces extend almost to the toe of the boot, which offers you great flexibility in how you wear it. You can use the laces to widen the boot or cinch it up, which means it suits practically all types of foot.
Odor isn't a problem with these boots because they've received the Cleansport NXT treatment. This odor-fighting treatment attacks and neutralizes the microbes that cause those nasty smells, which means your feet stay fresh even on tough hikes.
Cons
There's no getting around the fact that this is a stiff boot. While this means it offers great protection, it also means that you won't get to pick up much speed during your walk. It's not always the most comfortable boot, though it's also not going to damage your feet.
A warm boot can feel great when you're hiking on a cold trail, but it's not the most desirable thing during the summer. This is a fairly warm boot, which may cause some discomfort to those with sensitive feet. It's not a major problem, and it doesn't stop you from using the boot during the summer, but it may lead to a touch more sweat than you expected.
This isn't so much a con as something that you need to be aware of. This is a European boot, so you'll find the sizes may run a touch smaller compared to what you're used to in America. For example, those with size 10 feet may want to order a size 11 boot. Speak to your supplier beforehand if you're feeling wary about getting the right size.
Materials Analysis
The use of suede leather for the upper portion offers these boots great flexibility. But it's the rubber lining that really stands out here, as it protects against debris as well as combining with the Gore-Tex lining to provide superior water resistance. The nylon midsole adds some support and stiffness to the package.
Who's it Best For?
This is the boot for you if you're tackling really tough trails, heading up into alpine territory, or have to deal with wet conditions on a regular basis. While it's usable as an all-season boot, you will find that it gets a bit warm and feels a touch stiff. Still, that's a small price to pay for such exceptional protection.
To learn more about the boot, head to this website.
Our Lightweight Pick: Salomon X Ultra 3 Mid GTX
Review
Lightweight boots offer a small compromise in protection to allow for the more fleet of foot to pick up speed on the trail. Salomon's X Ultra's combine the best features of trail running shoes with a surprising amount of support. This makes them ideal for day hikers and backpackers who don't have to deal with technical trails.
Pros
These boots feature a Gore-Tex insert, which protects against water seepage. It's not perfect, but that's the case with most types of hiking boot. As long as you use some common sense during your hike, you should find that your feet stay high and dry throughout your trek.
Weighing in at less than 2lbs for the pair, you'll immediately feel lighter when wearing these boots than you would in some of the mid-weight boots on our list. This makes them a great choice for trail runners, especially as the boots offer decent flexibility so that they don't wear on your feet as you run.
Salomon uses a Contragrip rubber sole to improve grip on difficult terrain. This manifests itself as much larger lugs than you may be used to on a trail running shoe. This means that the shoe can handle wet and icy conditions better than most in its category.
The combination of the Advanced Chassis and Ortholite footbed create a breathable show that shouldn't leave your feet sweating. The footbed actively wicks moisture away while also providing some odor resistance qualities. As for the chassis, it includes a breathable upper section that allows a fair amount of air to circulate.
Cons
All of this lightness comes at a cost, with the underfoot suffering the most. It's surprisingly thin, which means you're really going to feel every errant step onto a rock. It's not much of a problem if you're taking on well-maintained trails, but those looking to tackle tough terrain may want to look at a mid-weight option instead.
This is a given with most lightweight boots, but it's still worth mentioning. The X Ultra 3 offers better protection than most in its class, but those looking for solid ankle support may want to look elsewhere. It's also not going to offer the support you need when carrying a heavy load or when navigating through difficult terrain.
Materials Analysis
Much like the Quest 4D 3 GTX boots, these offer a Contragrip rubber sole with enormous lugs, which provides excellent traction. The Advanced Chassis material used in the upper portion lends the boot more flexibility and breathability. The majority of its support comes from the EVA used for both the footbed and midsole.
Who's it Best for?
Trail runners and those who take on the less technical part of the hiking scale will love the flexibility and breathability of these boots. They're also exceptionally light, which makes a real difference to your stamina levels during the latter stages of long walks. However, they do lose some protective qualities to allow for this lightness, with the thin sole making them unsuitable for more technical trails.
To check out what these boots have to offer, head to https://www.backcountry.com/salomon-x-ultra-mid-2-gtx-hiking-boot-mens.
Our Trail Running Pick: Saucony Peregrine 8
Review
With both men's and women's versions available, the Peregrine is in its eighth iteration. The big update comes in the size of the lugs, which offer even greater grip on difficult terrain than ever before. But the rest of the shoe manages to meet the high standards that previous generations have set as well.
Pros
Flexibility is key when it comes to trail runners, as there are all sorts of different foot sizes to account for and your feet will be much more active than they would in regular hiking boots. The Peregrine 8s offer a roomy toe box that gives you plenty of room to bend your toes and pick up speed. An added bonus is that this room also helps them to protect your feet against blisters.
A redesigned sole is the main feature of the newest Peregrines and you'll notice an immediate difference in the size of the lugs. They're huge, which means they're also capable of offering great grip. While they still don't match the traction of a full-blown hiking boot, they offer some of the best grip in the trail runner category.
You'll find solid mudguards at both the toe and heel ends of these shoes. These offer a little more protection that you may expect from a trail runner, so the occasional rock or difficult patch won't present too much of a problem. The best thing is that these guards don't compromise the shoe's flexibility in any way.
Saucony complements the flexibility offered in the toe department with a locked in feel for the rest of the shoe. Your foot won't ever feel like its slipping out, which protects against rubbing while also offering stability.
While these aren't waterproof shoes, they do handle water better than many other trail runners. You'll find that they drain quickly, which means your feet dry out without much trouble after a couple of splashes through puddles. This quick drying also works out great for when you wash the shoes.
Cons
Not Great Over Long Distances
For all of their additions, Saucony decided to remove the rock plate from this generation of the Peregrine. You won't really feel a difference over 10 and 20km runs. But your feet may start to suffer if you want to use them over larger distances. Regular distance runners may favor a shoe that offers a touch more protection.
You'll want to avoid ordering to your normal size with this shoe. They tend to run about a half-size larger than they claim. If you're looking for a snug fit, order a half-size lower than you normally would.
These are certainly lightweight shoes, but those who've used the previous Peregrine generations may find that they're a touch on the heavy side. The various improvements made increase the weight by about 1.4oz per shoe. It's not a huge amount and it won't affect most people. But you may start to feel that extra weight towards the end of long runs.
Materials Analysis
A combination of mesh and synthetic materials help to keep these shoe light, though you obviously lose a touch of durability when compared to leather boots. The PowerTrac soles offer great grip, aided in no small part by the large lugs. Better yet, the PowerFoam midsole has a cushioning effect that makes the shoe feel more comfortable.
Who's it Best for?
Anybody who likes to pick up some speed during their outdoor adventures will appreciate the flexibility and lightness of this shoe. But it's also a great choice for more technical trails thanks to the solid outsole. Just be wary of the variance in size and understand that they're a little heavier than the Peregrine 7s.
To learn more about these boots, head to https://www.backcountry.com/saucony-peregrine-7-trail-running-shoe-mens.
Boots That Didn't Make the Cut
We examined a lot of different boots during the process of creating this buying guide. As a result, we came across a lot of boots that had great qualities but were missing that certain something that would have gotten them onto our list.
Still, you may find that some of these boots work well for you, so here's a short list of boots that didn't quite make the cut.
Columbia Newton Ridge Plus II WP
The low price made us immediately wary of these boots. However, we discovered that they actually have a lot to offer. They offer a waterproof walk thanks to the use of Omni-Tech technology, and the use of suede leather makes them much more durable than we anticipated.
The padding around the tongue and collar also means that you won't spend an eternity breaking them in before you can wear them.
Unfortunately, they're not the most breathable boots around. This makes them unsuitable for summer walks. Structurally, they also don't offer the level of support that you really need on difficult terrain.
Still, they're great entry level boots that offer surprising strength for such a low price. Find out more about them at https://www.backcountry.com/columbia-newton-ridge-plus-ii-suede-wp-hiking-boot-mens.
Brooks Cascadia 12
The Cascadia 12s came very close to outing the Peregrines as our trail runner's shoe of choice. They offer a comparable weight and don't fall too far behind when it comes to grip. We also greatly appreciate the rock shield, which ensures there are few instances of rocks stinging your feet during your runs.
The mesh used for the upper portion is also much more durable than we expected. This is a quality that extends throughout the shoe, which may make it a good choice for people who want something that lasts a long time.
However, they do have a bit of weight to them, which isn't helped by their long drying time. The combination of their inbuilt weight and the water weight that they struggle to get rid of can really sap your energy.
Still, they're a great shoe that offer superb durability. You can find out more about them at https://www.backcountry.com/brooks-cascadia-12-trail-running-shoe-mens.
Zamberlan Vioz GTX
The design may make these look like a relic of the past, but they do a stellar job of protecting your feet on rough terrain. The tough outer leather combined with the beautiful cushioned interior ensures maximum comfort on even the toughest terrain.
They also offer spectacular support and have a lacing system that keeps your foot secure at all times.
But the market has trended away from these types of boots for a reason. They're just too heavy for most, with the pair weighing in at 3lbs and 8oz. They may provide great support if you're going on a long walk with a lot of gear, but they're going to weigh you down on most other types of hike.
Still, they feature a classic design and offer amazing protection. You can find out more about them at https://www.backcountry.com/zamberlan-vioz-gt-boot-mens.
Your Hiking Boots Buying Guide
Buying a pair of hiking boots isn't as simple as finding boots that feel good during a brief walk around a shop. You have to think about the types of trail that you're taking on and the materials used throughout the boot. Going for a lightweight option when you're hiking on technical and demanding trails may not be the best option. But heavy boots cause plenty of problems for those who value speed on simple trails.
This buying guide highlights the key factors that play a role in your buying decision.
Boots vs Shoes
Most people only think of the boot style when looking for their footwear. However, you can also buy hiking shoes, which tend to serve a slightly different purpose.
Boots usually offer much more support, particularly around the ankles and heels. They're also often much more durable. Hikers use boots to tackle technical trails that present a lot of difficult terrains for them to overcome. However, they're also useful for those who have lingering injuries that require more support on the trail.
Shoes lose a good deal of that support, but they also offer greater flexibility. They're generally more comfortable because of this lack of stiffness, though you'll really feel it if you step on a sharp rock. Typically, they offer a touch less grip than a boot. But some shoes try to minimize these issues with large lugs on the tread. Generally, shoes are the better choice for trail runners and speedy walkers.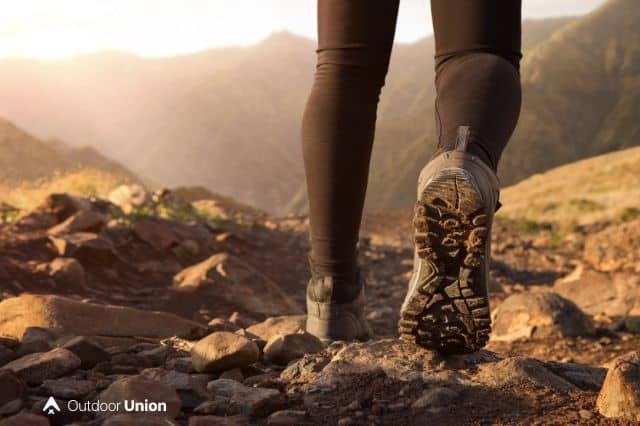 The Weight
You'd be surprised to find out how much the weight of your hiking boots can affect you. Even a couple of extra pounds can really sap your energy, especially during longer treks.
The best hiking boots tend to weigh less than 3lbs. Newer materials have made them lighter over the years, but you still want a little weight to help with stability. Backpacking generally becomes easier with heavier boots. However, the added weight does mean that your hikes take more time and your feet start to ache quicker.
Trail runners and similar shoes tend to weigh less than 2lbs. This makes a huge difference, particularly when it comes to foot fatigue. You'll want these for longer treks that don't place huge demands on your technical hiking skills. However, that lower weight tends to come at the cost of foot support, which could come back to haunt you on rough terrain.
It's something of a balancing act. Nevertheless, you'll generally want to avoid boots that weigh much more than 3lbs, as they don't offer enough extra protection to justify the fatigue that they cause.
The Cost
You really do get what you pay for when it comes to hiking boots. Trying to save a few dollars on cheaper boots may save money in the short term, but it often doesn't do you much good when your boots start falling apart after a minimal amount of use.
Moreover, cheaper boots tend to use less flexible materials, which has an enormous effect on fit and comfort.
The Size
There are two issues to consider when it comes to picking the size of your boots.
Firstly, different manufacturers have different ideas when it comes to sizing. In particular, you'll often find that European manufacturers' boots run a touch smaller than you might expect. Research the boot beforehand to see if other users complain about them being too large or too small.
There's also the issue of foot swelling. Long-distance walking leads to your feet swelling, plus you'll often wear thick socks during hikes. This combination can add an extra half-size to your foot, which you must account for when buying. Some boots use breathable materials to combat this swelling, but it's generally not enough to stop it from happening altogether.
Waterproofing
Most of the boots on our list use Gore-Tex to protect against water seepage. This is a lining that goes between the inner lining and outer construction of the shoe. Some also offer other features, such as rubber around the exterior, to further protect against water.
It's important to point out that such measures do not always completely protect against water. Trekking through deep water will still usually mean that your feet get wet. However, they should allow you to deal with puddles, downpours, and wet mud while still keeping your feet dry.
So, should you always go for waterproof boots?
It depends on your needs. These waterproof linings also reduce breathability. If you usually walk in warm and dry conditions, you'll find your feet heat up quickly in waterproof boots. As a result, you may want to sacrifice waterproofing for greater comfort on such hikes.
No matter how waterproof your footwear is, it's a good idea to pack an extra pair of socks.
Laces
Many people forget to think about the laces when buying hiking boots. But a poor lacing system can cause plenty of minor problems. You'll have to constantly stop to readjust and retighten the laces, plus loose laces cause discomfort because they allow the boot's tongue to slip around.
More seriously, a poor lacing system affects stability as it allows your foot to slip around more. This can lead to injury on technical trails.
If you're trekking on difficult trails, look for boots that feature locking hooks near the ankle. These offer enough flexibility to allow the boot to fit your foot while also ensuring the laces stay in place for the duration of your walk.
The Materials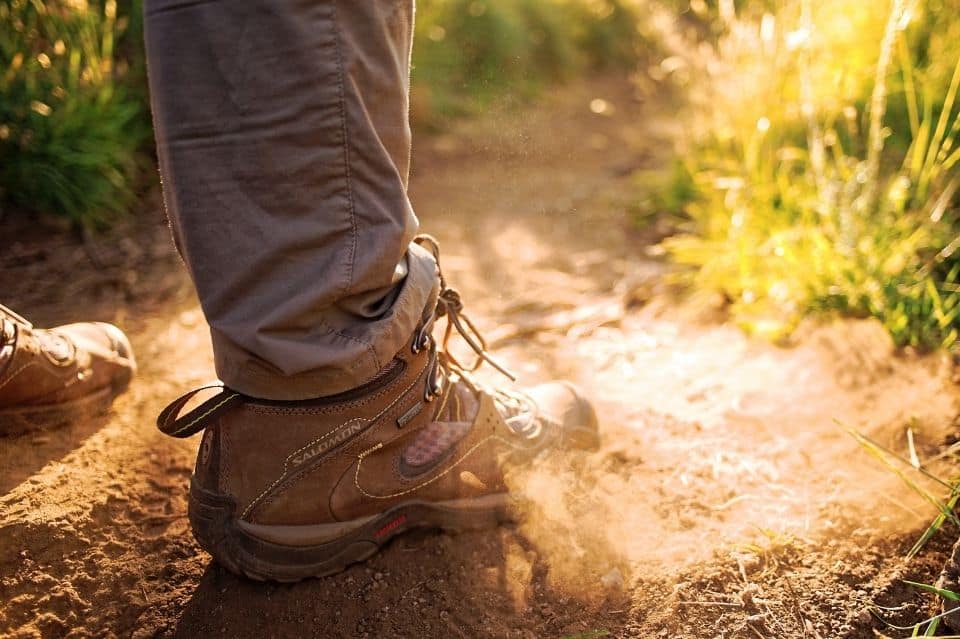 When it comes to materials, you must examine the following three things:
The boot's upper portion
The midsole
The outsole
Here's what you can expect from the materials of each.
Entry-level boots tend to use a combination of mesh and nylon for the upper portion. While this aids in flexibility, it also means they're not as durable as high-end boots. You may want to consider these for simple trails, but you'll need a sturdier material for technical trails.
Full-grain leather lies at the other end of the spectrum. The boots become heavier and less flexible, but they're also much more durable. These boots also take advantage of the natural waterproofing properties that leather provides. However, you have to maintain the leather to keep the boots in good condition.
Suede leather offers a middle-ground between the two. It's lighter than full-grain leather, which means it's used for many boots that try to combine the best features of trail running shoes and hiking boots. Of course, this flexibility comes at the cost of durability.
Typically, manufacturers use either EVA or polyurethane (PU) for the midsole.
EVA is a type of foam that generally offers greater comfort. In particular, it can help you to absorb the constant impacts that your heels experience during long hikes. The composition of EVA differs depending on the manufacturer, with some offering extremely soft midsoles while others use stiffer EVA that offers more protection on tough terrain.
For really difficult walks, or when carrying heavy loads, you may want to go for PU instead. While stiffer and less comfortable than EVA, PU offers greater durability. It also doesn't compress in the same way as EVA, which means your boot keeps its shaper for longer.
Some manufacturers combine these two materials in an effort to offer the best of both worlds.
Most manufacturers use rubber for their outsoles, so you shouldn't run into too many variations in materials here.
What you're looking for is the tread. Different boots have different lug sizes. The bigger the lug size, the more traction you'll get on tough terrain. However, bigger lugs also add weight to the boot, which may be a problem for those who value speed.
The Final Word
As you can see, finding the best hiking boots isn't just about finding something that feels comfortable. You have to consider the trails you walk on and the conditions you hike in before you can make the right choice.
Nevertheless, we consider the Salomon Quest 4D 3 GTX Hiking Boots to offer the versatility, protection, and overall quality to justify making them our top pick. The only people who shouldn't consider these boots are those who want to run rather than walk. You can find out more about them at https://www.backcountry.com/salomon-quest-4d-2-gtx-backpacking-boot-mens.
If speed is of the essence, you'll want a trail runner's hiking shoe, rather than a full-blown boot. In that case, we recommend the Saucony Peregrine 8s because of their exceptional grip, comfort, and low weight. Discover what they have to offer at https://www.backcountry.com/saucony-peregrine-7-trail-running-shoe-mens.