Published June 1, 2021
Best Hiking Trails in Michigan
Michigan contains thousands of miles of hiking trails leading you to some of the most stunning natural landscapes in the Midwest. Home to the nation's longest freshwater coastline, massive sand dunes, and an abundance of pine forests and state parks, the options for an escape into nature are endless.
Explore the largely unpopulated forests of the Upper Peninsula, climb the sand dunes that line the Lake Michigan shoreline, or stroll along one of the state's many rivers as you traverse this diverse state. No matter where you choose to plant your feet, you won't be disappointed.
With so many options to choose from, we've compiled a list with some of the best hiking trails located all over the state. Here you'll find a wide variety of trailheads, each with their own unique charm.
West Michigan
North Country Trail-Lowell
7.92 miles
Over 1,000 miles of the North Country Trail can be found in Michigan, both in the Upper and Lower Peninsulas. While all of the different sections of the trail are worth visiting, the Lowell to Fallasburg Park hike is a West Michigan favorite. The trail begins at the Flat River Dam on Main Street and takes hikers through red pine woods, along the Flat River, up to a scenic overlook, and ends at Fallasburg Park Road.
Mt. Randal Loop – Warren Dunes State Park
4 miles
The Mt. Randal Loop is located in Southwest Michigan, and offers spectacular views of Lake Michigan from a 260-foot sand dune. A moderate hike, this state park boasts of 1,952 acres of recreational land, three miles of shoreline, and designated areas for camping.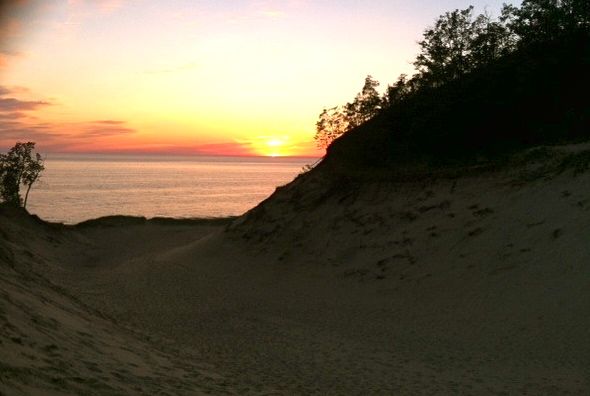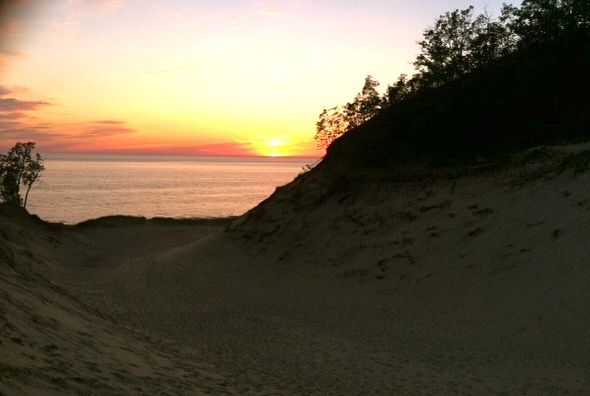 Nurnburg Trailhead – Huron-Manistee National Forest
6 miles
The Huron-Manistee National Forest is a labyrinth of wilderness and forested trails and includes several camping and hiking opportunities. Located in the Nordhouse Dunes Wilderness Area, the Nurnburg Trailhead gives hikers of a series of footpaths to choose from that lead you through forests, wetlands, dunes, and up along the lakeshore.
Northern Michigan
Pyramid Point Trail – Sleeping Bear Dunes National Lakeshore
2.7 miles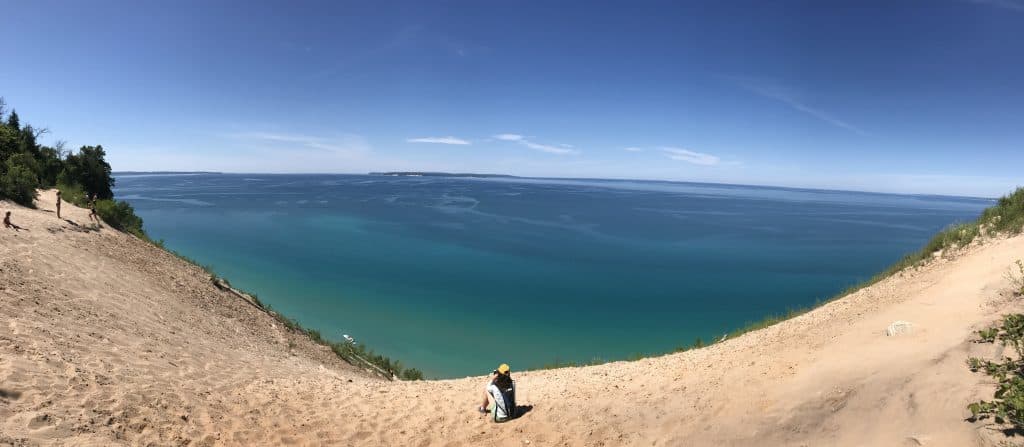 This trail takes you up to the tip of Pyramid Point, a dune bluff overlooking the turquoise waters of Lake Michigan with views of both North and South Manitou Island. After this breathtaking view, hikers have the option to continue along the path through a maple-beech forest leading out to a grassy meadow along varying hilly terrain. While the path to the bluff is usually quite busy during high season, the rest of the trail remains relatively quiet for those more adventurous. The national park encompass 35 miles of shoreline in the most northwest point of the Lower Peninsula and the North and South Manitou Islands.
Platte Plains Trail – Platte River State Forest
14.7 miles of looped trails
The Platte Plains Trail system offers hikers a multitude of environments and views. The area is comprised of two lakes, Otter Lake and Bass Lake, as well as wetlands, maple-beech and pine forests, backcountry camping, multiple access points to Lake Michigan. There are three main loops – Otter Creek Loop (4.6), Bass Lake Loop (3.5), and Lasso Loop (6.3 mi) – and trailheads on Esch Road, Trail's End Road, and at the Platte River Campground.
Northern Loop – North Manitou Island
14.2 miles
North Manitou Island is an island in Lake Michigan and part of the Sleeping Bear Dunes National Park. You'll need to take a ferry to access these beautiful trails and plan to stay overnight as the ferry only arrives and departs from the island once a day. Once you're there though, you'll be able to enjoy miles of hiking trails, old orchards and farmlands, breathtaking sunrises and sunsets along Lake Michigan, and an unbelievable view of the night sky.
Upper Peninsula
Chapel Basin – Pictured Rocks National Lakeshore
2-10 miles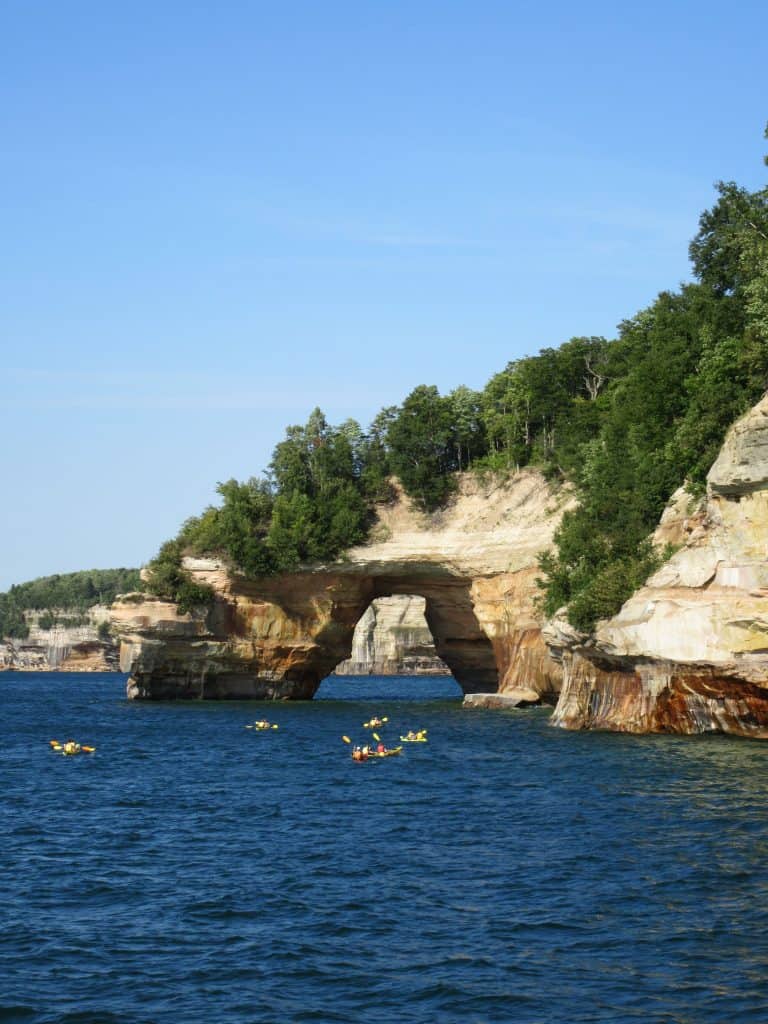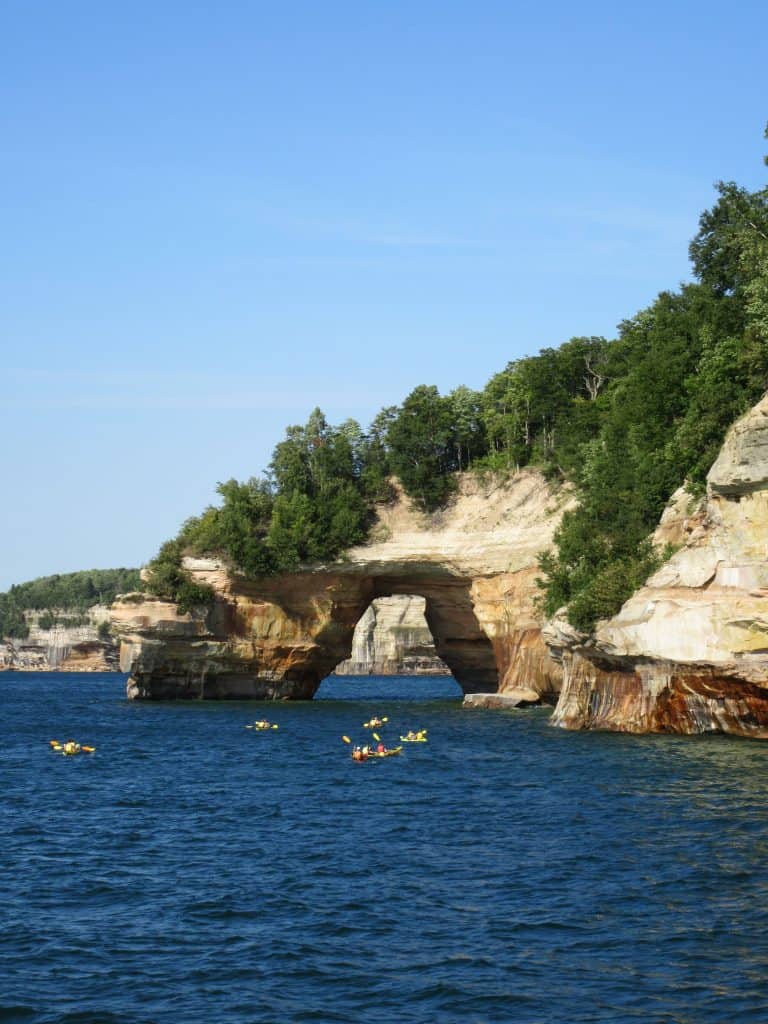 The Pictured Rocks National Lakeshore has over 100 miles of trails leading to sandstone cliffs, waterfalls, beaches, and cultural sites. The Chapel Basin is a series of trails beginning at the Chapel/Mosquito trailhead and offers a wide variety of terrain leading through forested trails and to Chapel Beach and Chapel Falls. This is one of the only sections in the park where the Pictured Rock cliffs can be seen from land, so it should definitely be on your list if you're in the area!
Escarpment Trail – Porcupine Mountains
4.3 miles
The Porcupine Mountains are located on the far west side of the Upper Peninsula, nearly bordering Wisconsin. Due to the significant change in elevation, the hike is a bit challenging for its short distance, but the views are worth the trek. The Escarpment Trail opens up to the Lake of Clouds and the Carp River Valley, and showcases Lake Superior along the horizon just before your descent. The outstanding panoramic views along this trail make it well worth your while.
Greenstone Ridge – Isle Royale
40 miles
Isle Royale National Park is one of the most remote and least visited national parks in the country. Described as a "remote paradise" for hikers and campers by National Geographic, Isle Royale is an island in northwest Lake Superior and the Greenstone Ridge Trail spans the entire length of the island. The trail is nestled along the east/west spine of the island, created by Mount Desor, and offers hikers a solitary experience, comfortable camping, and the opportunity to spot moose, wolves, and other wildlife in the remote wilderness.
Metro Area
Potawatomi Trail – Pinckney Recreation Area
17.5 miles
The Potawami Trail is part of an extensive trail system located in the Pinckney Recreation Area outside of Detroit and Ann Arbor. On this hike you'll encounter ponds and swamp lands, lakes, and deserted farmlands. The Potawami Trail is just one of many throughout the area, so if you're not up for this nine hour hike, there are many shorter options to choose from.
Prairie Pathway – Rouge Park
1.4 miles
This pleasant hike can be found just west of Detroit along Outer Drive and I-96. Along the way you'll pass through reforested prairie and a beautiful butterfly garden that peaks during the late spring and early summer months. This is an easy hike with plenty of opportunities for children and families to indulge in. Rouge Park is comprised of 7 miles of hiking trails, making it easy to extend your hike if you're looking for more of an excursion.
Wildwing Lake Trail – Kensington Metropark
1.9 miles
Voted #1 Best Hiking Trails in Metro Detroit by Channel 7 WXYZ Detroit, Kensington Park has a lot to offer. The Wildwing Lake Trail begins at the Kensington Metropark Nature Center and leads you around the perimeter of the lake. Many species of birds can be seen on this hike and the chickadees are known to feed from your hands! This easy walk consists of gravel paths, a boardwalk, and paved sections.
In Michigan you'll find quiet forests to roam, long stretches of sandy beaches to soak up the sun, challenging dunes to climb, and wild encounters along remote stretches of land. Michigan's landscape ranges from industrialized Detroit, to the true, untamed wilderness of the Upper Peninsula. Whether you're looking for a short, easy hike outside the city, or you're ready to embody your inner adventurer and enter into the wild, Michigan has the right opportunity for every type of hiker.