Published January 8, 2020
16 Vegan Camping Food Ideas and Recipes
Going out camping soon? Food shouldn't be a problem. You shouldn't limit yourself to canned food or pre-cooked meals, not even if you're a vegan. There's a whole world of healthy and delicious vegan food out there. We listed out 16 vegan camping food ideas and recipes below that can help you plan your meals when you plan to go out camping.
But before we start exploring them, here's how to take the stress out of camping meals.
Plan your meals in advance, so that you have a better idea of the supplies you need to bring with you

Prepare vegetables and other food before you go
Aim for simplicity – it's not a good idea to take too much food with you
Use paper plates and limit your cooking paraphernalia to save space
Prefer food that doesn't easily become stale, in case you decide to camp a few days longer
If not everyone in the tent is vegan, make sure to adjust portions accordingly
If you take a dog or cat with you, remember that these animals are by their nature not vegan!
Vegan Camping Food Essentials
1. Simple Oatmeal with Fruit and Seeds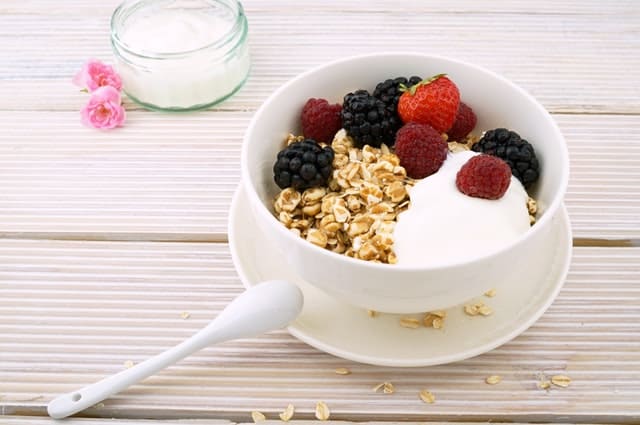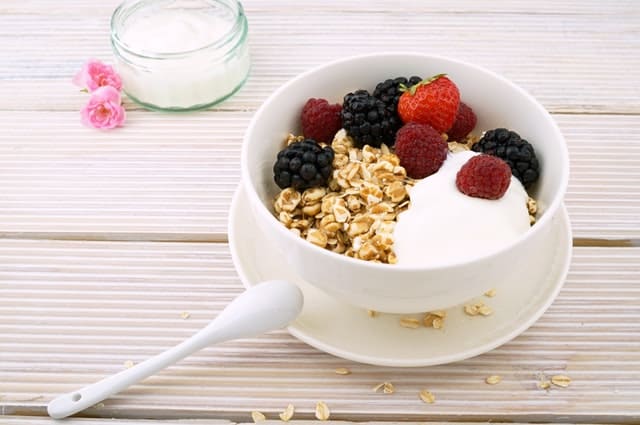 Oatmeal in its simplest form, stored in an airtight container, makes for a dependable food when camping. Add to it seeds rich in Omega-6 fatty acids and any fruit you can find – dried or fresh.
2. Corn on the Cob
If you can get your hands on some corn, cook it over the campfire. It will take longer than simply boiling it, but the smoky taste is worth the effort. Besides, gathering with the others around the fire waiting for the corn to cook can be a wonderful opportunity to share stories.
3. Potato Salad for Two
Potatoes are a reliable food when you're camping for more than a weekend. They're easy to cook and not too demanding in terms of storage. You can cook them in plenty of ways, too. The great thing about this potato salad is that it's light enough for any meal, whether it's breakfast or dinner.
You need about 10 potatoes, scrubbed but with the skin on, some chopped chives and roasted almonds, and a vegan sauce. Boil the potatoes until soft and then halve them. Mix the halves with the almonds, and chives, and add some vegan sauce of your liking. Alternatively, you can add vegan mayonnaise.
4. Mushrooms Hobo Pack
Hobo packs consist of different ingredients, usually vegetables, bundled into a foil that you can cook on the coals of the fire. There are many combinations available, but for this recipe we'll be focusing on mushrooms.
You'll need about one pound of different mushrooms — any kind you like will do, just make sure they're fresh — two garlic cloves, dill, and some olive oil. Put the mushrooms and garlic into the foil, sprinkle with some oil, add seasonings to your liking, and seal the edges. Place the bundle near the coals and let it cook for 20 minutes.
For this recipe, you can substitute mushrooms with any vegetables of your choosing, adjusting the cooking time accordingly.
Vegan Camping Breakfast Ideas
5. Raw Vegetables with Hummus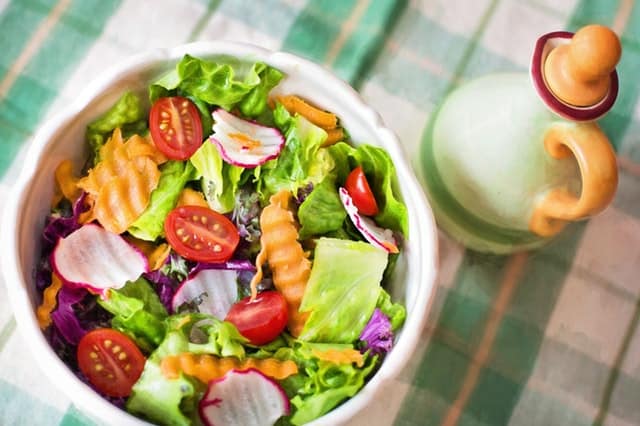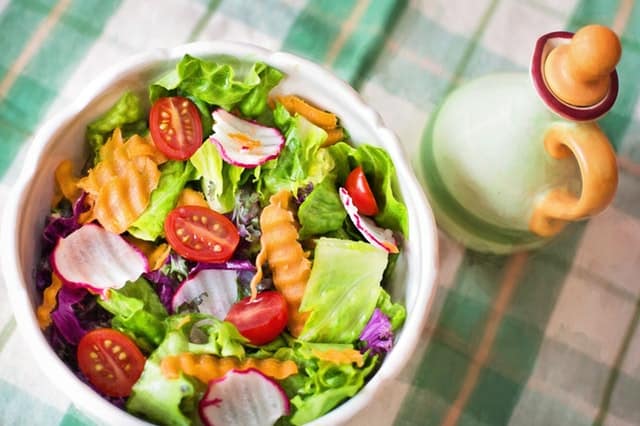 Hummus brings you proteins and energy. You can make your own at home before you go. Blend in a can of chickpeas with three tablespoons of extra virgin oil, a clove of garlic, and two or three tablespoons of tahini. You'll get about two cups. Slice your favorite vegetables – tomatoes, cucumbers, red bell peppers, cooked broccoli – and dip them in the hummus.
6. Tofu Scramble
For this your need some crumbled tofu, your preferred veggies, and a small bottle of soy sauce. Add them all to a pan, sprinkle some pepper and salt, and you get a delicious vegan replacement for scrambled eggs. The best part about this meal is that you can serve it without bread, so no need to worry about gluten.
7. Vegan Burgers
While you can find plenty in stores, why not make them yourself? It won't take long. For one serving, you need 3/4 of fresh diced mushrooms, a can of pinto beans, some green onions, one garlic clove, and a few tablespoons of vegetable oil. After sautéing the onions in oil, add the mushrooms and cook for around five minutes.
8. Fruit Salad with Chocolate
Choose fruits that transport well, like apples, kaki, bananas, oranges, or pears. Square the chocolate and add it to the bowl – or paper plate. While you can add some dried fruit as well, be careful not to go over the top with the sugars and the calories. Optionally, you can sprinkle some coconut flakes over the bowl.
9. Banana Coconut French Toast
As exciting as it sounds, this meal can become a campsite delight. To get started, you need crusty French bread (as much as you want), a can of coconut milk, at least one ripe banana, and some coconut oil. For more flavor, you can also add in some ground cinnamon and a teaspoon of vanilla extract.
Make a smooth batter out of the banana and the coconut milk and add some salt. Dip the bread slice into the batter and fly in a pan, about 2-3 minutes on each side. Repeat the process to your heart's content, or until the batter runs out. If needed, double the quantities for each new extra portion.
Mash the beans and combine them with the mushrooms and garlic mix. Make the mixture into patties and cook in hot oil for 2-3 minutes on each side. Grab you'll favorite type of bread and you got yourself a worthy burger.
Vegan Camping Dinner Recipes
10. Chickpeas and Black Beans Salad with Olive Oil and Lemon
Chickpeas and beans pack together plenty of protein. Mix a can of each with a tablespoon of olive oil – bring a small, 250ml or lower bottle, and squeeze over it some lemon. The result? A more than fulfilling salad. Remember though that this recipe doesn't involve any cooking, which means you may want to skip it in colder seasons.
11. Campfire Nachos
For a hearty meal after a day of roaming through the woods or hiking, try campfire nachos. As delicious as they sound, these are quick to prepare and make for a fulfilling yet light dinner.
In addition to tortilla chips, you'll need a can of hot tomato sauce, one of black beans, a cubed avocado, and a bunch of green onions.
Ideally, you want to cook this meal in a Dutch oven, but you can also try a skillet with a cover. Add to the cooking pot 1/3 of the chips, 1/4 of the sauce, 1/4 of the beans, and the avocado. Repeat with the next layer, and then add the remaining ingredients to the last layer, which should be the thickest. Cook for about 10 minutes.
12. Red Lentil Pasta with Kale
Lentil pasta is a protein-packed food that goes great with kale. For a two-person dinner, you'll need about 10 oz of pasta, tomato sauce, some sliced garlic, and one kale head, chopped.
Cook the kale in a tablespoon of olive oil and add the garlic. Add two cups of water to the sauce and cook the pasta in it until al dente. Mix it all together to create a simple but hearty meal.
13. Campfire Potatoes
When it comes to cooking a big and hearty meal around the campfire, you can't go wrong with potatoes. Whether you choose red or white potatoes, make sure you bring a grill with you to the campfire.
You'll also need some scallions and a diced onion, as well as a good quality aluminum foil and some olive oil. After spraying the foil with olive oil, enclose within it the potato and add some water, sealing the edges. Cook for at least 20 minutes.
Vegan Camping Snacks
14. Dates and Cashew Balls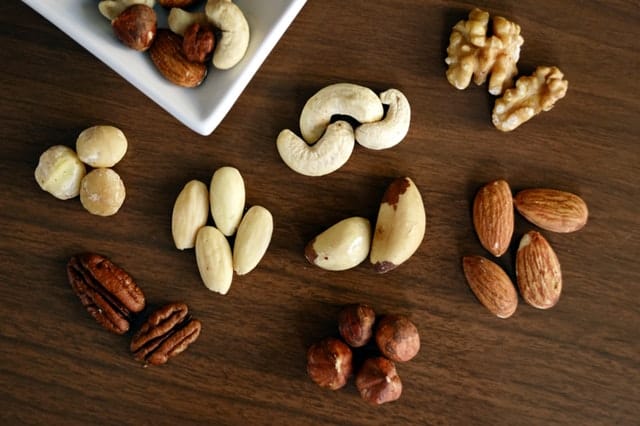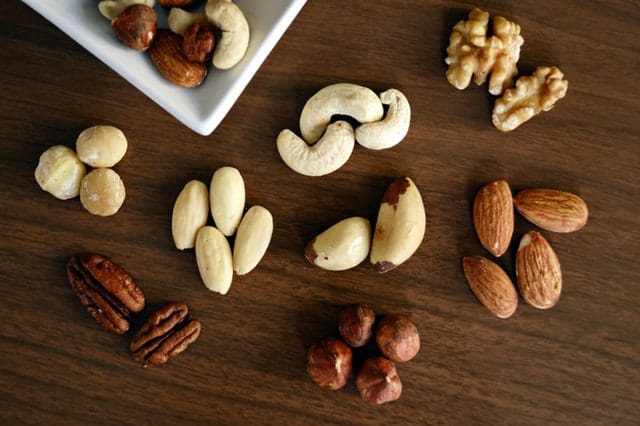 Tired of all those regular, calorie-packed snacks? Dates and cashew balls are a simple to make alternative that you can take with you when you go camping or hiking. They are easy to store and a joy to eat.
To make them, get a dozen pitted dates and soak them in water for 10 minutes. Use a power blender to mix them into a sticky dough with 1/4 cup of cashews. Sprinkle some dried cranberries, raisins, and seeds on a flat surface and roll the balls over them, until they become incorporated into the balls. To enjoy them at their best, store them in the fridge before setting out.
15. Dried Fruits & Nuts Mix
Almonds, peanuts, pecans, and hazelnuts, together with dried plums, goji berries, raisins, and cranberries make for a healthy, nutritious, and energy-packed snack. You can also snack on them whenever you need an energy boost. And since nuts are some of the most filling foods, they're great to take when camping.
16. Graham Crackers with Organic Peanut Butter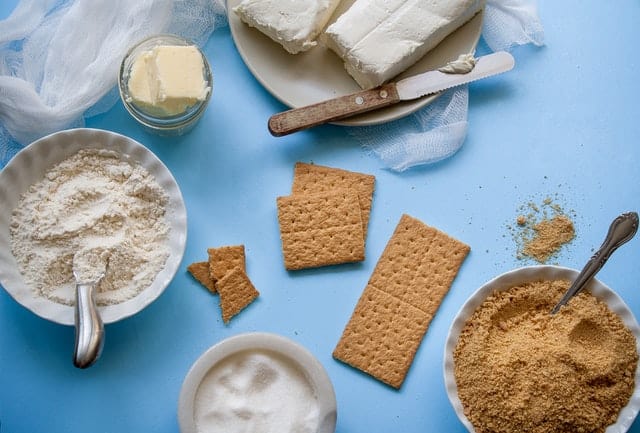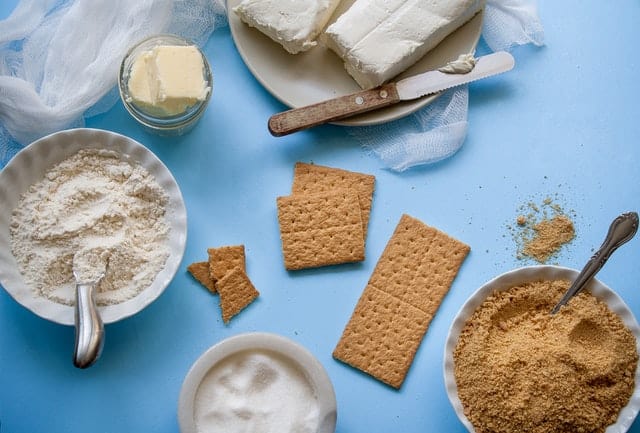 Good for a snack, crackers with organic peanut butter are easy to store. Just be sure to bring an unopened jar of peanut butter, especially if you don't plan to enjoy this simple meal on the first day of camping. If you're not that much into graham crackers, you can try any other vegan crackers, whether you make the yourself or buy them.
We hope you enjoyed these recipes. Stay tuned for more about camping and food.