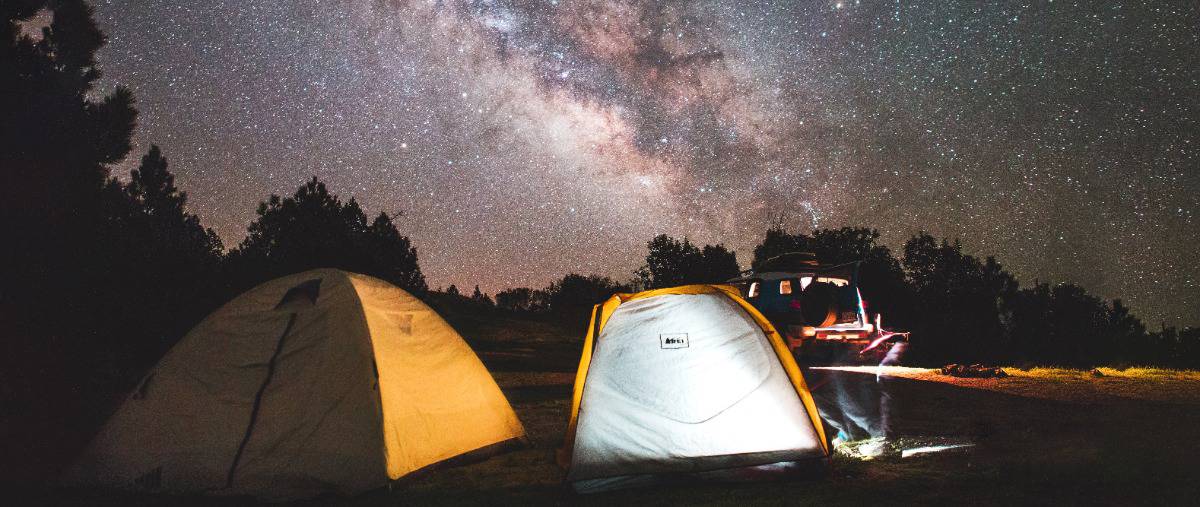 Published February 5, 2020
Best 4-6 Person Tent for Family and Car Camping in Style
Your family has a tradition of camping trips. Every year you gather the kids and closest friends and trek out to the wilderness. So, why do you still use individual tents?
There are a variety of reasons to make the switch to a larger family-style tent. You may want to minimize your ecological impact on the environment. Or, maybe you need to consolidate your group onto small spaces.
Your search for the perfect tent can be overwhelming. But, it doesn't need to be. Here are the best large tents for families and car camping.
Best 4-6 Person Tent for Family and Car Camping: Big Agnes Big House Deluxe Tent
Review:
If you are going to invest in a family tent, why not go for the best? The Big Agnes company out of Colorado knows outdoor gear. And, they have a camping solution for you.
This 6-person tent has many features. It weighs in at 12lb 6oz and comes in its own briefcase style bag with pockets. This tent is freestanding and good for 3 seasons.
It is a double-wall design. And, you can purchase an attachable vestibule, sold separately. Additionally, you can also purchase the entertainment center loft or the gear loft to enhance your camping experience.
And, don't worry about space. This tent is very roomy. The floor space is 81 square feet. And, the ceiling height reaches 75 inches towards the center.
To see more about this tent, watch the video here:
Intrigued? Need to know more? Keep reading for an in-depth review of the pros and cons of this huge 6-person tent.
Pros
The main areas of this tent are very roomy. The pre-bent poles and straight walls give you high ceilings. This allows most adults to stand upright inside the tent.
Waterproof mesh windows and a mesh ceiling allow for great ventilation. And, it keeps the bugs and rain out. The rainfly is positioned so it does not block airflow. So, you don't have to choose between ventilation and dryness.
Next, this tent also features 18 interior pockets. Some are small enough to stow cell phones and keys. While others are big enough to fit your tablet.
Color-coded grommet webbing and buckles
The color-coded parts make set-up a breeze. Simply match the colors to get your tent up quickly.
Lastly, the welcome mat is a nice touch. Especially if it's been raining and you forgot to bring a rug or tarp for outside. You can take off your muddy shoes on the mat, so you don't trek it all over the interior.
Cons
Vestibules sold separately
This tent has the capacity for additional rooms. Unfortunately, the company makes you buy them separately.
Additionally, the tent is very big. If you want to go low-profile at your campsite, you will want to pass. This will get looks and more than a few comments. And, since it's so big you will need to make sure you have enough space cleared to set it up.
Materials Analysis
This tent consists of different grades of polyester. The body is a durable polyester mesh. And, the floor and fly are a rugged polyester ripstop fabric. It also has an additional 1500mm PU coating. PU or polyurethane is used to coat everything from floorings to metals and fabrics. In this case, the polyester fabric is waterproofed with a coat of PU on the outside. The 1500mm rating means that it has been tested in a laboratory to be able to withstand 1500mm tall of water in a 1-inch diameter test tube for at least a minute before a bit of water might seep through. The minimum rating for a fabric to be considered waterproof is 1000mm, so this is 50% higher.
All the polyester types are extremely durable and can stand up to your family's continued use. And, the fabric is coated to make it waterproof.
Finally, the poles are a lightweight aluminum material. And the clips are a heavy plastic. The seams are also fully taped with VOC and PVC-free PU tape for additional weather-proofing.
Who It's For
This tent is perfect for car campers with families. Or, you can gather up the guys, or gals, for a weekend in the woods. Either way, the tent is great for campers who need additional space.
If you want to find out more about this tent, take a look at the link below:
https://www.backcountry.com/big-agnes-big-house-deluxe-tent-6-person-3-season?skid=BAG00BU-GOL-ONESIZ&ti=UExQIENhdDpUZW50cyAmIFNoZWx0ZXJzOjE6MjI6YmMtdGVudHMtc2hlbHRlcnM=
Runner-Up Best Family Tent: Coleman Sundome 4-Person Tent
Review:
Looking for a small, economic option for your family tent? The Coleman Sundome may be your solution. Easy set-up only takes 10 minutes. So, you spend less time with your tent and more time with the family.
This 4-person tent measures 9 x 7 feet. You can easily fit a queen-sized air mattress inside this tent. Or, go with the traditional sleeping bags.
Additionally, this tent keeps the inhabitants cool during hot summer days, as it features 2 large windows and a ground vent. The ground vent helps improve air circulation. And, if the weather turns rainy, the WeatherTec system helps keep the water out of your tent.
If you like what you've read so far, keep reading. An outline of the positives and negatives of this tent follows.
Pros
Feeding the poles into continuous sleeves reduces the set-up time to 10 minutes or less. It's also snag-free. So, you don't have to keep readjusting when you put up the tent.
This tent features a bathtub-style floor. This means that the floor comes up on the sides for extra protection from the weather. Additionally, it's design will keep water out of your tent with inverted seams and Coleman's patented corner welds.
You can also keep the windows open during rainy weather. Because the window covers are hooded, you can circulate air through your tent even when it's wet outside.
Available in different colors
Lastly, you can buy this tent in one of two colors: green or navy blue.
Cons
The Inside of the tent is snug
The clearance inside the tent is low. Many adults will find they have to stoop. Also, you may be able to fit a queen-size air mattress, but you won't have room for anything else.
Windows don't fully close
Additionally, the windows are mesh. And though you can cover them with rainfly, air still flows through. This means that it can get cold inside the tent at night.
Materials Analysis
The entire tent is made of a polyester fabric. And, the floor is a heavy and durable 1000D polyethylene fabric. The rainflies for the windows are also polyester.
The frame is fiberglass. Unfortunately, this is not as durable as other tent frames on the market. But if you only use the tent for light camping during the year it should last for many seasons.
Who It's For
This is for small families who like to camp one or two times a year. It may not be able to handle cold or rainy weather. But, for the summer months this would be perfect.
If you think this tent would be the perfect fit for your family and budget, check out the link below for more info:
https://www.amazon.com/Coleman-Sundome-4-Person-Tent-Navy/dp/B019N9W7WC/ref=sr_1_22?s=outdoor-recreation&ie=UTF8&qid=1522105193&sr=1-22&keywords=family+tent&refinements=p_72%3A1248957011
Best Large Family Tent: Timber Ridge 6-Person Family Camping Tent
Review:
Simplicity is what makes this next entry so great. The Timber Ridge tent sleeps 6 people, snugly. But, it doesn't need assembly.
You read right. This tent uses a quick-open system. Set-up is so quick, you only need 60 seconds and you're done.
This cabin-style tent has a footprint of 10 x 10 feet. And, with a spacious 6.5 feet of height most adults will be able to stand in the center without stooping over.
Additionally, this tent is relatively light. At only 26.6 pounds, you can go light backpacking with a group and only carry this one tent between you.
However, if you are not hiking out into the middle of the wilderness you may have access to electrical outlets. If you do, rest at ease because this tent has a port for electric cord access. It can also be closed when you don't need to use it.
And, while many tents only have two windows, this one has four. These mesh windows provide ample ventilation for your tent. Because there is nothing more uncomfortable than trying to sleep in a stuffy tent.
For a more in-depth look at the pros and cons of the Timber Ridge tent, keep reading. A summary of the pros and cons follows below.
Pros
Most large tents are very heavy. But, this one is a little over 25 pounds. This is great news if you want to hike into your campsite. Or, have a large group to share the load. It will also make very little impact in your trunk if you are car camping.
Set-up is very fast. With practice you may even get it down to a minute. But, expect it to take about 5 to 10 minutes the first time you try.
Next, this tent comes with a couple of pockets and a place to hang your lantern. While this may not seem like a big deal when you are home. Out in the wilderness, it's very convenient to have a place to store your small valuables and hang a light.
Can withstand moderate weather
While this is only a 3-season tent, it can withstand a good amount of bad weather. The flooring is a bathtub style that goes up on the sides. This is so your tent keeps dry if you get caught in a downpour.
For extra protection, you can also spray your tent and seams down with waterproofing spray. But, you really don't need to.
This family tent also comes with a rainfly. You may not need it most of the time. But, it's nice to have just in case. Especially if you like to take the family camping during the spring.
It may be very tight trying to fit 6 adults into this tent. But, you can easily fit a couple of adults and 2 kids with luggage. The domed tent makes it feel like you have more space. And, most adults will be able to stand up straight in the center.
And, if you are worried about this tent breaking it comes with a one-year warranty. This only covers defects in workmanship and materials. But, it is more than enough to take the tent out a couple of times to try out.
Folds up relatively compact
Lastly, this tent folds up relatively compact. This makes it easier to fit into the trunk. Especially if you are already loaded down with your family's other gear.
Cons
Unfortunately, there is no vestibule on this tent; just a sleeping area. This means that if you want to relax you will have to do it outside.
Additionally, you will either need to stow your gear inside the tent or outside in the elements. And, keeping your gear inside limits your sleeping space.
Zippers poorly constructed
Next, the zippers are lower quality. They are loud and may snag.
Hard to get back in carry bag
Lastly, this tent is hard to put back into the included carry bag. This is because the bag is such a snug fit for the gear.
As an alternative, you can buy a different bag to carry the tent in, or simply wrap a cord around the tent to store.
Materials Analysis
As mentioned before, the zippers are low quality. Unfortunately, there is nothing you can really do about this. Just be careful when using them. And in the worst-case scenario you can use the one-year warranty.
The rest of the tent is a durable 190T polyester fabric. And the pole material is steel. All together this tent should last through many seasons of camping with moderate use.
Who It's For
This tent is best for family and car campers who don't want to spend a lot of time setting-up. The tradeoff, however, is a lack of extras like vestibules. But, it may be worth it for some of you.
It's also reasonably lightweight and compact for a family tent. So, if you are pressed for trunk space this is a good option to investigate.
If you want to learn more about this large family tent, check out the link below:
https://www.amazon.com/Timber-Ridge-6-Person-Camping-Instant/dp/B01GY46QIK/ref=sr_1_44?s=outdoor-recreation&ie=UTF8&qid=1522105458&sr=1-44&keywords=family+tent&refinements=p_72%3A1248957011
Best Cabin Tent: EUREKA! Copper Canyon 4
Review:
Eureka! offers a simple cabin-style tent that's a little smaller than others on this list. But, still manages to feel roomy.
Rather than the curved walls that you see on a domed tent, this cabin tent has straight walls to maximize your tent space. The tent gives you an airy 8 x 8 floor space, with 7 feet of clearance in the center, so you never feel cramped.
This tent also features 4 windows on all sides for excellent air flow. This makes it a joy to have during hot summer months. Three of the windows are mesh while the 4th is a half window in the D-style door.
Additionally, this is one of the lightest tents on this list. It is less than 20 pounds which is relatively lightweight for a larger tent.
If you need to learn more about this excellent tent, keep reading. Below is an in-depth look at the pros and cons of this tent.
Pros
This tent is a joy to have on sultry summer days. You have 4 large mesh-covered windows and a roof vent to give you maximum air flow through the sleeping cabin.
And, because the weather can be unpredictable, both the floor and fly seams are factory-sealed. So, if you get caught in a summer storm you can stay comfortable and dry inside your tent.
Additionally, you don't have to fumble with toggles or loops to stow your window flap. The windows have a Quick Stash feature that allows you to put your window flaps up without fuss.
Tired of stooping in your tent? The clearance of this cabin tent is 7 feet in the center. So, you will be able to stand up inside and save your back, unless you are unusually tall.
Easy set-up and breakdown
This tent uses clips, rings, and pins for easy set-up. The poles attach to various clips and sleeves, making it easier to pin the poles to the body of the tent. No more bending or molding tent poles and snagging sleeves.
Cons
The design of this tent is very simple. Because of that, you don't get a front or back vestibule. That may not be a deal-breaker for you but remember that if you want to stow your gear you will have to do it inside your tent. Or, in your car.
Challenging to set-up in the wind
It isn't impossible to set up if the wind is blowing. But, it can be challenging. Even if it's only a light breeze.
Floor material the same as rest of tent
Additionally, many people have found that the floor is too thin for their liking. It is the same material as the rest of the tent. This increases the chances of ripping the floor of your tent. But, if you are concerned about this you can buy a heavy-duty tarp to lay underneath the tent.
Materials Analysis
The entire tent is a coated polyester fabric. This ensures that the tent will last a long time and can take repeated abuse.
Unfortunately, as mentioned before the floor is the same fabric as the sides. So, if you don't put something down underneath the tent you may rip the fabric. This is easily avoidable. Just thoroughly clean your site first and lay a mat or tarp down underneath.
Lastly, the poles are a hybrid of steel and fiberglass. The steel component makes these poles more durable than plain fiberglass poles.
Who It's For
This is a great cabin tent for music festivals. It's also a good option for any campers who want high ceilings to fully stand up inside. No more bent backs with this tent.
You may not be able to fit 4 adults unless you want to get really snug and friendly. But, 2 adults and 2 kids would work out fine. Or, 2 adults and a dog.
If this sounds like the perfect tent for you, take a look at the link below:
https://www.amazon.com/Eureka-Copper-Canyon-Person-Tent/dp/B006MQCLKS/ref=sr_1_77?s=outdoor-recreation&ie=UTF8&qid=1522106055&sr=1-77&keywords=family+tent&refinements=p_72%3A1248957011
Best Vehicle Tent for Car Camping: Tepui Tents Autana XL Sky 4 Tent
Review:
Do you have an SUV or a car with a roof rack? Would you prefer to stay close to your car? How about attaching your tent to your car?
The Tepui Tents Autana XL Sky 4 turns your vehicle into part of your tent structure. This tent gives you a roomy sleeping area and an airy annex. All you need is a roof rack on your vehicle.
This is like a camper without the cost. You get a 6 x 8 feet sleeping area with this tent. The design gives you enough headroom to sit up and relax. Or, you can hang out in the annex.
Additionally, the annex has screened windows for increased air flow. And, it has a rear door, so you can get into your car without hassle. You can even remove the PVC floor in the annex if you want.
Next, all the openings have no-see-um mesh netting to keep you safe from even the smallest insects. This includes all the windows and doors. So, you have the freedom to lounge without bug infestations.
For a better look at the details of this tent, keep reading. The outline for the pros and cons are further below.
Pros
Easy to attach to your existing roof rack
This tent fits most roof racks. Just make sure that the rack's Dynamic Weight Capacity is the weight of the tent at the very minimum.
Spacious and protected living space off the ground
Next, this is a great option for you if you wanted to try camper-style camping without actually buying a camper or RV. This tent utilizes the top of your car and the space next to it to create a bi-level space to relax.
The sleeping area measures 6 x 8 feet, and the annex is removable. You get plenty of room for your family to spread out and relax.
All openings have no-see-um-mesh
Being out in nature is relaxing. But, sitting in the middle of a swarm of tiny insects can ruin the experience. This tent offers tightly woven mesh coverings over all the windows and doors. You get excellent ventilation with bug protection.
Ladder and sleeping foam included
Next, this tent system comes with an 8.5-foot ladder. So, if your vehicle is lifted you can still climb into your sleeping area.
Additionally, you also get a 2.5-inch high density foam mattress. Sleep comfortable in your comfortable car tent loft.
Lastly, this tent sets up and breaks down in minutes. Spend less time making your relaxation haven and more time relaxing.
When you first set this up it may take a while. But, after you get the hang of it you can reduce your time to 15 minutes or less.
Cons
This tent is very expensive. But, most vehicle tents are pricey. If you've been doing your research, you know that a quality vehicle tent will require an investment.
Additionally, this tent system is heavy. The packed weight without the annex is 150 pounds, or 180 with the annex. As you may imagine, this is not the type of tent to move around a lot.
Materials Analysis
The entire tent is tough and durable. The material is weather-proof 600D ripstop polyester cotton. And, the rainfly is a polyurethane-coated polyester.
The rugged fabric can stand up to moderate wind and rain conditions. Just be sure to air it out when you can if it gets wet. Otherwise you run the risk of encountering mold issues.
Who It's For
This is a great addition to your camping repertoire if you want to car camp in the truest sense. You can also use this tent if you are camping with a very large group where ground space will be an issue. You can easily fit a family of four in this tent with room to spare.
Need to find out more about this different way of camping? Take a look at the link below:
https://www.rei.com/product/116148/tepui-tents-autana-xl-sky-4-tent
Other Tent Options:
There have been quite a number of options presented. But, you may not have seen the perfect one for you. That's okay. Everyone's needs are different.
If you are still looking for the best 4-6-person tent for family and car camping, take a look at these other options. These solutions are equally great and have a variety of features.
Are you a faithful Coleman fan? If you are, check out the Coleman Elite WeatherMaster Tent. This tent features an innovative LED lighting system and screen room for your party. No need to worry about hanging your lanterns. The tent wall illuminates. It even has 3 settings: nightlight, high, and low.
Additionally, for a roomy dome tent option take a look at the Alpha Camp Dome Family Camping Tent. It's big enough to fit 6-8 people, or two queen-sized mattresses. This tent is moderately priced for those of you who are looking for quality at a lower price.
Next, if you need a lightweight option that can still accommodate your family, try this one. The NTK INDY GT Outdoor Dome Tent may be the one for you. This waterproof tent sleeps 4-5 people comfortably. It features a 12.2 x 8 feet floor with a 5.3-foot height at the center. You may need to bend over a little when you are inside the tent. But, it only weighs 12 pounds. So, you need to compromise height for weight.
Lastly, if you have a large family or hunting group this is the perfection solution for you. The Browning Camping Big Horn Family/Hunting Tent can accommodate your needs. This tent features high ceilings and straight walls. And, it is huge. The floor space measures 10 x 15 feet, and the center height is a whopping 87 inches. There is also a wall divider that gives you two rooms instead of one.
Final Thoughts
Finding the right tent for your family can be tricky. You need to consider all the needs of your different family members. And, still come within budget.
The best 4-6 person tent for family and car camping depends on your group needs. But hopefully, this article pointed you in the right direction.
A great mid-range dome tent for small families is the Coleman Sundome 4-Person Tent. The fast set-up makes it appealing for families with young children. Get your tent up before naptime hits; or boredom.
Ready to make your tent set-up easier? Check out the link below to get yours today:
https://www.amazon.com/Coleman-Sundome-4-Person-Tent-Navy/dp/B019N9W7WC/ref=sr_1_22?s=outdoor-recreation&ie=UTF8&qid=1522105193&sr=1-22&keywords=family+tent&refinements=p_72%3A1248957011
However, if you are ready to invest in a premium tent for your family, Big Agnes Big House Deluxe Tent is one of the best options for you. This tent features a massive sleeping space and the possibility for additional camping add-on areas.
This tent lets you go car camping with your family in style. Along with all that camping space, you also get pockets and an attached welcome mat your convenience.
And, ventilation is not a problem with this tent. Generous mesh-covered windows and top vents give you great air flow.
If you are ready to plunge into luxury camping, click on the link below:
https://www.backcountry.com/big-agnes-big-house-deluxe-tent-6-person-3-season?skid=BAG00BU-GOL-ONESIZ&ti=UExQIENhdDpUZW50cyAmIFNoZWx0ZXJzOjE6MjI6YmMtdGVudHMtc2hlbHRlcnM=
Finally, maybe none of these options work for you. If that's true, just remember to keep a few things in mind when searching for the perfect tent for your family.
Remember that the set-up time is one of the most important considerations. You don't want to spend too long fumbling with your tent. Especially if you have cranky children to tend to.
You also need to consider your living space realistically. What may work for 4 adults may not work for 2 active children. Make sure you have adequate space to accommodate your children's activities, too.
Hopefully, you have found exactly what you needed here in this article. But if you haven't, keep your considerations in the forefront of your mind. A family tent is only as good as how much your family can actually enjoy it.