Published March 22, 2021
Best Ultralight Tarp Tents for Every Outdoor Adventure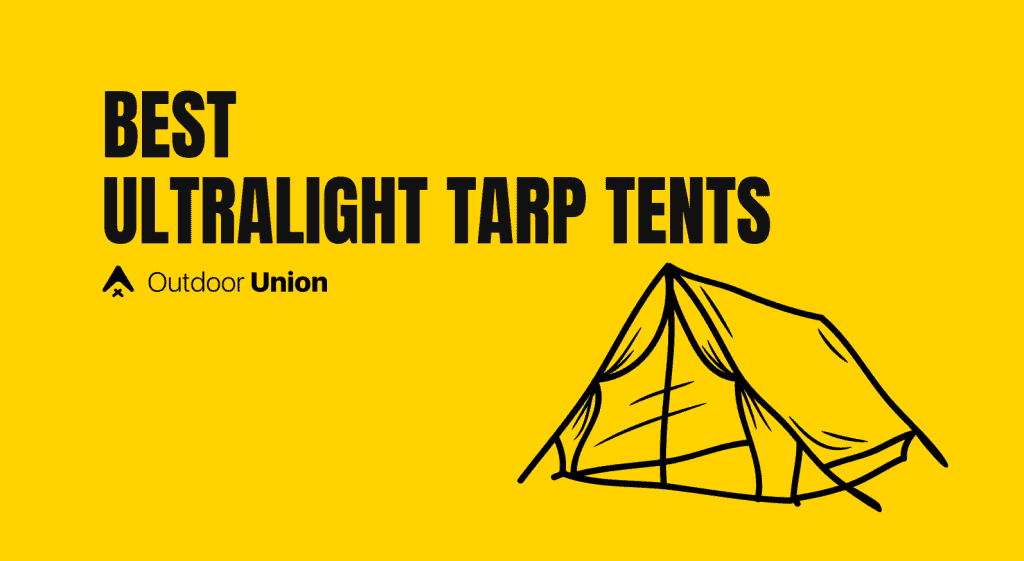 There are very few things that can ruin an exciting backpacking experience as much as carrying too much heavy gear that can weigh you down and exhaust you. More often than not, the heaviest piece of equipment will be your tent. Unless you go by car, it can be hard to drag your tent with you the entire time.
Luckily, more and more companies are making light tents that will make your hiking and camping a lot more convenient.
If you're not an experienced backpacker, finding the right tent can be confusing. And even if you are, a little help is always useful.
To make your search easier, we scouted the web to find the best ultralight tarp tents out there. These tents will let you enjoy your camping without draining your energy, while still providing protection from different outdoor conditions.
Mountainsmith Mountain Shelter LT Tarp
Review
This two-person tent is one of the lightest tarp shelters out there. At a packed weight of 2lb 1oz, you won't even feel it on your back. It's well designed, made from high-quality material, and very simple to use. It only has one door, which can help with wind proofing, but does have its drawbacks.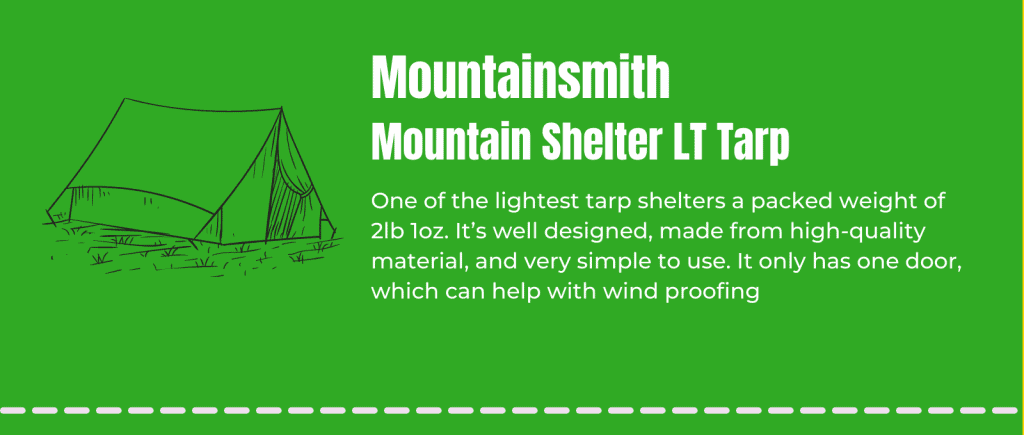 Pros:
With 54 sq. ft of floor space and a height of 4ft 6in, it's cozy enough for two people to be inside without feeling cramped. You can sit up and move around freely, while leaving enough space for your gear.
You won't have to worry about protection with this tarp tent. It comes with enough high quality reinforced stakes to properly set up your tent and stake out all the loops around it, as well as the guy-lines. It's sturdy, safe, and virtually no wind can move it from its place.
If you need a tent which you can use in cold weather, this one might be a good choice. Thanks to the enclosed design and quality materials, you can rest assured it will keep you warm and dry.
Cons:
No trekking poles included
Unless there are nearby trees that you can use to set up your tent, trekking poles are necessary. Unfortunately, this tent doesn't include them, so you'll have to spend more money to buy them.
This isn't really an issue with just this tent, but with pretty much every tent. If you go camping during cold weather, you should expect some condensation.
Who Is It For?
This ultralight tarp tent is great for backpackers and everyone who needs a roomy tent. It's suitable for beginners because it's very easy to set up, and all the instructions are easy to follow, so you'll have no trouble assembling it.
Materials Analysis
This tent is made of a waterproof Sil-nylon (silicone-nylon) material. It offers great protection from the rain, and it will protect you from even the strongest of winds. The stakes are made of enforced aluminum, which is strong enough to make sure you can set up your tent securely.
Black Diamond Mega Light 4-Person Shelter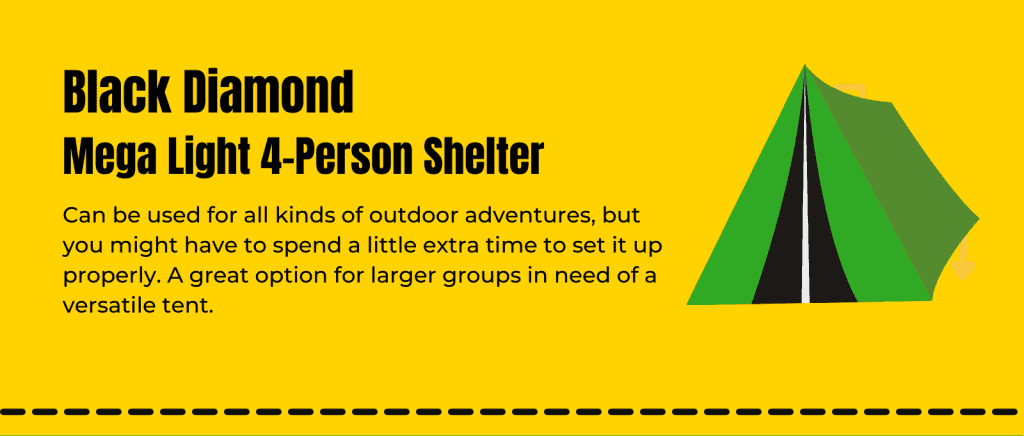 Review
If you need a tent that can comfortably fit up to four people inside, and offers protection from different elements, this one could be a good solution. It can be used for all kinds of outdoor adventures, but you might have to spend a little extra time to set it up properly.
Pros:
This tent is great for bigger groups looking for plenty of space in their tent. With 81 sq ft of floor space and a height of 57 in, you can move inside it easily.
This tent's trail (minimum) weight is 2lb 5oz so rest assured it won't be a burden. The design is very simple and it's easy to set up without hassle.
Another great thing about this tarp tent is that it can withstand pretty much any weather. Thanks to the diamond-shape design, no rain or snow will accumulate, so you'll stay dry during even the heaviest of storms.
Cons:
Although the materials used are durable and capable of protecting you, you'll probably have to spend a bit more money and time on seam sealing so that it wouldn't leak during heavy rain.
Additional equipment needed
This tent doesn't go all the way to the ground, so if you want to be well protected, you might need to buy a separate footprint and a bug net.
Who Is It For?
This is a great option for larger groups in need of a versatile tent. If you're a fan of winter, and like spending it outside as much as possible, this tent will prove itself very useful.
Materials analysis
Same as our previous pick, this tent is made of waterproof Sil-nylon. You also get a center pole of carbon fiber, which is more than durable enough to support the weight of this ultralight tent.
Free Soldier Tarp Tent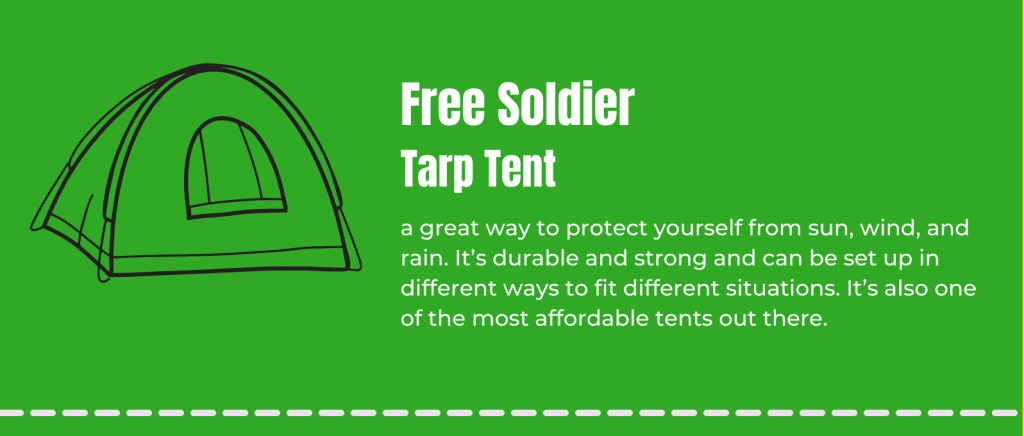 Review
This tent is a great way to protect yourself from sun, wind, and rain. It's durable and strong, and can be set up in different ways to fit different situations. It's also one of the most affordable tents out there, so it's definitely worth checking out.
Pros:
Waterproof and UV resistant
The material of this tent allows for a high level of protection from sun radiation, so you can enjoy long days in sunny weather without the fear of sunburns. And if you decide to go out camping on a rainy or cold day, it will keep you dry and warm.
The shelter features reinforced ridgeline seams that will make sure the tent stays in place. It's also seam-sealed and has five loops on each side so you can set it up securely.
Cons:
Since this is a big tent, it can be a bit hard to fold down and pack because the included storage bag is a bit too small. At 2lb 10oz, it's also a bit heavier than some other options.
There are no poles or sticks included, so you might have to buy some separately if you plan on using it in an open space.
Who Is It For?
This is a great option for everyone looking for a stable 1-2 person tent that does a good job of protecting you from different conditions. It's good for everyone who wants a good tent at a pretty low price.
Materials Analysis
The tent is made of a 190T polyester fabric with polyurethane (PU) coating, making it very durable and long-lasting. Since it's seam-sealed, you won't have to worry about it leaking under heavy rain.
MSR Twin Sisters Tent Shelter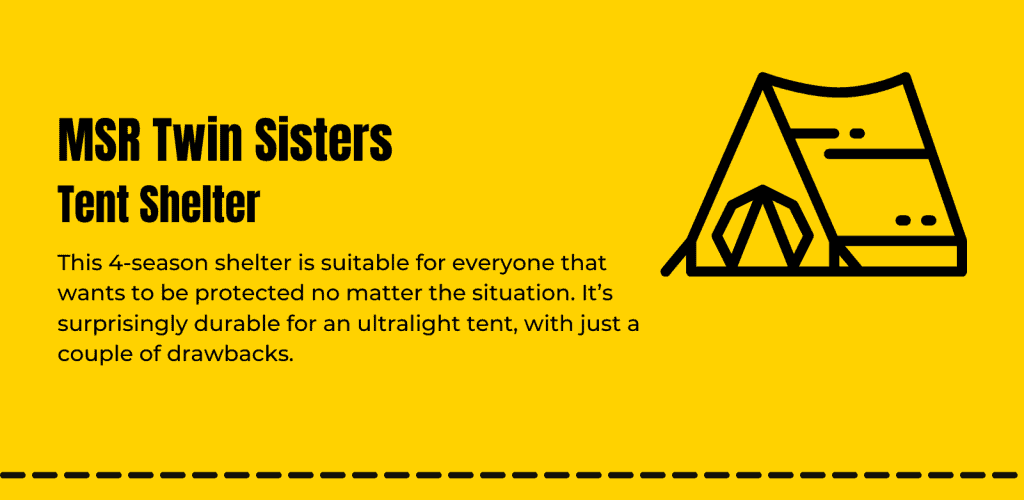 Review
This 4-season shelter is suitable for everyone that wants to be protected no matter the situation. It's surprisingly durable for an ultralight tent, with just a couple of drawbacks.
Pros:
This minimalist tent features two doors, so you can set it up according to the weather conditions. Leave both doors open during warm weather for easy ventilation, or you can close one if you need extra protection.
Resistant to rain and snow
There is pretty much no amount of snow that this tent can't handle. Thanks to the steep roof and the snow skirts, there is no doubt you will keep all the snow out with no trouble.
Aside from being easy to set up, this tent makes sure you don't need to spend more money on accessories. The package includes poles that you can use if using just the guy loops isn't enough.
Cons:
Some seam sealing might be needed
The rainfly of the tent is factory seam-taped, making it completely waterproof. Despite this, after some time it might start to come off, so you might have to seal the seam yourself.
We've already explained why this could be a problem if you decide to close one door of this tent. Luckily, MSR wants to help you overcome this issue, so they made a video on how to deal with condensation:
Who Is It for?
This tent is great for everyone who can spend a bit more on this kind of equipment. Although it's a bit pricey, you get everything you need to have a secure and comfortable camping experience in all seasons.
Materials Analysis
The reason behind this tent's durability is the 30D ripstop nylon that can survive pretty much any condition. It also features 1500mm DuraShield coating that helps secure you from wind, rain, and snow.
Chill Gorilla Fortress Camping Shelter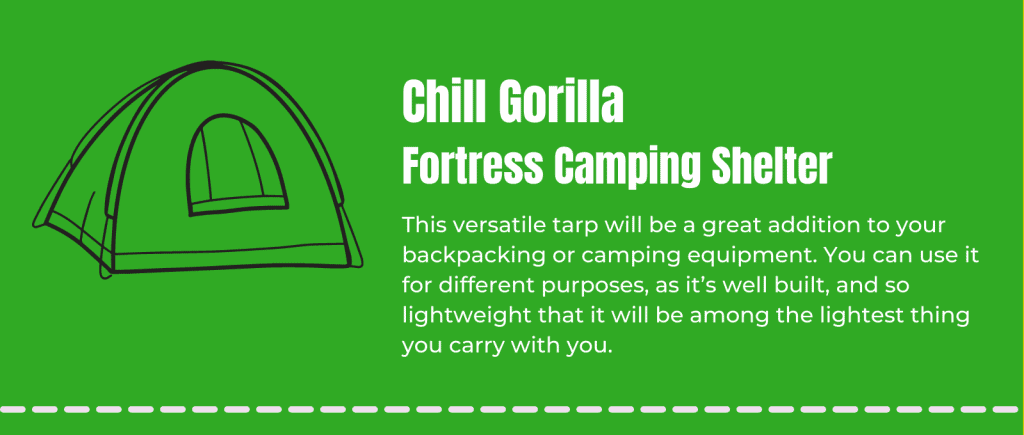 Review
This versatile tarp will be a great addition to your backpacking or camping equipment. You can use it for different purposes, as it's well built, and so lightweight that it will be among the lightest thing you carry with you.
Pros:
This tent can be used in all kinds of situations. Whether you need a rain shelter, a sunshade or a hammock rainfly, this one can do the job. You can set it up in a number of configurations so it fits your needs.
The material of this tent is resistant to tearing or puncturing, so you don't have to worry about it letting you down in different types of terrain.
This is important because they provide easy ventilation and convenient movement, while at the same time offering protection when you close the doors.
Cons:
Some users have complained about this tent leaking at the ridgelines, which shouldn't be happening since there are more affordable tents that do a better job at protecting you from the rain.
Who Is It For?
This can be a good choice for everyone looking for a mid-range versatile tent that does a decent job under different weather conditions. If you seam seal it yourself, rest assured it will offer more than enough protection. Here's an awesome video on how to seam seal your tent (and for your backpack too):
Materials Analysis
This is another tent made of silicon-impregnated nylon that is durable enough to protect you from wind, rain, and sun. The tent stakes are made of aluminum to ensure strength and stability.
Rolling Fox Tarp Shelter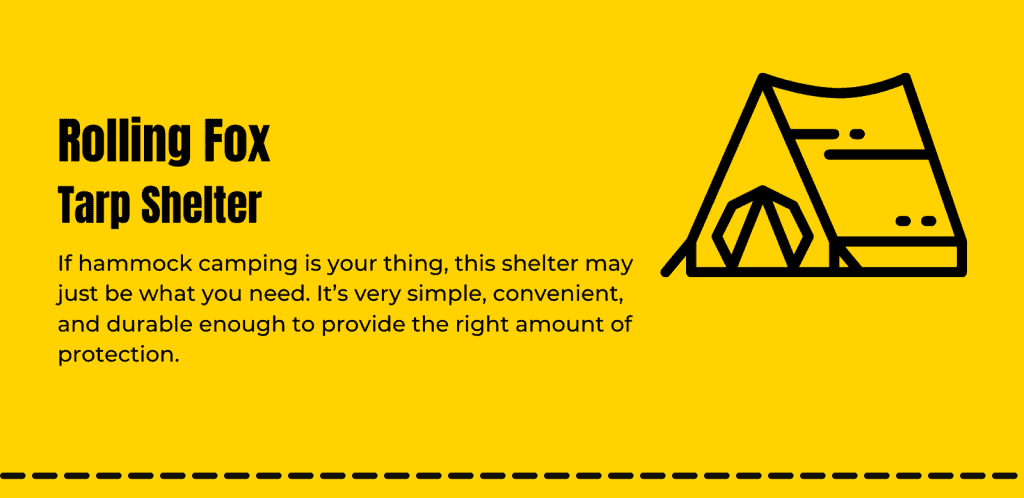 Review
If hammock camping is your thing, this shelter may just be what you need. It's very simple, convenient, and durable enough to provide the right amount of protection.
Pros:
Thanks to its durability and waterproofing, this shelter can withstand heavy storms without trouble. The design allows for a secure setup, so you don't have to worry about it shaking in the wind.
This is by far the least expensive shelter on our list. If you're looking for a good quality tent without having to spend a lot of money, this one could be your choice.
Cons:
Other than being suitable for hammock camping, this tent can only be used as a 1-person rain shelter.
When you stretch it out, you might realize this shelter isn't that wide. Although it can protect you from different elements, there isn't enough space to do pretty much anything else.
Who is it for?
Everyone who enjoys taking camping trips alone should check this one out. If you need a hammock shelter that won't burn a hole in your pocket, this might be the right option.
Materials Analysis
The material of this shelter is waterproof, but it's not a ripstop fabric, so be careful not to tear it. It can also melt if too close to fire, so you should watch out for that too.
Funs Canopy Tarp Tent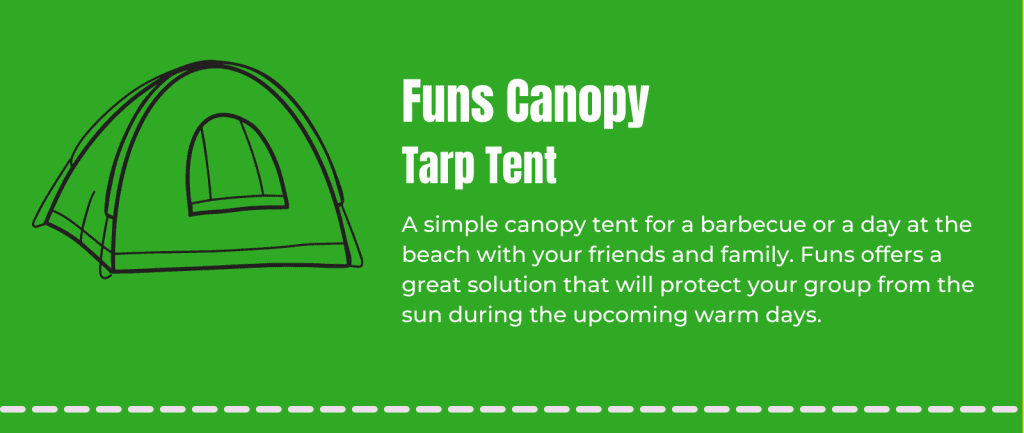 Review
Since winter is almost over, it's a great time to start looking for a simple canopy tent for a barbecue or a day at the beach with your friends and family. Funs offers a great solution that will protect your group from sun during the upcoming warm days.
Pros:
This sunshade offers convenient assembly without the need for stakes. Instead, just fill the corner anchors with rocks or sand and you're good to go.
This is one of the cheapest tents on our list, but that's probably because of the limited use. Despite this, the quality is good enough to ensure protection against the sun and light wind.
Cons:
This is one of the biggest drawbacks of his shelter. Although you'll be protected from the sun, it isn't useful at all in bad weather.
The structure of this tent can sometimes be unstable, so it's a bit shaky when under strong wind or a storm. So you might need to spend a bit more time securing it.
At around 4 pounds, this tent barely fits the ultralight category. In spite of this, it's on our list because it's still lightweight enough to be easily carried around.
Who is it for?
This is a good option for everyone looking for an affordable tent for occasional use under the calm weather. If you're looking for a tent that will provide the same amount of protection under the good and bad weather, this one probably isn't for you.
Materials Analysis
This tent is made of a polyester fabric that is UV 30+ protection certified. Although it's not waterproof, there is no doubt a long day at the beach will be more enjoyable without the fear of too much sun.
The Final Word
So there you go. We hope this article helped you to find the best ultralight tarp tent for yourself. We still believe the best option is the Mountainsmith Mountain Shelter LT Tarp. If you agree, find out more about it by clicking on this link.
And if you need a bit more room, there's always the Black Diamond Mega Light 4-Person Shelter, which you can take a look at here.
Go ahead and check them out, we are confident that you can't go wrong with these tents.