Published February 6, 2020
Best Ultralight Backpack for Backpacking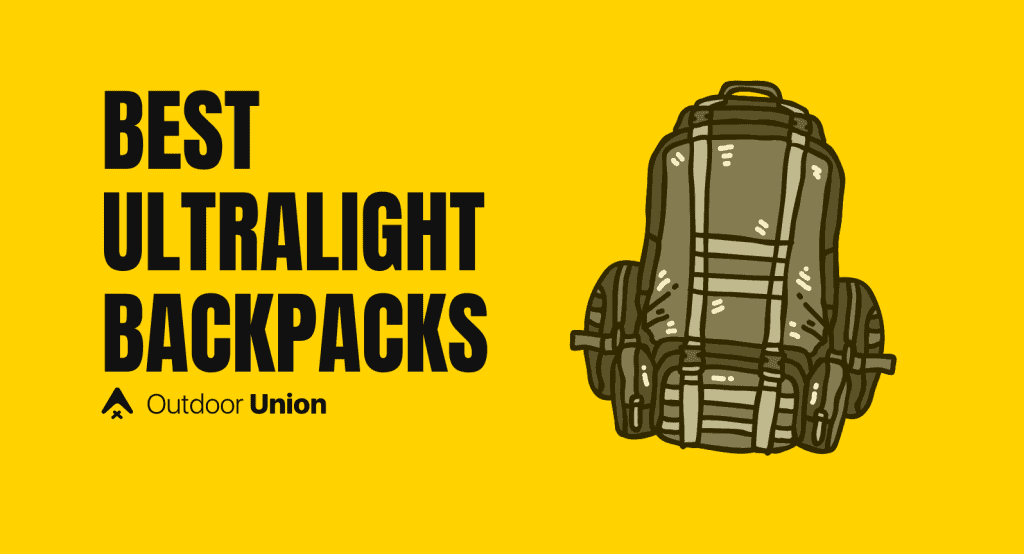 Some backpackers like to have every luxury on hand in the wilderness. But many find it more practical to cut back on the weight of their luggage. If you prefer to explore nature at a speedy pace, ultralight backpacking could be your best choice.
However, this hobby requires a lot of planning. Your first step is to choose an appropriate backpack. So what are the most important considerations?
This article will help you find the best ultralight backpack for backpacking trips. We also offer some advice about choosing the best pack for your needs.
Our Top Choice: Osprey Levity 45 Pack – Men's
Review:
The Osprey Levity Pack is one of the lightest high-quality backpacks available on the market. It won the Friedrichshafen OutDoor Award for the best backpack in 2017. This honor is awarded to innovative tech solutions that make camping easier.
But how does the Osprey Levity Pack stand out from other lightweight backpacks?
This 45-liter backpack is large enough for a comfortable weekend trip. If you're an ultralight backpacker, you can fit enough supplies to last a week or more. In most cases, backpacks this size add a considerable amount of weight to the load you have to carry.
However, the Osprey Levity 45 Pack weighs only 1 pound 12 ounces. Every design choice decreases the weight of this backpack. At the same time, it is extremely sturdy and comfortable to carry.
Here is a quick introduction to the benefits of the Osprey Levity Series:
It's important to note that the Levity Pack is specifically designed for men, though anyone can use this backpack comfortably.
The Lumina Series is almost identical, except it is designed to fit women's shoulders and hips. We recommend both series. But since the differences are extremely minor, we only cover the Osprey Levity Pack in this article.
So what makes this the best ultralight backpack for backpacking? And are there any significant downsides?
Pros:
The Osprey Levity 45 Pack has four pockets in addition to the main compartment. Hence, you can make sure all your items are packed in an orderly way.
The pocket on the top lid has a very light zipper. There is a bellowed fabric pocket next to it. Additionally, there are two pockets on the side for water bottles.
For maximum security, you can pull the compression straps on the main pocket. You can do the same on the side pockets. That compression strap is removable.
You Can Latch on Extra Gear
There is a loop cord attachment on the lid. Hence, you can secure an extra piece of equipment to the outside of your backpack.
Ultralight backpacking doesn't have to mean giving up on comfort.
The Osprey Levity 45 Pack has a frame, meaning it will decrease the strain on your shoulders and back. Additionally, the straps are lightly padded. This doesn't add much to the weight but makes the backpack considerably easier to carry.
Backpacking in the summer can be an uncomfortable experience due to increased sweating. But the back panel of the Osprey Levity 45 Pack is made from anti-perspiration mesh material. This improves airflow and keeps your back dry.
Durable and Generous Warranty
You won't have to worry about rips and tears. While it is somewhat expensive, this backpack is a good long-term investment.
It is covered by what Osprey termed the All Mighty Guarantee. In the event of any defects, the company will replace or repair the pack free of charge. It is almost a lifetime guarantee, though Osprey qualified it as "reasonable lifetime". So there's no guarantee that they'll replace the backpack for free if you pass it down to your grandson or granddaughter in 30 or so years' time. Apart from that, you should be in good shape.
This backpack is created from an extremely light fabric. Hence, it weighs far less than two pounds, which is within the recommended weight limit for ultralight backpacking.
Many ultralight backpackers like to keep their load under 15 pounds. However, staying under that limit requires a lot of preparation and a fair amount of money. It's a good idea to gradually switch from regular gear to lightweight gear.
Your Osprey Levity 45 Pack can carry a significant amount of weight. The recommended load is 5 to 25 pounds. Thus, this pack can help you make a gradual change in your packing style.
It Comes with Hydration Ports
If you're looking for a backpack for trail-running, the Osprey Levity 45 Pack could be perfect for you. You can place a water bladder inside the main compartment. The hydration ports will let you access the bladder through a tube without having to stop and unpack.
Built-In Emergency Whistle
Going ultralight means cutting back on some emergency gear. However, you need to have a way to call for help if something goes wrong.
This backpack comes with a built-in distress whistle. You won't ever have to worry about displacing it. If you're in trouble, blow the whistle three times. This is the international signal for distress.
Depending on your frame and shoulder width, you can choose between three different sizing options. The luggage capacity can be 42, 45, or 48 liters.
Cons:
The Backpack Isn't Waterproof
As this backpack is water-resistant, it will keep your gear safe from a light drizzle. But if you're expecting heavy rain, you might want to invest in a waterproof cover. If you're planning to take any delicate equipment or personal documents, make sure to get a waterproof bag to store them in.
The Osprey Levity 45 Pack might be overkill for some backpackers. You can get high-quality backpacks with the same carrying capacity at a lower price. However, they might not be durable enough in the long term.
Because of the minimalist design, this backpack doesn't have extra straps or a hip belt. Thus, it might put too much strain on your shoulders. If comfort is your main consideration, you might want to look into a slightly heavier lightweight backpack.
Materials Analysis
The Osprey Levity 45 Pack is made from NanoFly fabric. This is a ripstop nylon blend with a very high molecular weight.
Since it consists of very long molecules, this fabric is extremely tough. Hence, an ultra-thin layer is strong enough to securely hold all your supplies. There is a breathable mesh back panel too, so you won't have to worry about drenching in sweat.
This backpack has an aluminum frame, which is the lightest possible choice. Some ultralight backpacks come without frames, but they tend to be too uncomfortable for prolonged use.
Who It's Best for:
If you're thinking of seriously taking up ultralight backpacking, this is one of the best options for you. It weighs less than two pounds but it is both very durable and relatively comfortable. However, the Osprey Levity 45 Pack isn't the best choice for backpacking in very rainy conditions.
To learn more about this award-winning backpack, click here.
The Runner-Up: Granite Gear Crown2 60 Pack – Women's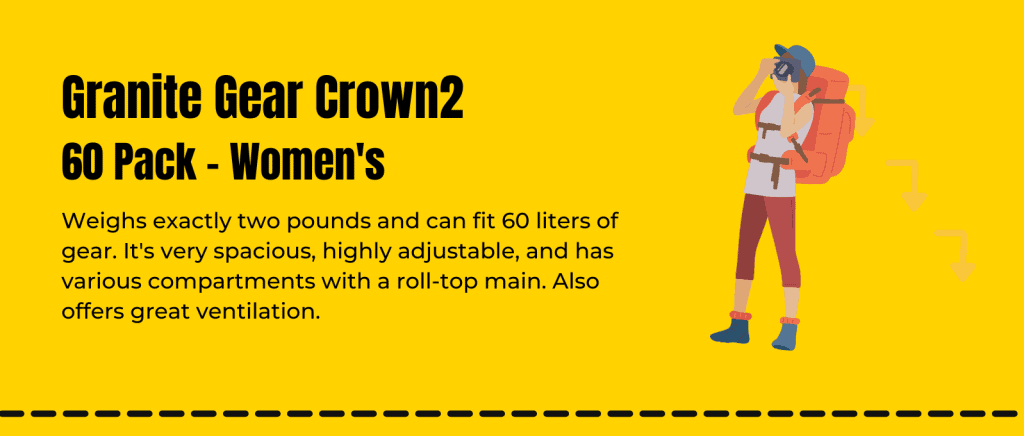 Review:
This is another excellent lightweight backpack for hiking and mountaineering. If you need to fit 60 liters of gear into your pack, this is the best ultralight model for you.
The Women's line comes in two sizes: short and regular. The short backpack weighs exactly 2 pounds, while the regular model is around 3 ounces heavier.
Once again, we consider this to be a fairly good unisex choice. But if you want a taller backpack model, go for the Granite Gear Crown2 60 Pack for Men instead.
Here is a quick introduction of the Granite Gear Crown2 60 Line:
Since it can carry considerably more weight, this model comes with a hip belt and a sternum strap. Thus, you can easily backpack with it all day without experiencing too much strain or fatigue. The solid frame adds to the comfort of this model.
But what are the top pros and cons you need to keep in mind?
Pros:
A 60L backpack is enough for a week of comfortable camping. This means you can pack approximately 35 pounds of gear. Additionally, the backpack is tall enough to fit tent poles and other equipment.
The Granite Gear Crown2 60 Pack has a number of straps and a removable hip belt. Hence, you can position it to fit your frame exactly. This will make it considerably easier to carry your backpack across long distances.
Additionally, there is a shoulder harness you can fit to size. The load-lifter straps will keep your backpack steady even if you're crossing uneven terrains.
The main compartment has a roll-top. You can also open it with a buckle if necessary.
There are four more compartments you can use. The stretch-mesh front pocket is perfect for the items you need to keep on hand at all times. For extra security, there is also a compartment with water-resistant zippers.
Furthermore, there are pockets on the hip belt. These are water-resistant as well, so you can keep your navigation equipment on hand even if you're hiking through bad weather. You can also use the loops on the front of your pack to attach some more gear.
If you're going on a longer hike, we recommend keeping the frame in the backpack. However, you can easily remove it if structural support isn't your main concern. Thus, you can make your backpack around 3 ounces lighter.
You can simply remove the lid by unclipping it. This will reduce your carrying capacity by 5 liters. However, your Granite Gear Crown2 60 Pack will become lighter and more form-fitting.
There is a hydration backpack for easy access to your water. Additionally, you can use a special hangar to keep the water bladder in place.
Carrying a load of 35 pounds in high summer is a huge challenge. But this model is designed for maximum comfort.
There is a molded foam back panel to spread out the pressure resting against your back. Good airflow is crucial as well. The back of your Granite Gear Crown2 60 Pack has ventilation channels and is covered in moisture-wicking laminated mesh.
Cons:
Although this backpack has gone through NeverWet liquid-repelling treatment, it's not fully waterproof. You may need to invest in a waterproof cover if you expect extremely rainy weather.
Might Be Too Large for Some Situations
If you're an experienced ultralight backpacker, you don't need 60L of luggage capacity. Thus, this wouldn't be the best option for you.
Moving with the Granite Gear Crown2 60 Pack can be annoying and exhausting. It's also not a great choice for globetrotting. You might find air travel difficult with a backpack this size.
Unfortunately, this isn't the most long-lasting backpack you can buy. Some of the extra straps may fray with use. However, all Granite Gear products are covered by a limited lifetime warranty against all manufacturing and material defects. So if you like the Crown2's styling and features, don't hesitate.
Materials Analysis:
The Granite Gear Crown2 60 Pack is made from lightweight ripstop nylon. There's also a mesh for wicking away moisture from your back. The back panel is padded with high-ventilation foam.
Since this backpack is designed to carry a great deal of weight, it has a solid compression-molded frame. This is made from polypropylene and has holes for extra ventilation. To minimize the weight of your backpack, you can easily remove the frame.
Who It's Best for:
We recommend the Granite Gear Crown2 60 Pack to backpackers who require a lot of equipment. Although this is a lightweight backpack, it can easily store 35 pounds of gear. Additionally, you can remove the frame and lid to make it even lighter and more compact.
For more information about this ultralight backpack, go here.
Most Affordable Ultralight Backpack : GoBackTrail Roll Top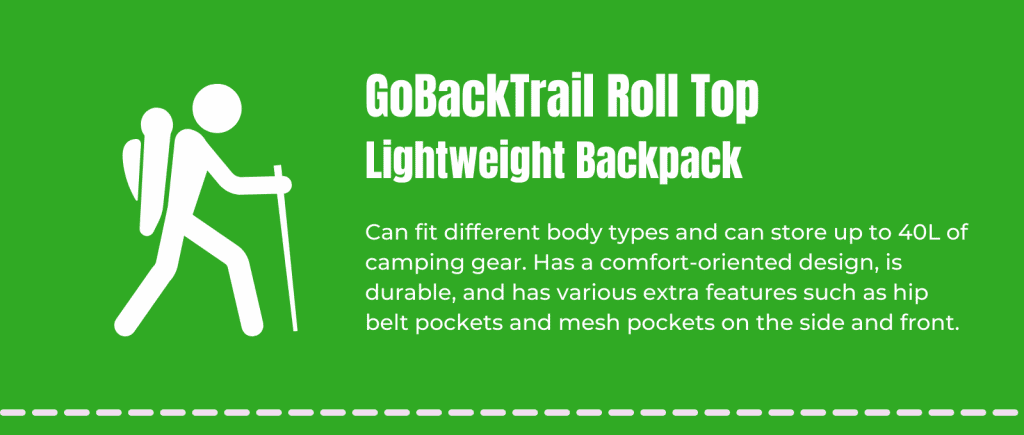 Review:
If you're on a tight budget, finding good ultralight gear can be a problem. The GoBackTrail Roll Top Backpack is a good place to start, as it's both affordable and durable. It weighs around 2 pounds and 8 ounces, which is excellent considering the price range.
You can use it for up to 40L of camping gear. This model is highly adjustable, so you can size it to fit your needs.
Since this is a unisex model, it can fit different body types. There is a hip belt for better weight distribution. Additionally, there is a lightweight internal frame that will help you carry this backpack across long distances.
So what are the upsides of the GoBackTrail Roll Top Backpack? And are there any major downsides?
Pros:
The GoBackTrail Roll Top Backpack has fully padded straps. The hip belt is padded as well. It also has pockets, so you can keep your phone or your compass on hand at all times.
Additionally, this hiking backpack comes with a semi-frame. Hence, it is very light but lets you enjoy the benefits of even weight distribution.
This backpack is designed to perform well in any weather conditions. It was tested across the Appalachian Trail. You can count on it to keep your belongings safe even after extended use.
This is one of the best affordable choices out there. While there are many low-cost lightweight backpacks to choose from, they generally come with a smaller luggage capacity. Additionally, the weight distribution tends to be badly thought out.
But the GoBackTrail Roll Top Backpack is both comfortable and sturdy. You won't have to worry about finding a replacement for a good long while.
In addition to the hip belt pockets, there are mesh pockets on the side as well as the front. This will allow you to keep your essentials at hand. You can slip your water bottles into the side pockets.
There are also loops on the front of the backpack that you can attach things to.
Full Refund within 30 Days
It's not always possible to know whether a backpack will be the right choice for your body shape. Hence, GoBackTrail offers a full refund within 30 days of purchase.
Cons:
If you need a hydration pack, the GoBackTrail Roll Top Backpack isn't the best option for you. There is no hanger for your water bladder. It isn't equipped with a hydration port either.
The full weight-bearing capacity of this backpack is around 30 pounds. However, we recommend going with less luggage. The semi-frame isn't exactly solid enough to keep you safe from excessive strain.
Might Not Be a Good Fit for Tall People
While this is a unisex model, it's a better fit for shorter people with narrower shoulders.
Materials Analysis:
This backpack is made from water-resistant polyester. You might need to bring some additional rain protection when you decide to use it.
Who It's Best for:
If you're looking for a high-quality backpack in a lower price range, you should take the GoBackTrail Roll Top Backpack into consideration. It is large enough for a weekend hike. Additionally, it's fairly comfortable, though it doesn't fit all body types.
Could this be the lightweight backpack for you? Click here for more information.
Best Choice for a Day-Long Trip: Hikpro 20L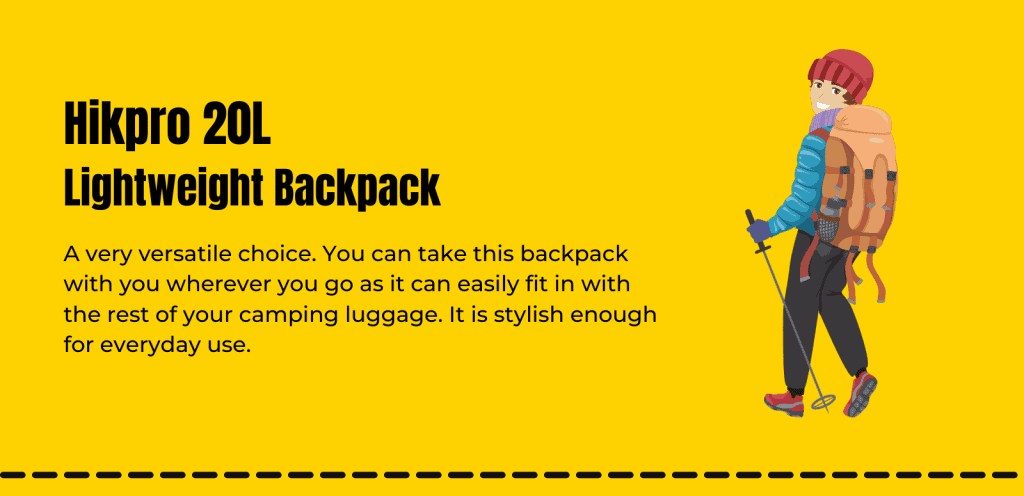 Review:
If you're planning to go on short trips near your campsite, a daypack might be perfect for you.
20 liters of luggage capacity isn't enough to store your sleeping pad and other equipment you need for an overnight stay. However, it's sufficient for short hikes.
The Hikpro 20L only weighs around 6.5 ounces. You can even fold it into a pocket-sized parcel and keep it on hand all the time.
So what makes this the best daypack you can get? And what shortcomings do you need to look out for?
Pros:
You can take your Hikpro 20L with you wherever you go. It can easily fit in with the rest of your camping luggage.
It is also a very versatile choice. The water-resistant design makes it a good option for hikes in the wilderness. At the same time, it is stylish enough for everyday use.
The main compartment is large enough to store your water bottles and your emergency first-aid kit. You can also take some backup gear for sudden changes in weather. Additionally, there's a small compartment for your wallet and keys.
There is also an outer pocket, which is a great place for your map or your camera. Each compartment is sealed with a durable metal zipper.
Since the straps are wide and made from a breathable mesh, this backpack is a good choice for summer hikes. You can also adjust it to closely fit your frame.
This backpack is a great choice for hikers with limited budget.
Cons:
Definitely Not Large Enough for Longer Trips
Even if you're an ultralight backpacker with very compact gear, this backpack isn't large enough for multi-day journeys. After all, you need a fair amount of equipment to sleep safely in the great outdoors.
The Hikpro 20L has no provision for a water bladder.
To cut back on the weight, the manufacturer chose not to include a frame. Hence, carrying this backpack all day can be a challenge.
Materials Analysis:
The Hikpro 20L is made from water-resistant nylon. It isn't the sturdiest backpack you can get, but it will last a long time with proper care.
Who It's Best for:
If you need a small and ultralight backpack for day-long trips, the Hikpro 20L is a good option for you. Since it doesn't have a frame, you can fold it up and keep it in your pocket. Though this backpack is fairly comfortable and easy to use, it's a bad choice for longer journeys.
Click here to learn more about the Hikpro 20L:
A Few More Great Options
Here are some more ultralight backpacks that could fit your needs.
The REI Co-op Flash 22 Print Pack is another great option for short hikes. This stylish daypack weighs around 14.5 ounces and it is made from extremely durable materials. Unfortunately, it doesn't offer adequate back support for longer trips.
The Osprey Eja 48 Pack is similar to our top pick. It's a versatile and comfortable backpack with a lot of extra features. However, it weighs a little over 2 pounds. The lack of a hip belt can be a problem as well.
If you need a greater luggage capacity, you might enjoy using the Marmot Graviton 58L Backpack. This is a large and comfortable pack with great ventilation. But it isn't the most durable option out there, and the pockets and attachment loops are annoyingly small.
How to Shop for an Ultralight Backpack
It can take a while to find an ideal ultralight backpack for backpacking. After all, there are many things you need to factor in before you make your purchase. Here are a few questions that can help you get started.
What Is the Perfect Weight for Your Bag?
Experts say that ultralight backpack shouldn't weigh much more than 2 pounds. However, it can be challenging to find affordable and spacious bags in that weight range. Ultimately, the ideal weight will depend on your needs.
Does Your Backpack Need a Frame?
Many ultralight backpackers consider frames to be unnecessary. After all, your luggage is supposed to weigh around 15 pounds. This shouldn't put too much strain on your back and shoulders.
However, a frame will offer better weight distribution. This can be crucial during long hikes. So even though frames add to the weight to your backpack, the benefits to your health might be worth it.
Should Your Backpack Be Waterproof?
In general, it's a good idea to go for hiking backpacks that are made from a waterproof fabric. In addition to protecting your gear from the rain, a waterproof backpack will prove useful for waterside hikes and for kayaking.
However, waterproof materials are thick and heavy. It might not be worth the extra weight. Going for water-resistant material is a nice compromise. Additionally, you can invest in a waterproof cover and only use it when the weather is bad. Worst case you can always carry a zip-lock bag to put your phone in during a heavy rain storm.
How Many Compartments Do You Need?
More compartments mean extra fabric. Some of the lightest backpacks have no extra pockets at all. But if good organization is important to you, a pack without pockets can be extremely frustrating to use.
Hence, you should start with thinking about your usual packing style. If you tend to pack your belongings in an orderly way, make sure there are a few pockets for the most important items.
Should the Backpack Have a Top Lid?
A roll-top is a popular design choice when it comes to ultralight backpacks. This means you can use cords to close your backpack rather than a stiff lid. Clips are another popular option.
Having a lid can give you some extra storage space and it can keep your belongings in place. However, it doesn't make much of a difference. A high-quality roll-top can be just as secure.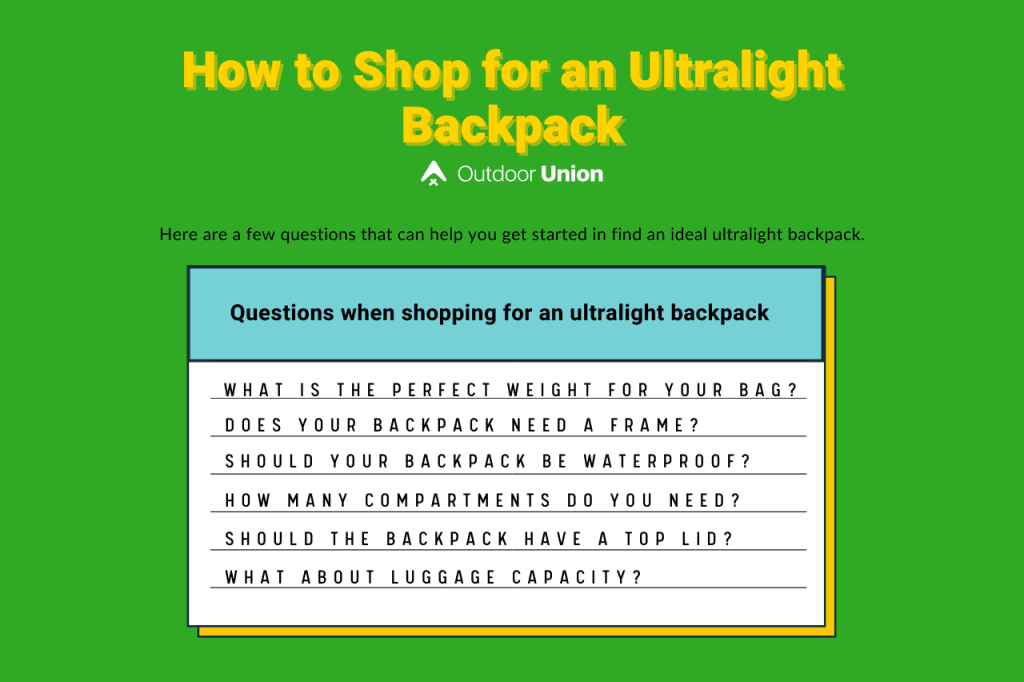 What about Luggage Capacity?
This is one of the most important questions and it depends entirely on your personal needs.
If you're ready to go for the lightest possible gear, you might be able to keep your luggage under 15 pounds or under 40 liters.
But most people find it too complicated and too expensive to stay in this weight range. Hence, you might want to go for backpacks with a bigger luggage capacity. For week-long trips, 60 liters of luggage capacity might be necessary.
Always make sure to know your limits before you set out on a backpacking tour. Weigh your equipment precisely and don't leave anything out.
What Kind of Camping Conditions Are You Expecting?
Ultralight backpackers prefer to carry a limited amount of water. They use streams for refills. But if you're planning to go backpacking in the desert, you need to take a great deal of water with you.
It's also important to keep the weather in mind. Make sure to have extra rainproof equipment on hand if necessary. If you're going backpacking in the summer, go for a pack that has decent airflow.
Mountain-climbing requires some extra equipment. Professional mountaineers can keep their gear under 22 pounds. But amateurs will definitely need to carry more than that.
Do You Need Any Additional Features?
While extra straps might weigh you down, they also make backpacking considerably more comfortable. If you're going for a model that doesn't have extra straps and belts, make sure the shoulder belts are wide and well-padded. Your safety and health are the most important considerations.
There are a few other extra features that could come in useful.
For example, loops on the front of your pack can let you attach some more gear. Hydration ports are another great feature. After all, a good backpack can serve as a hydration pack as well.
Is Ultralight Backpacking the Best Option for You?
Let's look into some of the upsides and downsides of minimizing the weight of your gear.
Pros:
Being weighed down by gear can make backpacking feel like a chore. Hence, you might find yourself reluctant to explore new ground and you won't be as eager to leave your campsite. When you decrease the weight of your backpack, you can focus on nature once again. If your gear weighs less you can travel further in a day.
The Logistic Challenge Is Part of the Fun
Ultralight backpacking requires a lot of preparation. You'll have to start thinking about your gear in whole new ways.
A lot of standard camping gear is redundant. For example, you don't necessarily need a tent when a bivy sack would suffice. A sleeping pad and a mattress serve the same purpose, so you don't need to take both.
It takes a fair amount of research to find all the lightest equipment. Getting high-quality gear means you won't need as many backup options.
If you enjoy planning ahead, you should definitely try changing your approach to backpacking. Additionally, you'll need to think of some innovations of your own.
Less Strain on your Shoulders and Back
Sometimes, people choose to go for lightweight backpacking out of necessity. After all, some backpackers cannot carry more than 15 pounds. If you're switching to lighter gear for health reasons, make sure to go for a very comfortable and sturdy backpack model.
Cons:
Ultralight Backpacking Requires Experience
If you want to cut back on the weight of your luggage, do it gradually. Never go backpacking without safety gear and medical kit. Having enough water is also a very important concern.
Getting good at ultralight backpacking takes time. You can't predict every eventuality. While research is crucial, you won't know whether this approach is right for you until you have tried it.
Lighter equipment almost always costs more and it also might not be as durable as regular camping gear.
Some people prefer to sew their own packs for ultralight backpacking. While this solution is inexpensive, we don't recommend it. This is because a hand-made bag won't give you the comfort you need for a long day of backpacking. It is also much more likely to tear.
You Might Find It Too Uncomfortable
Not everyone enjoys camping in Spartan conditions.
Food is one of the most important concerns. Cutting back on the weight of your luggage means eating dehydrated meals you prepare with stream water. Naturally, this won't be as tasty as the meals you might be used to at home.
Taking a small stove can be a good idea. But some ultralight backpackers prefer to forego hot meals and drinks.
What about getting a good night's sleep? Sleeping pads are considerably lighter than camping mattresses. However, they aren't as warm and comfortable.
You should choose the backpacking style that suits your needs and skills best. Keep in mind that if you are just starting to backpack, having fun should be your most important goal.
A Final Word
Ultralight backpacking can be an excellent choice for some campers. It is challenging and exciting, and it will provide you with exciting new memories and stories.
However, finding good gear can take a lot of time and money. This article looks into the best ultralight backpacks. One of these could be the best fit for you.
Our top choice is the Osprey Levity 45 Pack. This hiking backpack won a prestigious award for its innovative design. It is made with comfort in mind, and it's one of the lightest options available.
Click here to purchase the Osprey Levity 45 Pack.