Published January 7, 2021
Hike Your Way to the Top with the Best Trekking Poles for Hiking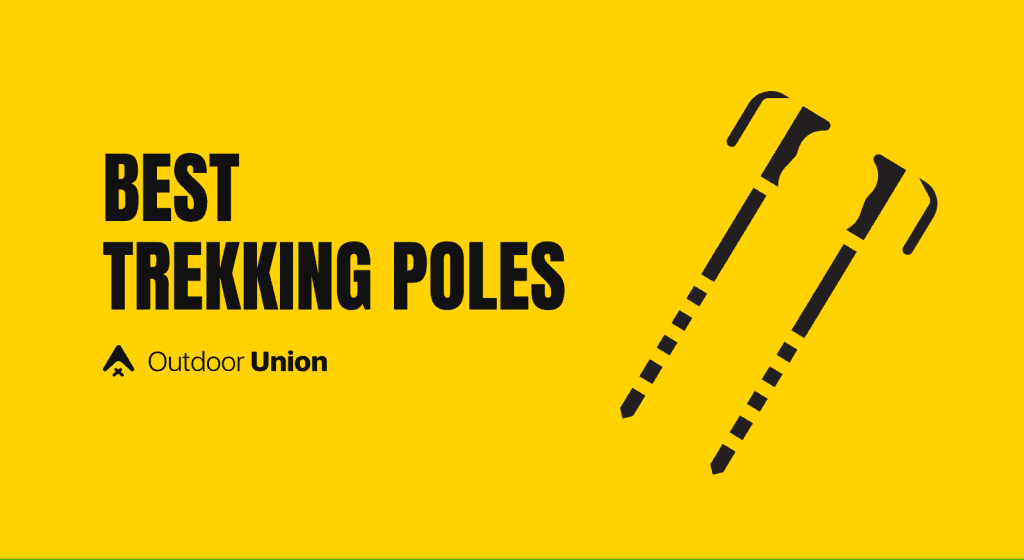 Trekking poles may be a common hiking accessory, but they don't all last long or are easy to pack. The best trekking poles for hiking do more than that. They help you keep a good rhythm on the trail and improve your stability on hard ground.
Whether you're a serious hiker or a beginner, we'll help you choose the right trekking poles for you. We'll look at key features such as durability, weight, and build quality, as well as at the accessories in the package.
Are you ready?
Our Top Choice – Helinox Ridgeline Trekking Poles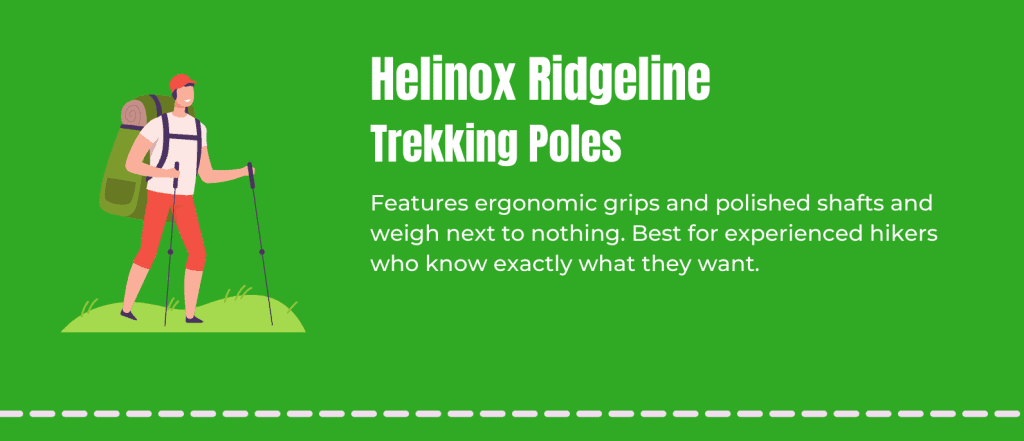 Review:
The Helinox Ridgeline Trekking Poles stand out as the top trekking poles for hiking all round. With their ergonomic grips and polished shafts they look great. Also, they weigh next to nothing. While many trekking poles look like simple metal walking sticks, these catch the eye without sacrificing performance on the trail.
Pros:
This model features an innovative collapsible system that combines a ball-bearing button with a locking level. This makes it easy to collapse or make ready for the hike. Once extended, the lock mechanism provides a solid feel. Also available is a dual-lock lever version that further improves stability by using two locking cams.
With their vibrant color and smooth design, these trekking poles are a pleasure to hold. If you haven't used trekking poles before, they provide enough visual and tactile stimulation to make them enticing.
Helinox stays true to its reputation and vision to produce a solid, resistant, and above all dependable product. These are professional-grade trekking poles. They won't fail you, not even on the hardest Appalachian trails.
The tungsten and carbide flex tip is a step up from the usual rubber tips. It's ideal for hard terrains and challenging climbs.
The foam grip extension makes this set highly comfortable. You don't have to worry about chafed hands.
Includes Trekking Baskets
You can use these trekking poles on soft terrain thanks to the removable baskets included.
3-Year Manufacturer Warranty
Other models offer only a one-year warranty. Expect them to last much longer, though.
Cons:
While light on your hands, the straps are not as wide as those of some other models, which may make them less comfortable. On the plus side, they don't promote sweating.
This set performs best on dry trails. Still, the trekking baskets included makes them usable in snow.
Materials Analysis:
Ridgeline trekking poles are made from DAC TH72M aluminum alloy, providing an optimal balance between strength and weight. TH72M alloy is a step up from the usual aluminum seen in standard trekking poles. It's one of the best materials currently available for sturdy yet light hiking accessories.
Who It's Best For:
Anyone who values the design and looks of their trekking poles will find this set hard to resist. That said, this is not the most affordable set around, which makes it more attractive for experienced hikers who know exactly what they want.
If you like this set, you can find it here.
Most Affordable – BAFX Trekking Trail Poles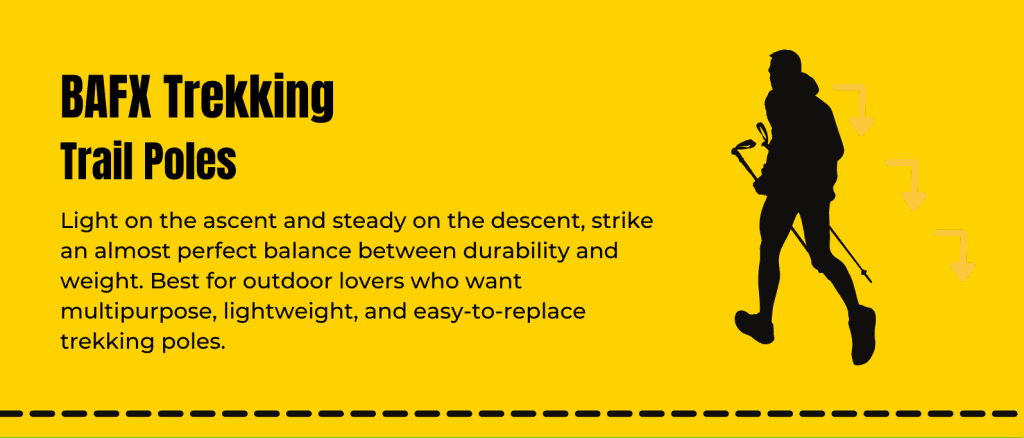 Review:
Light on the ascent and steady on the descent, the BAFX Trekking Trail Poles strike an almost perfect balance between durability and weight. The versatile design with light ribbing for a better grip and a wide wrist strap makes them easy to use on all terrains. Under the standard rubber tips you'll find carbide tips, allowing you to quickly adjust them depending on the hardness of the ground.
Add to that the adjustable length from 25 to 52 inches and you have a multipurpose set that can handle anything from Appalachian trails to the nearest park. They can also be used as walking sticks at any time. All this comes in an affordable, 2-set package that could easily ignite your love for the outdoors.
Pros:
Soft grip, wide padded straps, and anti-shock springs work together to reduce the shock that your elbow joints naturally withstand during longer hikes.
Affordable Given Its Features
BAFX Trekking Trail Poles offer a good quality design at a considerably lower price than other trekking poles. If you've never used trekking poles before, the cost of this set makes them a good investment even if you won't be using them all that often.
With the tips on, a pole weighs only 12.4 ounces, making this one of the most lightweight sets around. On long hikes, the low weight can make a difference.
While other sets don't include rubber tips, these feature two pairs per set. That saves you the trouble of buying them separately. Also included is a set of mud baskets that makes hiking through soft ground easier.
Cons:
While resistant, these trekking poles may not feel as solid as some of the other sets on this list. If you're used to a heavier set, you may need some time to get used to them.
True to its price, this set doesn't stand out in terms of design. These poles really look like poles.
Materials Analysis:
The high-grade aluminum makes the shafts light and durable while handling well both hot temperatures and wet climates. The mix of foam and fabric give the upper end up of the poles a comfortable feel, minimizing sweating and chafing. The carbide and rubber used for the tips is quite resistant as well.
Who It's Best For:
Outdoor lovers who want multipurpose, lightweight, and easy-to-replace trekking poles set will like these. Their find blend of features and straightforward yet thoughtful design makes them a best buy. While intense hikers can use them, this set is best for beginners and intermediate users. They were not designed for professional use.
Learn more about these multipurpose and affordable trekking tail poles at here.
Best Women's Trekking Poles – Black Diamond Trail Pro Trekking Poles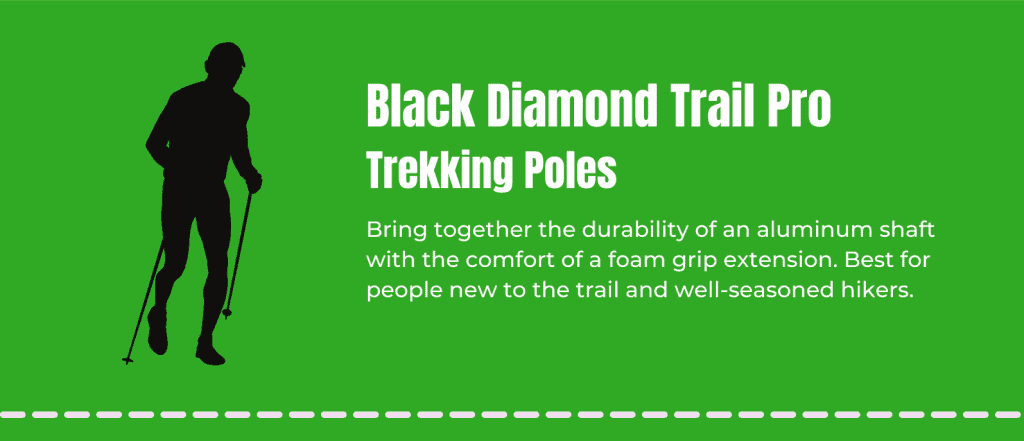 Review:
The Black Diamond Trail Pro Trekking Poles bring together the durability of an aluminum shaft with the comfort of a foam grip extension. Their lightweight yet appealing design makes them stand out from other trekking poles. Add to that the simplicity of the DoubleFlick Pro extension system, and you're looking at an accessible and set that you can use on any terrain. The "ladies'-specific" foam grip extension for steep trails further enhances its appeal.
Pros:
Combining a tough aluminum shaft with a stainless steel extension system, these trekking poles can handle rough terrain and difficult weather conditions. They can take a beating.
Advanced Extension System
The Double FlickLock Pro extension system allows for an adjustable pole height of 23 to 49 inches. These trekking poles are not only easy to use, but also easy to throw into a daypack.
Weighing under one pound per pair, these trekking poles are one of the most lightweight models around. You won't even feel them in your hands.
This Trail Pro set comes with 360-degree padded straps which prove especially useful during long walks. While they may increase sweating in warmer weather, the straps add to this set's comfort.
As with most high-quality trekking poles, you can change the rubber and carbide tips depending on the terrain and the season. It's an essential feature that helps this set provide optimal performance during all seasons.
Cons:
While this is not necessarily an indispensable feature, anti-shock would have made these trekking poles even more attractive.
You have to buy rubber tips separately, as they are not included in the set. It's not a deal breaker, but other sets include more tips in the package.
Materials Analysis:
An inspired mix of good quality aluminum and dual-density foam makes this set durable yet lightweight. You don't have to worry that it will rust or slip out of your hands in rainy weather.
Who It's Best For:
People new to the trail as well as well-seasoned hikers can both appreciate the light, adjustable design of the Black Diamond Trail Pro Trekking Poles. There's no particular feature that makes these poles suitable only for women. Men can use them just as well.
Have these trekking poles caught your eye? Learn more about them here.
3 Great Trekking Poles for Hiking That Didn't Make the Cut
LEKI Micro Vario Ti Cor-Tec Trekking Poles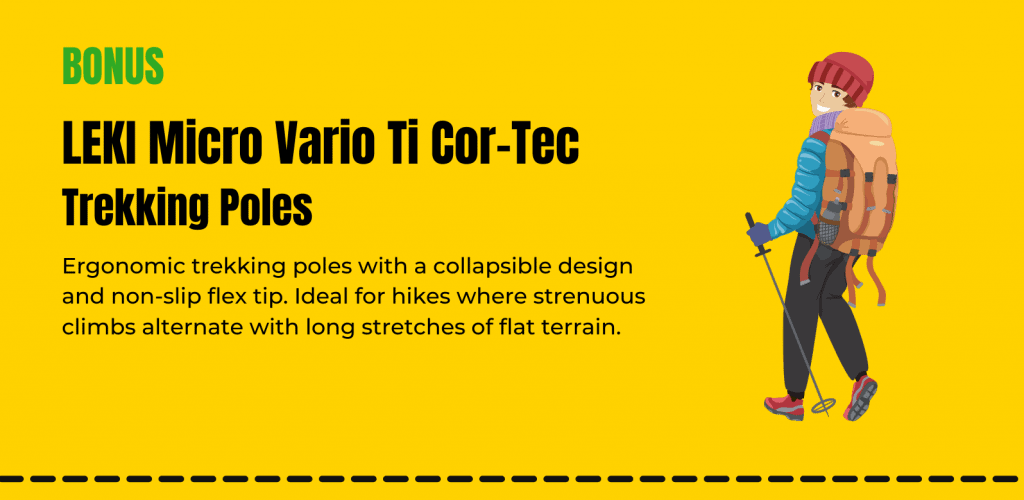 The collapsible design of these ergonomic trekking poles makes them easy to pack. They're ideal for hikes where strenuous climbs alternate with long stretches of flat terrain. You'll also like the non-slip flex tip and the cork and rubber grip. The pack also includes some of the best trekking baskets we've seen recently.
Find it here.
Foxelli Trekking Poles
A multipurpose set, the Foxelli Trekking Poles can be easily adjusted and adapted to suit all conditions. The lightweight shafts come with a quick lock technology that allows you to adjust them to their desired length. Included is a carry bag and all the accessories you'll need to use this set on different terrains. This pair can be used by both amateurs and seasoned hikers. It's also suitable for kids.
Grab there here
Mountainsmith Pyrite 7075 Trekking Poles
With their clean design and high durability, these trekking poles and walking sticks from Mountainsmith are an affordable choice. EVA foam handles and adjustable webbed wrist straps make them light on your hands. They also feature a shock absorption system. Made from 7075 aluminum, which is commonly used for aircrafts.
Buy them here.
What to Look For in a Trekking Pole
Trekking poles may seem simple products when compared to other hiking and backpacking accessories. But as our reviews highlighted, there are a few key features that you need to pay attention to. Otherwise, you may end up using a trekking pole that hinders rather than helps you.
Some trekking poles can be extended from one length to another. Others come with locking mechanisms that give you the choice of multiple lengths. The right length for you depends on your own height, the terrain, and the weather conditions. For this reason, it's often best to shop for a trekking pole with an adjustable range.
Most trekking poles are made from aluminum or fiberglass, but the build quality isn't the same. There's a big difference between TH72M aluminum and the average aluminum used in lower-end models. The difference is seen in both the durability and the weight of the poles.
The best trekking poles come with comfortable foam grips and padded straps. A good grip doesn't promote sweating and may feature an adjustable strap to fit any hand size.
Carbide tips are great for harder terrain, but rubber tips and snow baskets also come in handy. Pay attention to these accessories, as they are not always included in the set.
Trekking poles may be by their definition light, but not all of them are lightweight. On a long hike, a few ounces can make a big difference, which is why you want to aim for low weight trekking poles.
The Final Word
So far we covered the best trekking poles available. We've considered not only design and build quality, but also weight, locking systems, and accessories. Any of the products we've highlighted are a dependable choice that won't let you down on the trail.
If you need a versatile set of trekking poles that you can also use as walking sticks, then BAFX 2 Pack Trekking Trail Poles is a good buy. These affordable yet well-made poles are light and comfortable and put to shame many sets that are more expensive.
But if you really want to choose a set that will help you stand out, then the Helinox Ridgeline Trekking Poles could be just right for you. Their design and solid build make them a good investment, despite their price.
Buy now the best trekking poles for hiking and you'll enjoy your hike even more.