Published April 17, 2021
7 Best Gifts for Campers
The holiday season is right around the corner. We've pulled together our top camping gifts for the season.
Bring a camper fine wine glasses or a plug-in espresso machine and they'll thank you for it but leave it at home. But give them a special camping wine set with an insulated carafe and a Handpresso, and these will surely make it into their backpack.
When it comes to campers, you can't think of gifts in conventional terms here. You have to make sure they are appropriate for the occasion. Not only that, but you have to choose gifts that suit the camping style the recipient prefers. Things like camping conditions or group size matter a great deal.
We want to make things a little easier for you. That's why we've compiled a set of outstanding gifts for different types of campers. Choose one of these and you won't go wrong.
So, are you ready to discover the best gifts for campers?
Best Gift for Coffee Lovers: Handpresso Outdoor Set
Review
Handpresso delivers on its promise to help you brew a good espresso just about anywhere. It's simple to use and the whole set, including the carrying case, looks like the real deal. This device has won several design awards and once you take it in your hand and start to use it you will understand why.
To make an espresso with it on the go, you have to fill it with loose espresso grounds or ESE pods, pump it up to a good pressure (up to 16 bar), and pour in some hot water from the thermos flask included. The best thing about it is that it frees you from the reliance on batteries or electricity that other portable espresso makers require. It's also easy to set up.
Pros
Small size – It's small enough to fit into any backpack or big jersey pocket.
Pressure gauge – A welcome addition, the gauge shows you the pressure you need to reach to get the best brew.
Works with loose espresso grounds – This allows for a rich and vigorous infusion.
Includes a reliable, insulated flask – The flask can double up as a thermos when needed.
Comes with 4 little cups – The included cups make this set a handy device for group camping or family trips.
Cons
Only 2-year manufacturer warranty – This suggests that this device may break or deteriorate in time.
Requires more work – It's fast, but not as fast as some of the other portable espresso makers around.
Requires plenty of cleaning – Sleek black design may show fingerprints, dust, or dirt.
Materials Analysis
Handpresso is crafted from quality materials and comes with cups that seem to be BPA-free. Reliable materials contribute to this set's appeal and the popularity of its design.
Who It's Best For
Coffee lovers who enjoy choosing their grounds and brewing their own coffee even in areas without access to electricity will love Handpresso. It's a perfect gift for campers, whether we are talking about beginners or die-hards.
Best Gift for Foodies: The GoBQ® Grill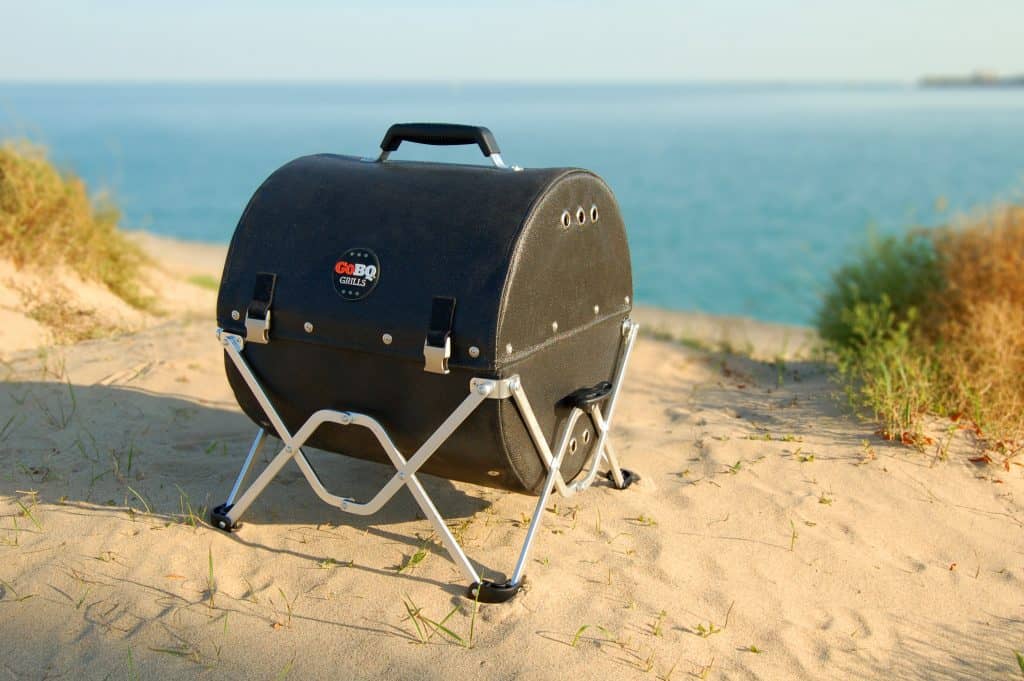 It's an ultra-portable charcoal grill made from fireproof fabric that folds up like a camping chair to fit in a backpack, or can be carried over your shoulder. It's so compact, making it ideal for camping foodies.
The GoBQ Grill cools down much faster than metal grills and is perfect for road trips, camping, hiking, biking, boating, fishing, tailgating, picnics, the beach, and RV travelers who cherish every inch of storage space possible.
Pros
Compact & Mobile – It fits in a backpack and can be stored in a drawer. You can also easily carry it on your back.
Flame Resistant – Its body is made of FDA compliant fireproof fabric.
Lightweight – This portable grill weighs only 9 lbs.
Easy setup – Setting up this grill only takes 20 seconds.
Store and put it away easily – The grill cools down 7x faster than metal so you can easily and quickly put it away after every use.
Con
Small cooking surface – When used by bigger groups, the cooking surface of this grill can be relatively small.
Requires charcoal – You have to bring charcoal which can take a bit of time to heat up
Materials Analysis
The GoBQ Grill is made of FDA compliant heavy-duty fire-resistant fabric and features a fiberglass fabric clam shell lid that folds down. Holding it shut are two aluminum buckles. Overall, the materials used to ensure safety and easy setup and movement.
Who It's Best For
GoBQ grill is the best gift you can give a foodie camper who loves all things grilled outdoors. It's ideal for social distancing when you want to "Grill Away From it All" far from crowds.
Best Gift for Couples: GSI Outdoors Wine Glass Gift Set
Review
If you think there's something decidedly unromantic about box wine, then this outdoor wine set could be a perfect gift for couples who enjoy camping. It includes a wine decanter, two nesting glasses, and an insulated tote for convenient transportation. The simple but elegant design of the glasses helps mark a special occasion, bringing a romantic touch to any adventure.
The small pouring spout of the carafe allows for easy serving without any splashes, so with this set, you won't be wasting a single drop of wine. The carafe is also quick to fill.
Pros
BPA-free glasses – They're made from copolyester, a healthier alternative.
Lifetime warranty from the manufacturer – This set proves to be a safe, long-term buy.
Good capacity – The 750 ml soft-sided carafe proves more than sufficient for most occasions.
Easy to pack and carry – The insulated neoprene wine tote included makes everything easy and also keeps the wine at a constant temperature
Versatile use – This set can also be used for other non-camping occasions such as on trips and special events in unlikely places, giving it good value.
Cons
Limited colors – The wine tote is only available in brown.
Weather conditions affect insulation quality – The tote bag insulation won't be as efficient in harsh weather.
Not as romantic as a bottle – The soft-side carafe doesn't feel as good in your hands as a real bottle of wine.
Materials Analysis
The BPA-free copolyester is arguably one of the best materials for camping glasses. The wine carafe is made from polyethylene and polypropylene, while the insulating pouch from neoprene. All of these are dependable, non-hazardous materials.
Who It's Best For
This is an appropriate romantic gift for adventurous couples. It could also be an inspired gift for a boyfriend or girlfriend, provided that he or she likes camping of course.
Best Gift for Buddies: Stanley Classic Vacuum Growler and Adventure Tumblers Gift Set
Review
This vacuum-insulated stainless steel growler can keep 64 oz of beer ice cold for 24 hours, which is usually more than enough time for the camp to be set up. Alternatively, it can keep coffee hot for 18 hours. Its rugged yet appealing design makes it a proud thing to take on camping.
The four steel tumblers included in the set makes it more than useful for group camping. Sturdy, durable, and easy to use, this growler unites in an attractive package the classic design of an old-fashioned growler with excellent vacuum insulation. It's a well-made product.
Pros
Lifetime warranty – This hints at the growler's sturdy construction and excellent durability — it can last long enough to be passed on to the next generation of campers in the family.
Resistant steel tumblers – Think of them as a step up from your average glass cups.
Effective double-wall vacuum insulation – The insulation does its job effectively whether you use it for keeping beer fresh or a hot liquid hot. Also, the foam insulation of the lid fixes one of the weak spots of other growlers, improving efficiency.
Dependable design – This growler strikes a good balance between good looks and convenience.
Cons
May seem heavy for its size – You'll notice the weight especially if you're making the transition to it from a smaller thermos or growler.
Limited coloring options — It's available only in the Hammertone Green
Available only in one size (64 oz) — A smaller version for couples or single campers would have been useful.
Materials Analysis
The 18/8 stainless steel from which the growlers and the tumblers are made is arguably the most dependable material for a set of this kind. It may add to the weight, but it's remarkably resistant and can be cleaned with ease.
Who It's Best For
Perfect for beer lovers, the Stanley Classic Vacuum Growler suits campers who like to take their buddies on their adventures. It can provide a great refreshment to a small group just when it's needed the most — after the camp is set and the adventures are about to begin.
Best Camping Gift for Families: DIMY Walkie Talkies for Kids
Review
DIMY Walkie Talkies for Kids rely on FRS/GMRS technology to eliminate the common signal problems cell phones may have in certain areas. They can provide a high sound quality for an up to 2-3 miles range. Resistant to wear and tear and easy to use, these Walkie Talkies can add to the spirit of adventure of any camping trip.
The streamlined, child-friendly design makes them an inspired gift for families with young children who enjoy camping in forests and other wide areas. More than being fun, they can add a level of safety to a camping trip and encourage children to explore their surroundings while always remaining connected. While this product is marketed for children, it can be used by adults as well without any problems.
Pros
Can take a beating – Unlike mobile phones, these walkie talkies are fit for a rugged camping setting, and will take inadvertent drops, bumps, or scratches well.
Ergonomic design – The small and lightweight design of these walkie talkies makes them easy to carry and more than suitable for children.
Belt clip for easy attachment – When not in use, they can be clipped to a belt.
Mutes background noise – One of the standout features of this product is the auto squelch function which allows for clear communication in crowded surroundings even at a relatively low volume.
Toy and survival gear, 2-in-1 – Anyone shopping for a camping accessory that can be both a toy and a practical item will find these walkie talkies more than suitable.
Cons
Certain factors may limit range – Bad weather, buildings, and cars may limit the range at which these walkie talkies can be used.
Batteries not included – You'll have to buy the 4 AAA batteries that each walkie talkie requires separately.
Some pieces may pop off – While overall sturdy, the walkie -talkies come with some movable pieces around the display which may pop off in time.
Materials Analysis
This product is made with environmentally-safe plastic and other materials. While the devices themselves do not pose a risk to the environment, their batteries do. The durability and resistance of the material in most weather conditions are some of the product's key selling points.
Who It's Best For
DIMY Walkie Talkies are good for families who enjoy camping with their kids. They can also be used in other settings for monitoring purposes or as a short-range free talk alternative to regular mobile phones.
DIMY Walkie Talkies for Kids on Amazon
Best Gift for Solo Adventurers: Hydro Flask Double Wall Vacuum Insulated Stainless Steel Water Bottle
Review
Thanks to its double wall vacuum insulation, the Hydro Flask saves the adventurer from lukewarm disappointments. The streamlined, leak-proof stainless steel design with its flex cap and wide mouth make this an extremely practical and durable choice.
While it was designed as a water bottle, it can handle other drinks as well, including energy drinks or coconut water. It also does a good job at eliminating flavor transfer, so you can really put into it different drinks without worrying about the taste.
Another nice touch is the powder coating, which not only makes it slip-free but also gives it a nice feel in your hand.
Pros
Hot and Cold – TempShield double wall insulation can keep liquids cold for 24 hours or hot for 12
Available in multiple sizes – You can choose between half a dozen sizes from the tiny 18 oz (532 ml) to the 64 oz (1900 ml) bottle which can last a camper a whole day.
Plenty of color choices – This flask comes in a dozen or so colors from pink to black, and all of them look good.
Non-toxic BPA-free – While other flasks don't make it clear whether they're free of Bisphenol A, this one leaves no room for doubt.
Wide mouth opening – It makes the flask easy to fill without spills and is wide enough for water filters.
Cons
Rust spots – While the flask itself is remarkably sturdy, it may be prone to rust spots on the top rim and in other areas.
Ice melts faster – Ice in this flask will start to melt well before 24 hours have passed, though the drink itself may still remain cold.
Clumsy lid – The lid may not come off effortlessly on some versions of the bottle at least, which is not a big problem, only an annoyance.
Materials Analysis
The BPA-Free and Phthalate Free pro-grade 18/8 stainless steel of this flask is one of its key selling points. When it comes to the quality of the materials used for manufacturing camping flasks, it really doesn't get better than this.
Who It's Best For
The leak-proof, sporty design makes it especially attractive for campers who don't plan to stay in one place but explore their surroundings without worrying about spills.
Hydro Flask Double Wall Vacuum Insulated Stainless Steel Water Bottle on Amazon
Best Practical Gift: Etekcity 2 Pack Portable LED Camping Lantern Flashlights
Review
An omnidirectional portable flashlight is a more practical alternative to standard camping lights. Etekcity's double pack LED flashlight can be used inside the tent or outside, can be placed on the floor or hung from a bough, and they can light up even areas that are normally harder to reach.
Efficient LED technology powered by AA batteries makes this set capable of providing up to 12 hours of light on a round of batteries. The 30 LED bulbs packed in the 360 degrees design give it more brightness and usable light than your average flashlight, making this a useful tool for frequent campers. Package includes two lanterns.
Pros
Long-life span – Low-powered LED bulbs make this a long-lasting and dependable flashlight that you can use even during long trips without having to carry with you extra battery packs.
Innovative 360 design – you can get the most out of the light whether you carry it in your hand or place it on something.
Sturdy design – This LED flashlight looks tough enough to withstand inadvertent light damage as well as all the other accidental mishaps that may behalf a camp lantern.
Water-resistant exterior – With this flashlight won't have to worry about rain or fog.
Collapsible handles – The inspired fold-out handle design makes this lantern easy to carry as well as to hang.
Cons
Limited high brightness – While they can light up your way through camp for up to 12 hours, after eight hours these lanterns enter an energy-saving mode.
Non-rechargeable – You can't recharge these lanterns but have to use 3 AA 1.5V batteries for each of them.
Non-replaceable parts – The LED bulbs cannot be replaced so if they get damaged or stop working these lanterns are as good as finished.
Materials Analysis
Made from a combination of sturdy plastics and other reliable materials, the lanterns in this pack don't lose any points because of their construction. Expect good quality materials nicely packed into a good quality design.
Who It's Best For
Campers who regularly spend more than a few days away from power outlets will appreciate the convenience of these lanterns. But any other camper who wants a high-quality flashlight will find these more than suitable.
Etekcity 2 Pack Portable LED Camping Lantern Flashlights
Wrap Up
From wine glasses, beer growlers, and water flasks to the Handpresso and DIMY's Walkie Talkies, the best gifts for campers on our list are all inspired choices. They're sturdy, easy to use, and adapted to your needs in the outdoors.
While all of the gifts we've covered are practical, the Etekcity 2 Portable LED Camping Lanterns are probably the most useful for most campers in most situations, making it our top choice. Buy now this inspired gift to make a camper (or two) happy.