Published January 18, 2020
Discover the World with the Best Camping Mattress (2020)
A successful camping trip requires some clever planning. After all, it's the essentials that will make or break your vacation. You should never underestimate the importance of getting a good night's sleep.
But how do you decide on the best camping mattress? This article will help you choose a mattress that will suit your needs. Additionally, we will give a brief overview of the most important considerations.
Please enjoy our top selection. These mattresses will set your mind at ease and let you focus on enjoying the great outdoors.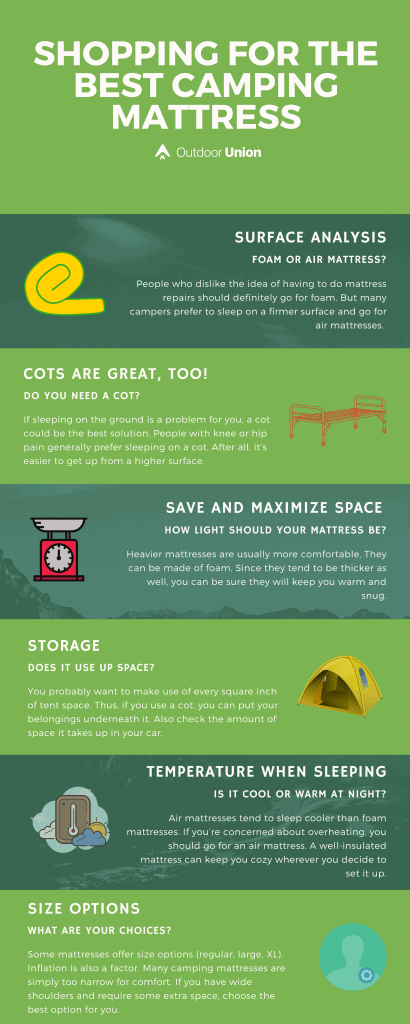 Best Camping Mattress: Therm-a-Rest Luxury Map Self-Inflating Air Mattress
Review
Here is an extremely comfortable option. If you have back problems of any kind, this mattress is a great choice for you. It will ease your pain and offer enough structural support to leave you feeling refreshed.
Since you won't require a pump of any kind, setting this mattress up is a simple and hassle-free experience. To inflate it, you simply open the valve. The manufacturer offers a quick demonstration here:
Portability is another important consideration. Therm-a-Rest cares about designing lightweight mattresses that anyone can carry with ease. You will also receive a high-quality stuff sack to go with your mattress.
The Therm-a-Rest Luxury Map is versatile and cleverly constructed. So, what are the best things about it? Are there any significant downsides?
Pros:
If you decide to go for the Therm-a-Rest Luxury Map, you will get three inches of comfort. This mattress is soft enough to fit any sleeping style. Furthermore, you can adjust the firmness levels by using the valve.
But what about staying warm? This is a well-insulated mattress that should keep you cozy wherever you decide to set it up. At the same time, it is covered with a soft knit material that will keep you from overheating during those hot summer nights.
You can get this mattress in three sizes: regular, large, and extra-large. Many camping mattresses are simply too narrow for comfort. If you have wide shoulders and require some extra space, this is definitely the best option for you.
This mattress weighs around five pounds (for the XL version). While it might be too heavy for intensive all-day backpacking, it's the perfect weight for most campers. You can set it up without much effort in the campsite of your choosing. It also comes with a high-quality bag you can carry on your shoulder.
The Therm-a-Rest Luxury Map is US-made. Because of the careful quality control, you can be sure this product will last a long time.
Cons:
The first time you decide to inflate this mattress, it may need around an hour to reach its full size. Thus, people on a very tight schedule might prefer a different model.
For an air mattress, this model is fairly durable. But punctures are always a possibility. If this happens, you will have to improvise or to purchase repair supplies separately.
It Requires Storage Space
When you're not using your Therm-a-Rest Luxury Map, you need to keep the vents open. This means that it will inflate to its full size. Other air mattresses can be simpler to store.
Materials Analysis:
This mattress is made from a nylon-polyester blend. The core is self-inflating urethane foam. It does not come with any unpleasant smells.
The stretch-knit fabric cover makes it an especially comfortable option. However, this isn't the best option for you if you want an all-natural mattress.
Who It's Best for:
If you want a durable air mattress, the Therm-a-Rest Luxury Map is one of the best options out there. Since it is self-inflating, you won't have to worry about bringing a pump along. We especially recommend it to people who require some extra elbow room when they're camping.
Click here if you think this might be the best camping mattress for you:
The Runner-Up: Milliard Tri Folding Mattress
Review:
Folding mattresses are a sturdy old-fashioned option. Many find them to be more reliable than air mattresses.
The Milliard Tri Folding Mattress is four inches thick. It's made of high-quality, CertiPUR-US certified foam. If you go for this option, you might not even notice that you're away from your bed for a few nights.
The cover is extremely soft as well. You are sure to get a comfortable night's sleep even if it's cold outside your tent. On the other hand, this mattress will also serve you well in warm climates.
In addition to providing a great camping experience, this mattress can be a good choice for your guestroom.
However, it might not be the best option for you if packing space is a concern. Carrying it can be a challenge too.
So, is this the best camping mattress for you? Let's take a look at the pros and the cons.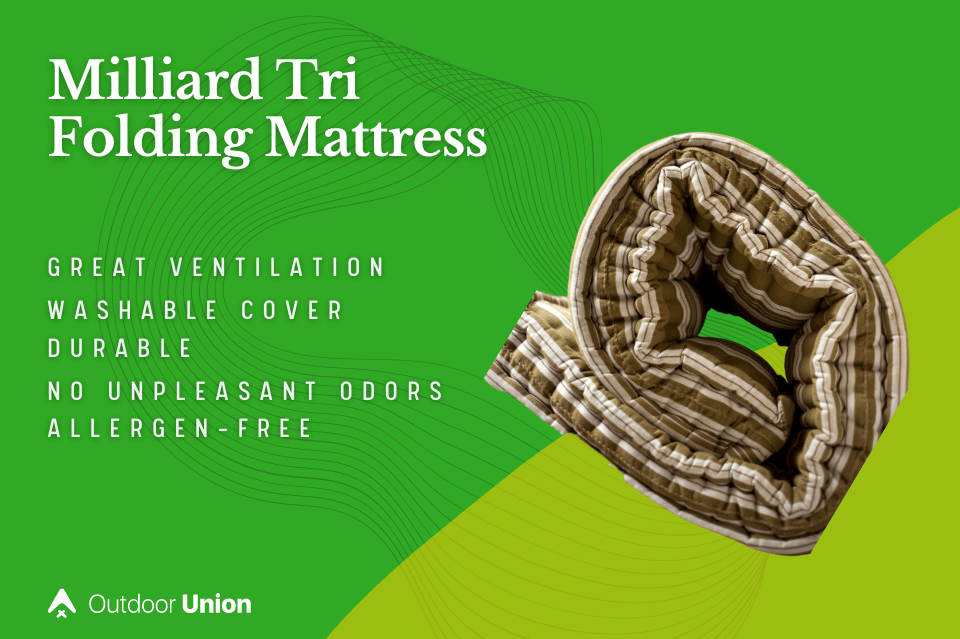 Pros:
If you're afraid of feeling too warm during the night, foam mattresses might not be the best option for you. But the Milliard Tri Folding Mattress is carefully designed to keep you cool in the summer. At the same time, it's thick enough to keep you isolated from the cold floor of your tent.
Stains are an inevitable part of camping. This mattress comes with a cover you can wash. Hence, it will look as good as new even after prolonged use.
Foam is a good option if you want your camping mattress to last a good long time. But some foam mattresses get worn out easily. The Milliard Tri Folding Mattress is designed to last.
If you're worried about chemicals, this mattress is a great choice. There are no unpleasant odors to interfere with your camping experience. People with allergies can use it without any issues.
Cons:
This mattress may take up too much space in your car. While it isn't too heavy, it can be awkward to carry it. Hence, you might want to invest in a carrying case.
If you like to stretch out, this might not be the best mattress for you. People who sleep on cots definitely want to go for a mattress that will fit the metal frame.
Heavy People Might Want a Firmer Mattress
While the softness is perfect for some, this mattress may be too soft for some sleepers. Those with larger body types might want to look into different models.
Materials Analysis:
This mattress is made of form-hugging foam. It has CertiPUR-US certification, so you can be sure that it won't be harmful to your health.
But what about the cover? You get a removable and washable jacquard cover which will provide some extra softness. It's designed not to slip around on the surface of your mattress.
Who Is It Best for:
This is a great mattress for people who want to sleep on foam when they're camping. It's soft and it will keep you from overheating during the night. The quality of the foam is an important upside.
Go here for more information about the Milliard Tri Folding Mattress:
Almost Made the Cut
There are many camping mattresses to choose from. Here are three more options that could be right for you:
If you want the stability and comfort of sleeping on a cot, the Coleman Airbed Folding Cot could be your best bet. It comes with a high-quality air mattress as well as a battery pump. However, you should look for a different option if packing light is important to you.
The ALPS Mountaineering Velocity Air Bed is an extremely comfortable inflatable mattress. It has an internal coil system which provides extra back support. Unfortunately, the pump that comes with this mattress isn't very reliable.
While many people love sleeping in tents or under the open sky, some campers prefer to sleep in the car. If this seems appealing to you, you may like a soft and comfortable mattress that is sure to bring you a good night's rest.
Shopping for the Best Camping Mattress
Like any other mattresses, your camping mattress needs to be both comfortable and durable. However, there are a few additional things you need to keep in mind. Here are some questions you should ask before you make your purchase.
Should You Go for a Foam or Air Mattress?
If you want durability, foam might be the better option for you. After all, you won't have to worry about punctures. People who dislike the idea of having to do mattress repairs should definitely go for foam.
Foam mattresses are usually softer as well. They will provide you with a good night's sleep even if you have shoulder pain or similar issues.
But air mattresses have some considerable benefits too. Many campers prefer to sleep on a firmer surface. This is particularly important if you plan to place your mattress on the floor rather than on a cot.
Additionally, air mattresses tend to sleep cooler than foam mattresses. If you're concerned about overheating, you should go for an air mattress.
What Is the Best Kind of Air Mattress?
When it comes to choosing an air mattress, your biggest concern is how to inflate it.
We recommend choosing a self-inflating mattress, as it is failsafe and much simpler to transport. However, using an automatic pump is faster, which is why many campers go with that option. Manual inflation is outdated and unnecessary.
Do You Need a Cot?
Cots are a great solution for many campers. A cot comes with a metal frame and an air or foam mattress.
If sleeping on the ground is a problem for you, a cot could be the best solution. People with knee or hip pain generally prefer sleeping on a cot. After all, it's easier to get up from a higher surface.
Another important upside is storage space. You probably want to make use of every square inch of tent space. Thus, you can put your belongings underneath your cot.
But there are some downsides you should keep in mind as well. Cots aren't always comfortable or stable. Additionally, they take up much more packing space than inflatable mattresses.
How Light Does Your Camping Mattress Need to Be?
Every camping mattress needs to be relatively light. After all, setting it up has to be both quick and easy. Your mattress also needs to fit in your luggage without difficulty.
However, weight is something you have to factor in before you choose a model.
Heavier mattresses are usually more comfortable. They can be made of foam. Since they tend to be thicker as well, you can be sure they will keep you warm and snug.
But lighter mattresses have some upsides too. They are more practical and easier to unload. For many disabled campers, lightweight mattresses are the way to go.
A Final Word
There is no single best camping mattress that will work for everyone.
People who camp with their kids may need exceptional levels of durability. Others need an ultra-light model they can take backpacking. Some campers prioritize comfort above everything else.
But whatever your needs may be, a high-quality camping mattress is a good investment. After all, you never know when you might need to set up an extra bed for a guest. You can find ways to use your mattress all year round.