Published January 8, 2021
Explore the Wild with the Best Binoculars in 2021
Whether you want to enjoy every detail of the surrounding wildlife or you need them for orientation, a pair of quality binoculars can be a great addition to you hiking equipment.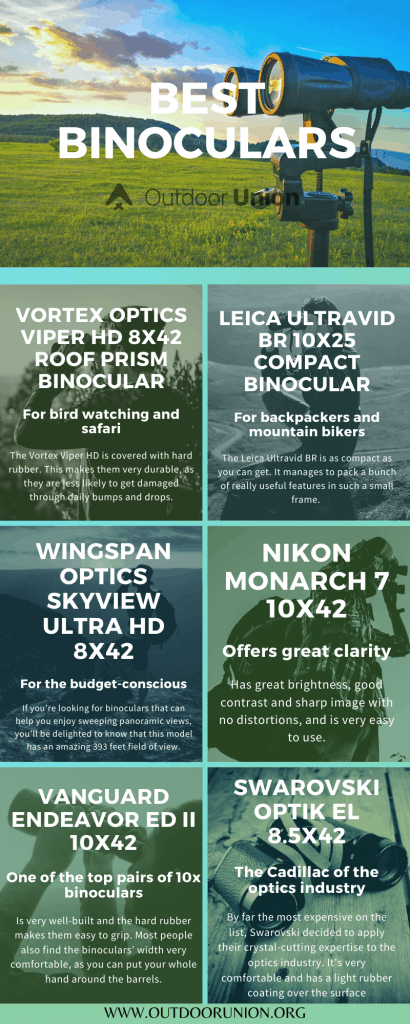 However, finding the right binoculars can be tricky. Many great binoculars can be too big and heavy to carry around, which can make it hard for you to go long distances with them in your backpack. More than that, it can be easy to get lost in the terminology and stats companies use to describe their binoculars, especially if you have no experience.
Here are our updated reviews on the best binoculars on the market this 2021, as well as a short guide on how to choose the right binoculars to suit your needs.
Our Top Pick: Vortex Optics Viper HD 8×42 Roof Prism Binocular
Our Rating:
4.8/5
Review:
It's hard to find a light and comfortable pair of binoculars that perform like heavier ones. However, Vortex Optics seems to have managed to create just that. Their Viper HD gives you the clarity and top-notch performance of high-end models at a reasonable price.
Holding the Viper HD 8×42 you don't get the impression you're handling a pair of high-end binoculars. Weighing just shy of 700 grams (around 24oz), these binoculars are extremely light. In fact, they weigh as little as many smaller low-end models we reviewed.
Like many quality binoculars today, the Vortex Viper HD is covered with hard rubber. This makes them very durable, as they are less likely to get damaged through daily bumps and drops. This is also a great feature if you're into bird watching, as these binoculars produce virtually no sound if you bang them by accident against a hard object, so you can rest assured you won't scare away any birds.
They are also completely waterproof, so you don't have to worry about them getting wet. The air inside has been replaced with argon gas, so they are unlikely to get blurry even in the most humid environments.
Pros:
Comfortable and easy to use
Not only are these binoculars extremely light, but the rubber armoring and thumb indents on the bottom make them very convenient to hold. When you hold them to your eyes, the adjusting wheel is easy to reach and adjust.
Although the eyecups don't have the side wings that block the light, they are too made from soft rubber, so you can push them to your face without feeling discomfort.
If you wear glasses, this is great news. The maximum eye relief is 20mm, which is considered very long. The eyecups have a great twist-up mechanism that allows anybody with glasses to adjust them and get the exact eye relief they need to see everything perfectly.
Compared to your average 10×42 binoculars, the Viper HD easily outperforms them. These binoculars have great contrast, no color fringing, and the image is very sharp when focused correctly. Since the 8×42 combination of magnifying power and field of view is evenly balanced, they allow a great deal of light to go through.
Considering the great image and build quality, these binoculars come at a very reasonable price. Most binoculars with these kinds of features (waterproofing, fogproofing, anti-reflective coatings) sit comfortably at the four-figure mark. However, the Viper HD is well below four figures and offers great value for money.
These binoculars will really win you over with attention to detail. The neck strap is slightly curved and well padded, so it fits your neck perfectly and makes the bins very comfortable to wear. The rubber caps that cover the lenses are very well made and they are highly unlikely to fall off.
The binoculars also come with a lens cleaning cloth and a comprehensive instruction manual. They are also tripod-adaptable.
Cons:
Compared to some high-end options, these binoculars' field of view may disappoint some users. The field of view is 347 feet at 1000 yards, which is decent, but slightly on the narrower side for 8×42 binoculars. However, it's worth noting that the Viper HD costs substantially less than these other models.
So, if you're willing to pay thousands of dollars more for an extra 40 – 50 feet of width, then you should go for some of our other more pricy options.
Not suitable for night viewing
Due to their lens size, these binoculars are not very efficient during the evening. So, if you're interested in stargazing, you would be better off with some other models or a telescope.
Who's it Best for?
Their size, magnification power, and lens size make these binoculars perfect for bird watching and safari. If you're all about exploring the wild and moving through the trees that limit your light supply, it is almost impossible to find better binoculars in this price range.
Take a closer look at these binoculars here:
Our Lightweight Pick: Leica Ultravid BR 10×25 Compact Binocular
Our Rating:
4.6/5
Review:
If compactness is what you're looking for, then the Leica Ultravid BR is the best model you'll find. Weighing just around 250 grams (9oz), these binoculars are as compact as you can get.
However, Leica manages to pack a bunch of really useful features in such a small frame. Although the lenses are almost half the size of some of the other models on this list, they still manage to keep a surprisingly solid amount of brightness.
The AquaDura coating repels water and keeps your lenses as dry as possible. These binoculars have a quick focus wheel, adjustable eyecups, and a right eye diopter – all of which make it easy for you to get the perfect view and comfort every time.
They produce a very clear and bright image (especially considering their size) and they're made from high-quality German aluminum. So, even though they might be on the smaller size, they are still quite sturdy and tough.
They are, however, a bit pricier than our top pick, but if you find compactness an absolute priority they may be worth the money.
Here are some of the most important upsides and downsides of the Leica Ultravid BR 10×25.
Pros:
If our top pick was light and comfortable, then we need a whole other word for the Leica Ultravid BR. These binoculars can fit virtually anywhere, especially when they're folded. You can put them in your backpack or a larger pocket and you would hardly feel their presence around your neck while climbing up a hill or biking.
This could be very important, as hiking can often last more than a couple of hours, so dragging around several pounds around your neck can become stressful.
Because they are so small and light, they are also very easy to handle. All the knobs are easy to adjust with one hand, so you can easily switch between close and distant objects in a matter of seconds. However, if you have larger fingers, it could be tricky to master this. But, once you do it a couple of times it becomes very easy.
The combination of aluminum and rubber is what makes these compact binoculars as sturdy as they are light. Everything moves smoothly and you can really feel like you're holding a high-quality product when handling the Leica Ultravid BR. Nothing is misaligned or skewed, but well put together and compact.
Given the fact that they don't have such big lenses as some other models at this price range, these bins have surprisingly good image clarity. Although you can't really put this model up there with some high-end options, it surely gives you a lot of bang for your buck. All slanted and curved lines look clear and the contrast is solid.
The innovative prism design makes it hard to tell that this model has such small objective lenses, as their brightness is up there with some of the larger models.
Cons:
This is where we start to see the shortcomings of small binoculars. With 273 feet at 1000 yards, this model has the narrowest field of view on this list. So, if you want to enjoy breathtaking panoramic views, you're probably better off with a different model.
If you have larger hands or a larger head, you might have some problems with the Leica Ultravid BR. The rubber eyecups are smaller than most you'll ever see. The controls may also be too small (especially the center focus knob), and you can even press the diopter button accidentally.
That being said, once you get used to its compact design, none of these things should be a problem.
Who's it Best for?
Because they are so light and small, these binoculars are perfect for backpackers and mountain bikers. If you're concerned about the weight of your binoculars and the space they might take up in your backpack, this is the best model you'll find.
To learn more about these bins and compare them with other products, visit this link:
Our Budget Pick: Wingspan Optics SkyView Ultra HD 8×42
Our Rating:
4.5/5
Review:
When looking into how to buy binoculars, a small number of people are ready to break the bank and go for a top-shelf product. But if you're new to the industry, starting out with an affordable product can be a great option. Once you master it, you can always sell your old pair and upgrade to a better one.
If you're not looking to spend more than $500 on a pair of binoculars, but you still want a solid product for your money, the SkyView Ultra HD from Wingspan Optics is a great choice. While these bins don't have the clarity of high-end models, they can certainly give you a lot of brightness.
This could be a great option if you're into hunting, as the woods often get little light. Additionally, if you're looking for binoculars that can help you enjoy sweeping panoramic views, you'll be delighted to know that this model has an amazing 393 feet field of view.
It has high levels of proofing and its extra-low dispersion glass makes the image crystal clear. Although they may not be the smallest binoculars on this list, they are pretty durable.
At such a low price, these binoculars cover all the basics pretty well and easily outperform other models in this price range.
Pros:
What sets these bins apart from other entries on the list is their low price. However, that isn't to say that this is a low-end product. Although it does have its shortcomings, the SkyView Ultra HD offers great features and clarity for the price.
To make sure you can enjoy your outdoor activities with maximum clarity, the folks at Wingspan make this model completely resistant to water and fog. That being said, it's hard to find what its IPX rating is, so we can't tell you whether these bins can be completely submerged in water. Heavy rain, however, should be no problem.
As hiking and hunting require a lot of movement, it's important that your binoculars can resist shocks. Although they're not covered with hard rubber like our previous two entries, they are still pretty durable and hard to damage.
However, this does come at a price – they are slightly larger than some other entries on the list.
Cons:
As mentioned above, the SkyView Ultra HD is a bit bulkier. It's nothing dramatic, but when you're walking uphill for hours with them around your neck, it can really make a difference. You're probably better off putting them in your backpack, but they also take up a bit of room.
If you're looking for a pair of compact binoculars that can fit in your pocket, you should go for a different model.
Close focus can be an issue
If you're trying to zoom in on anything under 30 feet, you probably won't get a very clear image. These binoculars are best used on long-distance objects.
Like the Viper HD from Vortex Optics, these binoculars are not great for nighttime viewing. So, if you're looking for a pair of binoculars for stargazing, you'll be better off with a model that doesn't have such wide lenses.
Who's it Best for?
Very reliable and budget-friendly, these binoculars are a great option for anyone who's not ready to spend a fortune on a pair of binoculars. However, they don't sacrifice performance and deliver solid image quality and a great field of view. If you like to enjoy panoramas and you don't mind the extra weight, this model could be great for you.
Check out all the details about these binoculars here:
Other Binoculars that Didn't Make the Cut
While we were testing and comparing products, we came across several great models that we decided not to include in our top picks. Whether that is because of their hefty price tag or slightly weaker performances, these models just didn't knock us off our feet.
That being said, you might find that some of these models fit your needs perfectly. After all, they did find their places on our list.
Here are some other binoculars you may also want to consider.
Nikon MONARCH 7 10×42
A familiar name in the optics industry, Nikon's high-end products rarely disappoint. That is certainly the case with the Monarch 7, which has great brightness and is very easy to use.
With fully multi-coated lenses and high-quality ED glass, the Nikon Monarch 7 has great clarity. With this model you also get good contrast and sharp image with no distortions. Pretty much everything we've come to expect from a high-end Nikon product.
It's very easy to adjust, and focusing is fast and smooth. You can easily switch between far and close objects while keeping fine focus control. The rubber on the eyepieces and barrels is comfortable on the skin and easy to grip.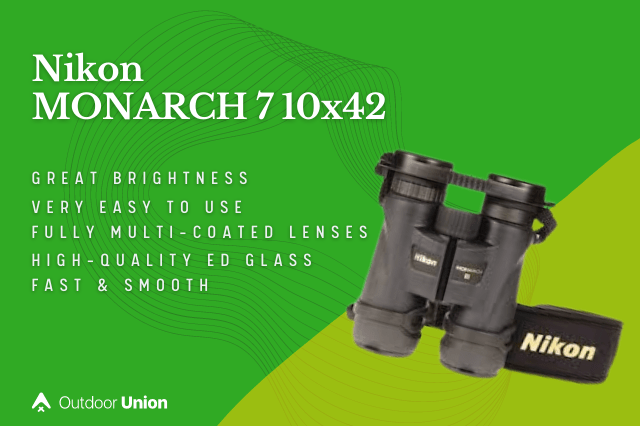 However, the diopter can feel a little bit stiff and hard to move at times. It also has no locking mechanism, which may be off-putting for some people. If you have larger fingers it can be quite easy to accidentally move the diopter while adjusting focus.
Its field of view is 350 feet at 1000 yards, which makes it a top performer among 10x binoculars. You can focus it down to 8.2 feet – another feature that puts it at the very top of the 10x class.
Although a really good pair of binoculars, this model is outperformed by the Viper HD 10×42 in almost all categories, including price, diopter locking, and clarity.
Check out more details about this pair of binoculars at the following link:
Vanguard Endeavor ED II 10×42
In terms of clarity, the Vanguard Endeavor ED II is one of the top pairs of 10x binoculars. They are also very well-built and the hard rubber makes them easy to grip. Most people also find the binoculars' width very comfortable, as you can put your whole hand around the barrels. It is, however, on the heavier side (700 grams, or 1.57 pounds), so this model isn't among the most compact ones.
Furthermore, many people find that adjusting these binoculars can be a struggle. The focusing knob is a bit harder to adjust and it takes some time for it to loosen up.
When it comes to performance, this model is pretty middle-of-the-road. The field of view is a solid 340 feet at 1.000 yards and provides a bright scene. However, in really bright settings, you might get some green fringing. Like many 10×42 binoculars, this model struggles in low-light settings, so it won't be useful if you're into astronomy.
Although it isn't very cumbersome, it will certainly deter anyone who's into very light backpacking. That, combined with minor issues like stiff movement and green fringing is what keeps this model from our top three.
Follow this link to get more information about the Vanguard Endeavor ED II:
Swarovski Optik EL 8.5×42
It may sound like a cliché, but this pair of binoculars really is the Cadillac of the optics industry. And, with Cadillac style and performances come Cadillac prices. These bins are by far the most expensive on the list. But, if you're serious about your optics and are ready to break the bank on a premium product, this should be your first choice.
Known for their high-end jewelry, Swarovski decided to apply their crystal-cutting expertise to the optics industry. The precision they brought to the business can be easily seen through the amazing clarity of their EL 8.5×42 model. Both in terms of design and image quality, these bins set the industry standard.
The glass is top-of-the-line, which is easy to tell by the lack of fringing or chromatic aberration. Its brightness is also astonishing, as it outperforms binoculars with a whole 14 millimeters of lens advantage.
The EL 8.5×42 is very comfortable and has a light rubber coating over the surface. You also get soft eyepieces and indents for your thumbs that provide extra comfort. It's easy to adjust and both the front and back knobs glide very smoothly. The only thing lacking is a diopter locking mechanism, but it only pops out with a little pressure, which prevents you from accidentally adjusting it.
It has an incredible 399 feet available at 1000 yards, which puts it at the very top when it comes to field of view. It can also focus down to an impressive 4.9 feet.
The reason why this Swarovski model didn't make our top three is its prohibitive price. This hefty price tag eliminates any mainstream appeal and puts the EL 8.5×42 in the "exclusive" category reserved for professionals looking for a premium product.
You can learn more about this high-end pair of binoculars on the following link:
Things to Consider when Buying Binoculars
With so many models, brands, and sizes, it can be hard to know what you're looking for in a pair of binoculars. To point you in the right direction and help you make the best choice, here are some things you should keep in mind when looking for binoculars that best suit your needs.
Magnification Power Rating
One of the first things you'll notice while reading product descriptions are a series of numbers separated by an "X", like 8×42 or 10×10. What do these numbers mean?
It may seem complicated, but it really isn't. The first number indicates how many times a certain model can magnify an object (so, if this number is 8 it means the object will look eight times closer). The second number signifies the size of the objective lens in millimeters. This is important, as larger lenses allow more light to get through for a clearer image.
The size of the objective lens determines the maximum amount of light that can be gathered. But the image clarity and brightness also depend on the quality of the optics. For illustration purposes, you can estimate the relative amount of light gathered by squaring the diameter of the objective lens (since the circular area is x (d/2)2). So a pair of binoculars with 50mm objective lens would be able to let in 41.7% more light than those with 42mm objective lens (502/422 x 100%).
If you balk at the price of a pair of high-end binoculars with 42mm objective lens (8×42, 10×42, etc.), you could opt for a pair with 50mm objective lens (8×50, 10×50, etc.) by a mass-market brand and perhaps come close or exceed the performance of the high-end pair with smaller objective lens. However, binoculars with larger objective lenses are heavier and bigger than those with smaller ones.
Field of View
Most manufacturers will have their field of view at 1000 yards specified in their model's description.
This is best illustrated with an example. Let's say you're looking through your binoculars at two people who are 1000 yards away from you. One is on your far left, the other on the far right. The maximum distance they can put between each other without one of them going out of the frame is your binoculars' field of view.
Generally, high-power binoculars give you a narrower field of view. This field of view is more detailed and perfect for looking at stationary objects. On the other hand, binoculars with a wider field of view are great for viewing panoramas and birding.
Waterproofing
If you want to take your binoculars on a hiking trip, there is a chance they can get wet. That's why you're probably better off with a pair of waterproof binoculars. To assess the level of waterproofing, the industry uses the IPX rating or IP codes.
An IPX0 rating means your binoculars aren't waterproof, while an IPX8 rating means you can submerge them in up to three feet of water. You don't have to go for IPX8, but anything IPX4 and above should be fine, as this means your binoculars can handle water splashes.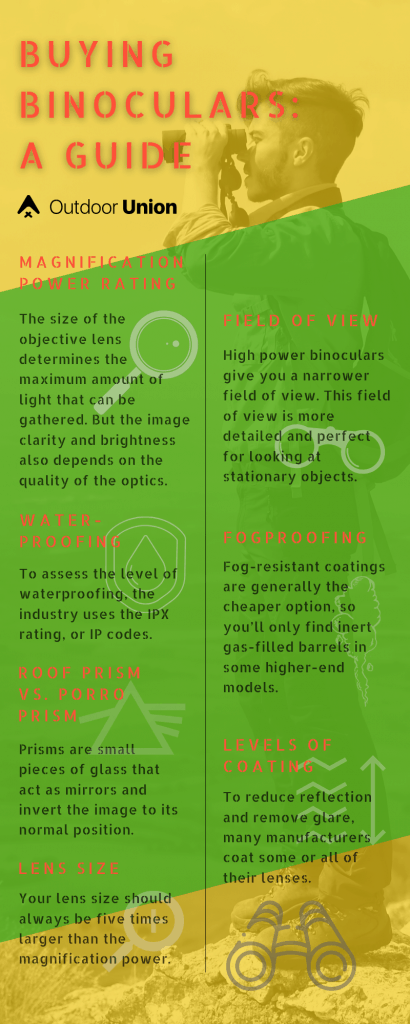 Fogproofing
Another thing you're likely to encounter in those cold mornings in the wild is fog. To avoid their binocular lenses getting cloudy in the fog, the manufacturers can do one of two things. They can either apply a special coating that can make the lenses fog-resistant, or they can fill their binoculars with an inert gas.
Fog-resistant coatings are generally the cheaper option, so you'll only find inert gas-filled barrels in some higher-end models.
Roof Prism Vs. Porro Prism
When bringing the image closer to the viewer, lenses flip the image so it comes through upside down. Prisms are small pieces of glass that act like mirrors and invert the image to its normal position. Depending on where the prism is located, we can have two types of prism systems.
Roof prism system – the eyepiece, objective lenses, and prisms form a straight line. These binoculars have a slim, streamlined shape and are very compact. This system was popularized by boutique brands like Zeiss and Leica. Most of today's compact binoculars use the roof prism system. When properly executed (usually in high-priced binoculars), the image quality can be as good as larger Porro-prism binoculars.
Porro prism system – the lens of the objective is not in line with the eyepiece. These binoculars usually offer a clearer image and a wider field of view, but they are also bulkier and not as easy to carry around.
Levels of Coating
Reflection can often be a problem with binoculars, especially if it's a sunny day or you spend a lot of time around lakes, rivers, and similar watery surfaces. To reduce reflection and remove glare, many manufacturers coat some or all of their lenses. There are four levels of coating:
Coated: One layer of coating on one or more lenses.
Fully Coated: One layer of coating on all air-to-glass surfaces.
Multi-Coated: More than one layer of coating on one or more lenses.
Fully Multi-Coated: More than one layer of coating on all air-to-glass surfaces.
Lens Size
As we mentioned before, the lens size dictates how much light will get through your lenses. But, if you're considering two models with the same magnification rating and different lens sizes, which one should you go for?
A good rule of thumb is that your lens size should always be five times larger than the magnification power. So, if you're considering a pair of binoculars that have 8x magnification, you should aim for a lens size of at least 40.
This is especially important if you're planning on using your binoculars in the nighttime, as not all binoculars can perform well in low light. If you're into astronomy, you should look for binoculars with wide front lenses that can collect a lot of light.
The Final Word
Before deciding on which binoculars to buy, you first need to think about your priorities and ask yourself some important questions.
What do you need these binoculars for?
Are you looking for a long-term solution, or are you just getting a taste of the optics industry?
Does weight and size matter to you?
Once you decide what your priorities are, you can start comparing models.
In our opinion, the Vortex Optics Viper HD 8 x 42 are the best binoculars you can find right now. A great combination of reliability, performance, and compactness, these bins are a steal for the price. Apart from the very expensive high-end Swarovski model, these are hard to match.
If you want to get this amazing pair of binoculars, click on the following link:
However, if you want to go even smaller and lighter, we recommend going for the Leica Ultravid BR 10×25. You can get this pair here: